Juno and the Paycock, National Theatre: Lyttelton, London
Paul Taylor
Friday 18 November 2011 01:00 Comments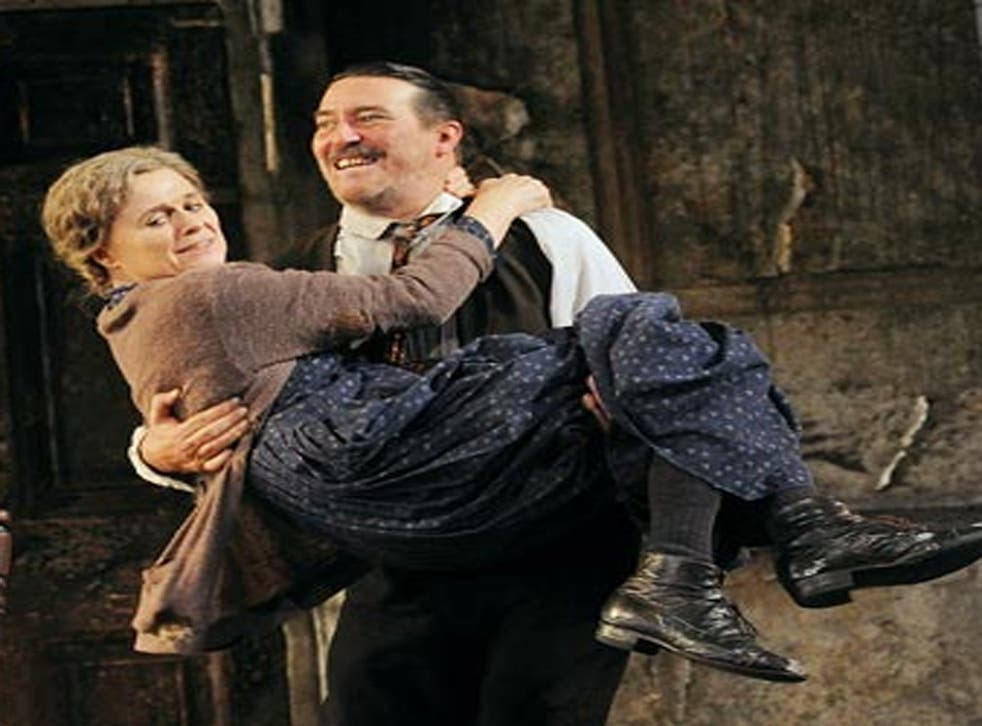 The most obtrusive – and the most questionable – feature of Howard Davies's revival of Juno and the Paycock is the monumental design by Bob Crowley. Set in 1922 during the bitter civil war between the Free-Staters and the Die-hard Republicans, Sean O'Casey's gutting tragicomedy shows us the Boyle family disintegrating through internal and external pressures as they struggle to survive in their two-room Dublin tenement.
Here, though, they seem to be living in a ghostly palace. Intent on evoking the faded Georgian grandeur of the building, the production strands the actors in a massive visual hymn to fetching distressed chic. An antique mirror melts into nothingness down one of the walls, where even the grey wallpaper peels in a manner that would not look out of place in World of Interiors. Dwarfed by their surroundings, the cast are sometimes reduced to "forcing".
I'm ashamed to say that I squirmed with schadenfreude when this overweening set had a malfunction, necessitating a break for repairs. In a typical O'Casey moment of colliding moods, the squiffy comic merriment of the Boyles' tea-party celebration of their (illusory) windfall was just about to be pooped by a visit from their neighbour, Mrs Tancred, on her way out to bury her murdered Republican son. But then the door got stuck and not even the combined efforts of the cast could budge it. Bernadette McKenna must be the first Mrs T ever to get a round merely for making it onto the stage.
There is much here to applaud less ironically. In the role of Captain Boyle, Ciará* Hinds puffs up hilariously as a would-be man of affairs when the workshy drunken fraud thinks he's coming into money and he captures beautifully the strutting bluster of the play's cut-price Foley's Bar Falstaff. Risteárd Cooper, though, as the ferrety Joxer, could afford to signal more the two-faced heartlessness of this parasitic crony. The great Sinéad Cusack lends a wonderful note of weary scorn to Juno, though once again the misjudged scale drives her towards the over-operatic. With mawkish interlude music on pipes that put my guest in mind of Titanic, this revival too often feels like polished heritage theatre.
In rep to 26 Feb (020 7452 3000)
Register for free to continue reading
Registration is a free and easy way to support our truly independent journalism
By registering, you will also enjoy limited access to Premium articles, exclusive newsletters, commenting, and virtual events with our leading journalists
Already have an account? sign in
Join our new commenting forum
Join thought-provoking conversations, follow other Independent readers and see their replies