Kenneth MacMillan: Steps Back in Time, Barbican, London, review: These vanishingly rare ballets are surprisingly strong
Dancers from Ballet Black, the Royal Ballet and Scottish Ballet come together for a programme of Kenneth MacMillan's early, storytelling work
Zo Anderson
Monday 23 April 2018 10:59 Comments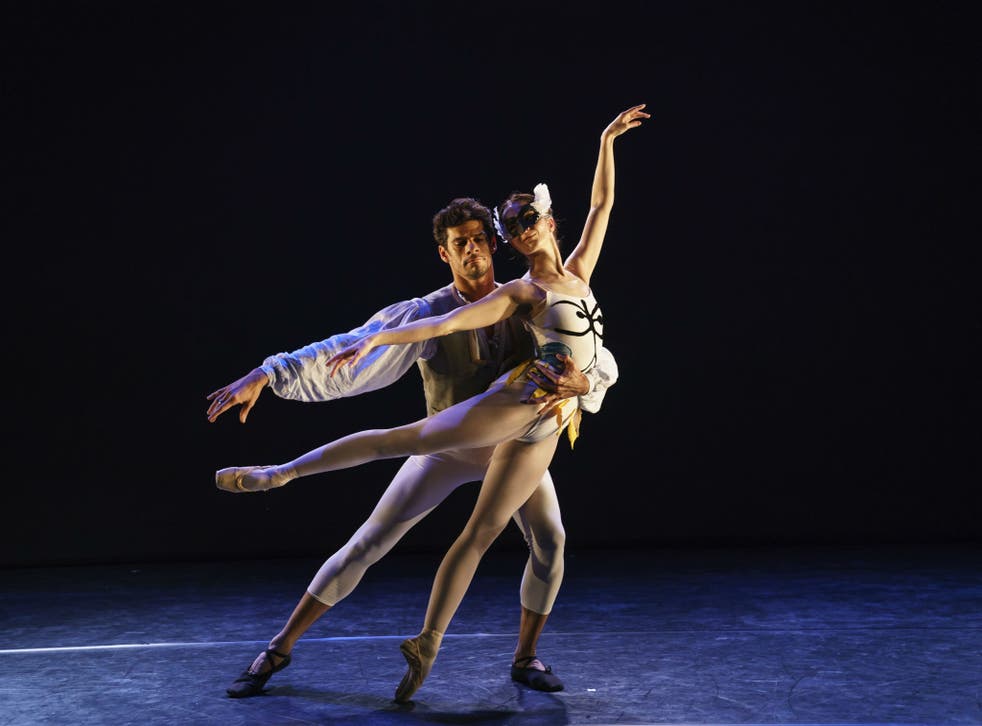 The choreographer Kenneth MacMillan found his voice quickly. This programme of rare early ballets, performed by a top-flight cast of dancers from the Royal Ballet, Scottish Ballet and Ballet Black, already show his distinctive style. From the start, he was drawn to outsider figures, to characters digging into their own unhappiness, to sensuous duets.
This season, the 25th anniversary of MacMillan's death, has brought many celebrations of his career, one of the most influential in British ballet. Steps Back in Time was created by Viviana Durante, who as a Royal Ballet ballerina worked with MacMillan at the end of his life. She's gone back to the beginning with excerpts from House of Birds and Danses Concertantes, both from 1955, and the complete Laiderette, from 1954. The spiky Stravinsky Danses Concertantes is occasionally performed, but the others, both story ballets with fairytale atmosphere, are vanishingly rare and surprisingly strong.
House of Birds, based on a Grimm story, shows one of two lovers stolen and transformed by a bird woman. Ballet Black's Sayaka Ichikawa is darting and powerful as the bird woman, emerging from a bristling corps of masked dancers and carried high through the air. As the lovers, the Royal Ballet's Thiago Soares and Lauren Cuthbertson are playful and tender, dipping to the floor or leaving and returning with teasing affection.
When Cuthbertson is captured, bird language takes over her body. Her elbows jerk and flutter, hands stroking at her arms as if she can no longer feel them. As her movements become bigger and bolder, there's a fascinating sense that by gaining bird confidence she is losing touch with her human self.
The Royal Ballet's Akane Takada is sharp and alert in a duet from Danses Concertantes, her body thrusting through the air. She's securely partnered by Ballet Black's José Alves.
Laiderette is the tale of an ugly girl, welcomed into a masked ball but rejected when the masks come off. Like House of Birds, it requires its dancers to tell stories with their bodies, not relying on facial acting. As the heroine, the Royal Ballet's Francesca Hayward is powerfully expressive. There's vulnerability and sweetness in every line as she braces herself for ridicule or curls trustingly into the arms of Soares, the lover who will reject her. MacMillan also creates bright classical steps for the party guests, with Ballet Black's Cira Robinson diamond sharp in her brief solo.
Register for free to continue reading
Registration is a free and easy way to support our truly independent journalism
By registering, you will also enjoy limited access to Premium articles, exclusive newsletters, commenting, and virtual events with our leading journalists
Already have an account? sign in
Join our new commenting forum
Join thought-provoking conversations, follow other Independent readers and see their replies