King Lear, Minerva Theatre, Chichester, review: Ian McKellen's extraordinarily moving portrayal of King Lear
Jonathan Munby's compelling chamber version of 'King Lear' in the Minerva Studio allows McKellan to play around with the beat and tempo of the verse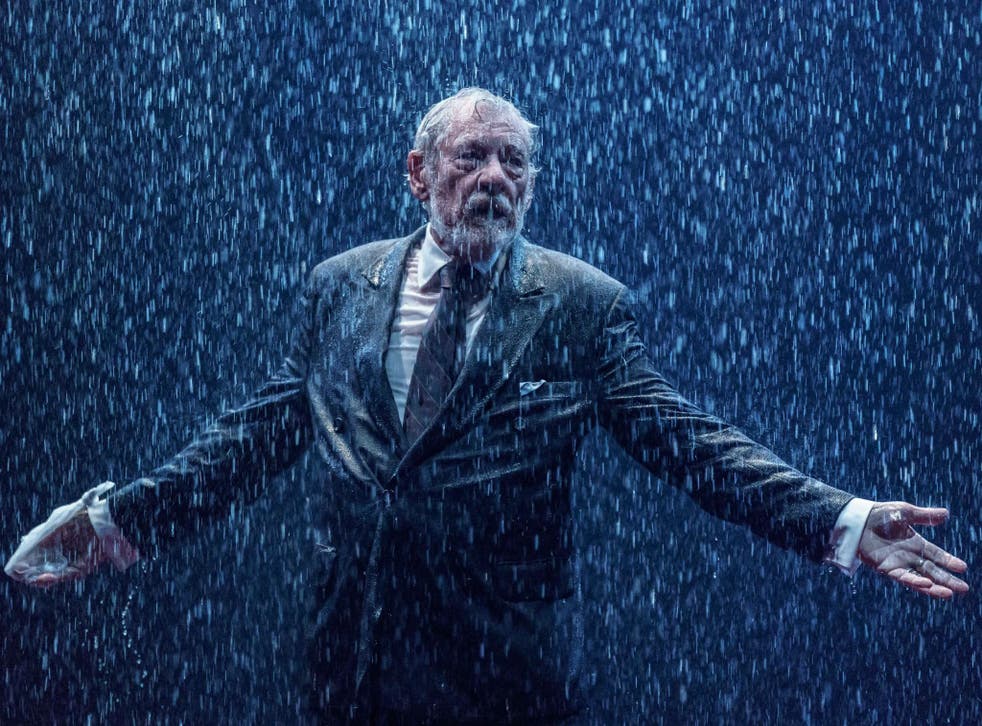 At the age of 78, Ian McKellen adds to the roster of his greatest achievements with this extraordinarily moving portrayal of King Lear. He toured the world in the part 10 years ago in a RSC production, designed for a large thrust stage, that sometimes visited "theatres too uncongenially spacious", as he puts it in the programme for Jonathan Munby's compelling and lucid chamber version of the play in the Minerva Studio. "I wanted to speak the lines again, at times as conversation" he explains.
In the wraparound intimacy of this space, McKellen is able to heighten the intensity of what Lear says through colloquial understatement and a playing-around with the beat and tempo of the verse that gives an almost jazz-like freedom and unpredictability to the king's utterances. Instead of generalised rant, nuance.
The proceedings start with the Edwardian pomp of a royal press conference in which the bemedalled monarch stages a rather qualified abdication in front of his own overbearing portrait. Busily scissoring the map as if this were some grotesque party game, Lear tellingly hands the portions not to his daughters but to their husbands. This is all done under the alarmed and watchful eye of Kent, played here as a countess whose steadfast devotion towards the King (and return from banishment disguised as an abrasive Irish serving man) are brought to luminously intelligent life by Sinead Cusack. That a woman so perceptive feels this level of concern for Lear suggests that he was not always a chauvinist tyrant and that that may be a function of incipient dementia.
Paul Wills's design plants the action on a circular dais – at first, covered in red carpet and then stripped back to chalk as as the play wends towards Dover and the scenes that anticipate Beckett, McKellen excels in both halves. The dropped trousers in the storm scene are one of the abiding memories of his previous foray into this play. This time, by contrast, the image that lodges in your mind is of a fully clothed king in suit and tie standing soaked to the skin under a drenching downpour.
​McKellen starts off as very buttoned-up, punctilious Lear. There is an excellent episode that shows him fussily dressing for travel, with the help of his Fool (Phil Daniels in thick-rimmed specs, strumming a ukulele like a Cockney George Formby). Then, in the midst of this, the little stricken aside about Cordelia ("I did her wrong") that seems all the more devastating here as a rip in the ritual fabric of his world. By the time he has "Exposed [himself] to feel what wretches feel", this Lear is piling coats on Poor Tom and absurdly wringing out his sodden hanky to provide shelter from the elements.
I've never seen the terrible struggle with the bewilderment of failing faculties more piercingly captured than by McKellen nor the combination of "matter and impertinency mixed" come across as more volatile. The encounter at Dover with Danny Webb's Gloucester is a masterclass in the bleeding of tones between the clownishly offhand and the heartbreaking. "When we are born, we cry that we are come / To this great stage of fools": McKellen's Lear starts off in almost chatty ("I'll tell you something...") mode but is waylaid by the second line which becomes a silent howl of tears.
The spontaneity is remarkable as is the production's eschewing of easy pathos. It's both prosaic and deeply poignant that, in their reunion scene, Tamara Lawrance's powerful Cordelia ends up sitting matter-of-factly side by side with her father on his hospital bed.
This is a Lear strong on narrative excitement (there is one novel, cleverly suggested twist at the end of the first half) and, in a vivid cast, Kirsty Bushell's Regan is sexually aroused by violence, unlike the more controlled Goneril of Dervla Kirwan. We must fervently hope that the production will be filmed.
Register for free to continue reading
Registration is a free and easy way to support our truly independent journalism
By registering, you will also enjoy limited access to Premium articles, exclusive newsletters, commenting, and virtual events with our leading journalists
Already have an account? sign in
Register for free to continue reading
Registration is a free and easy way to support our truly independent journalism
By registering, you will also enjoy limited access to Premium articles, exclusive newsletters, commenting, and virtual events with our leading journalists
Already have an account? sign in
Join our new commenting forum
Join thought-provoking conversations, follow other Independent readers and see their replies