King Lear, Shakespeare's Globe, London, review: A naked emotional spontaneity in Kevin McNally's fine performance
Nancy Meckler's 'King Lear' may not be a great production but it is an honourable one that gathers in a gutting climax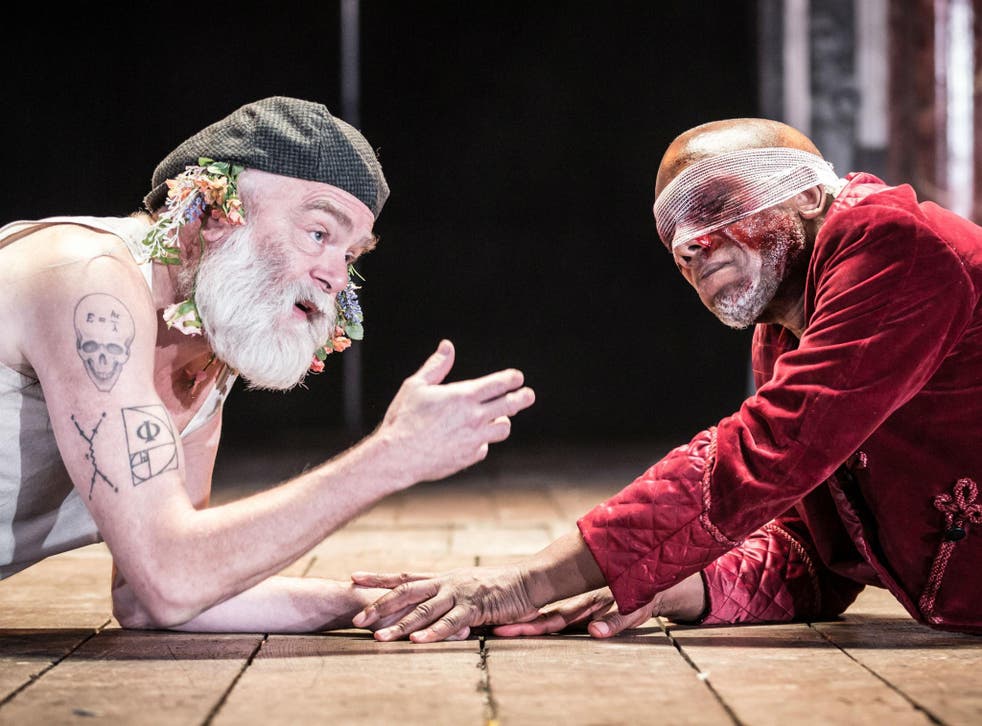 Nancy Meckler makes her debut at Shakespeare's Globe with this intelligent, uneven, heartfelt account of King Lear. The theme of homelessness is central to the tragedy and the production heightens our sense of this with a framing device. The cast members first appear as a group of squatters in anoraks and beanies having to beat and rip their way into a venue that has been boarded up and draped in tarpaulins, with a "Keep Out" sign scrawled across the chipboard. Only by ramming entrances with a trolley and tearing down the sheeting can this crew create a space for their inset performance of the play. This process of reclaiming the venue by uncovering its distinctive features (the Pillars of Hercules, the minstrels' gallery, etc) is an eloquently gradual one (the clinching moment only occurs, causing sombre elation, during the curtain call). It runs (sort of) parallel to the eviction of Lear onto the storm-pelted heath and to his growing pity for naked vagrants and remorse about his negligent kingship ("Oh I have ta'en/Too little care of this"). A stripping away ("Expose thyself to feel what wretches feel") is conducted on two fronts.
Not that the production is tidy-minded. It recognises that there is a senselessness in the moral universe of this play (where ideas of justice are so painfully divergent) that confounds all attempts to discern some consolatory "higher" pattern. In this respect, Joshua James is particularly good as Edgar and his assumed alter ego, the Bedlam beggar, Poor Tom. He charts well the character's growth from innocent dupe, through a convulsive mimicry of madness, to sober authority. But Edgar's attempt to be a kind of Providence, in various vocal guises, to his blinded father Gloucester, is undercut here by some wonderful moments where it is clear that this would-be redemptive figure, who refuses to reveal himself, is having to improvise rather desperately. Trying to describe the vertiginous scene from the supposed cliffs of Dover, he's head-scratchingly hard put to come up with the details that usually pour forth so picturesquely for this set-piece. His aside to the audience ("Why I do trifle thus with his despair/Is done to cure it") has the air of a slightly frantic memo-to-self. The best-laid plans...
Perhaps perversely, given the accent on exposure, Kevin R McNally is required to wrench off less of his clothing than most Lears of recent memory, as he shelters from the storm – whipped up percussively by the cast in this production. But there's a naked emotional spontaneity in his fine performance – a mercurial unpredictability that can have him, by turns, falling down in a fit of frothing misogyny and reaching out to clasp Gloucester's hand in an almost shy gesture of recognition and fellow-feeling when the mad man and the blind man meet again. There's an intemperate nervous vigour and a scorching sarcastic energy about this monarch with his Captain Birdseye beard and unsteady remnants of virility. Which makes the moments of quiet, confused candour all the more piercing. Anjana Vasan brings a pained dignity and palpable love to the wronged Cordelia and, in a moving transposition, Saskia Reeves plays Kent as a female PA, whose stalwart loyalty to the King leads her to return from banishment in the persona of a blunt, flat-capped Cockney bloke.
Not a great production, but an honourable one that gathers to a gutting climax. It will be broadcast live to cinemas on 21 September and is well worth a look.
Join our new commenting forum
Join thought-provoking conversations, follow other Independent readers and see their replies