Leave Taking, Bush Theatre, London, review: A satisfying, timely revival of Winsome Pinnock's play
This 1987 play looks at the gap between first and second generation immigrants, and is served by breathtaking performances 
Joe Vesey-Byrne
Monday 04 June 2018 11:56 Comments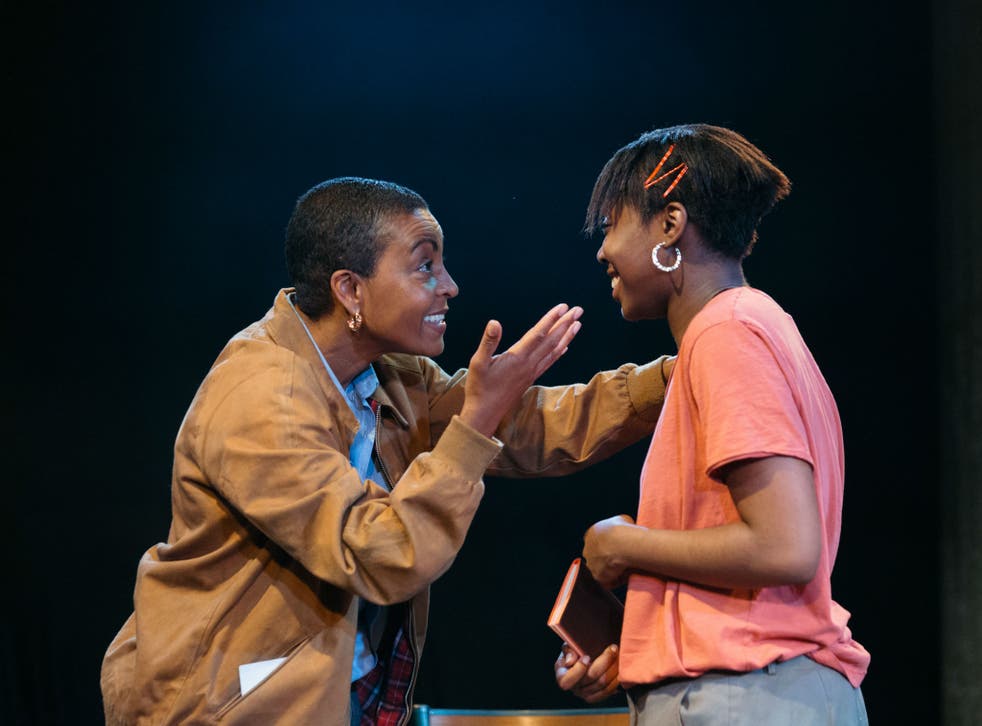 Writing glibly that a play about immigrants "explores the theme of identity" should be anathema to any to reviewer. Yet Winsome Pinnock's 1987 play does exactly this, and does it very well.
Leave Taking examines the ocean between first and second generation immigrants, each stuck between two romanticised "homelands", and the sense of alienation that can grow between parent and child.
Theatregoers who've ever had to adjust their ears to the heavy New York accents found in a Tony Kushner play, or taken a few moments to penetrate Shakespearean metre, will experience a similar adjustment to the Jamaican accents in the opening moments. Enid, a first generation immigrant from Jamaica, uses her bank holiday to take her two teenage daughters to have their futures read by Mai, a clairvoyant Obeah woman in Deptford. Enid fears that her eldest daughter has a secret.
The accents of Mai and Enid, both first generation, are suddenly disrupted by the defiantly South London accents of the second generation immigrants, Enid's daughters. The jarring effect throws the audience into one of the play's central themes, that of mothers and daughters essentially speaking at odds, as though in another language.
Mai the Obeah is on the surface a seer and palm reader. We find, however, that more often than not she fills the role of sounding board and family counsellor for her clients. Played with aplomb by Adjoa Andoh, she walks the line between loveable con-woman and reluctant empath perfectly, without ever becoming a caricature of either.
One line from Mai – "It only works if they pay. They have to invest in their own happiness" – is played for laughs, yet hints at a deeper philosophy and care for her clients. Beneath her gruff exterior there is a more subtle character.
Viv, the brainy daughter destined for university, quotes great English authors, and her wish to see the birthplace of her mother is confined to the structured escapism of a gap year visit. Enid too, is burdened by survivor's guilt for the family she left behind, but feels like a foreigner still to her children born in England. This tragic limbo is as relevant in 2018 as when Leave Taking premiered.
Madani Younis's production comes not long after the Windrush scandal, and the "hostile environment" is presumably never far from the audience's mind. In one uncomfortably recognisable anecdote from a play first staged over 30 years ago, Broderick (Wil Johnson), another first generation migrant from Jamaica, decries the fact that despite being raised as an Englishman in the Commonwealth, and then living in the UK for decades, he was asked by the Home Office to produce papers, and pay fees to secure his right to stay.
Windrush generation: threat of deportation from UK

Show all 15
Sarah Niles as Enid is breathtakingly good, communicating so much in repressed movements and flashes of anguish. The respectively bookish and tear-away daughters played by Nicholle Cherrie and Seraphina Beh are also convincing and moving.
There is much that is recognisable about the family, and much of the play's humour comes from the playful interactions between these warm characters. Sharp dialogue and memorable lines, such as the admonition that "love has teeth", add style to the play's meaty substance.
One of the most satisfying elements is Pinnock's ending, which eschews formal resolution or poetic justice – much like real life. The audience is given a brief look into the lives of one South London family, and then has it snatched away just as you fall in love with the lot of them.
Until 30 June (bushtheatre.co.uk)
Register for free to continue reading
Registration is a free and easy way to support our truly independent journalism
By registering, you will also enjoy limited access to Premium articles, exclusive newsletters, commenting, and virtual events with our leading journalists
Already have an account? sign in
Join our new commenting forum
Join thought-provoking conversations, follow other Independent readers and see their replies