Liberian Girl, Royal Court, review: Powerfully disturbing and immersive
A devastating, freshly-angled indictment of misogyny
Paul Taylor
Wednesday 14 January 2015 00:00 Comments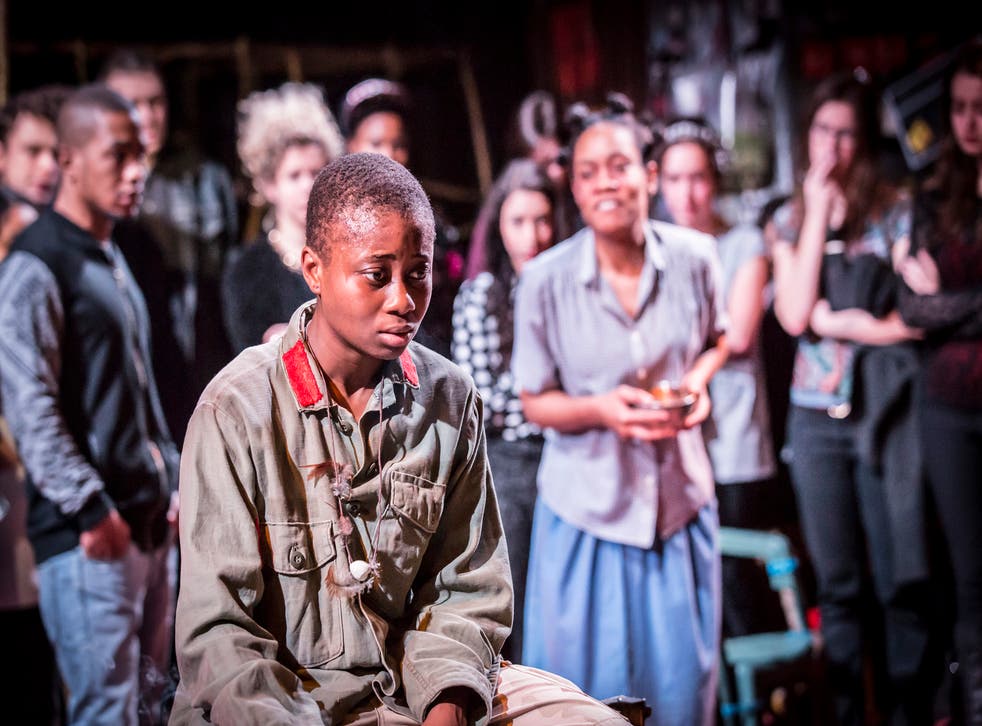 Diana Nneka Atuona's remarkable debut play was originally aired at the Global Summit to End Sexual Violence and now kicks off the Royal Court's year in Matthew Dunster's powerfully disturbing immersive production in the Theatre Upstairs.
With extraordinary boldness and range of empathy, the piece plunges us into the early years of the first Liberian Civil War (1989-1996) in which over 200, 000 people were killed, and it offers a joltingly unusual perspective on the recruitment and brutalisation of child soldiers in the "Small Boy Units".
As the rebels approach, 14 year old Martha (a stunningly convincing Juma Sharkah) is hustled into prudent male disguise by her grandmother but she is then compelled to play the boy for real when the soldiers – alarmingly high on cocaine and blood lust and angrily herding the audience round the red sand floor – recruit her to their ranks.
The ironies and contradictions of Martha's imposture (in one appalling scene she has to pretend to join in the rape of a young girl) are painfully elaborated. As she becomes hardened and more adept at faking it, her residual humanity is expressed through her initially reluctant protection of the abducted and abused Finda (splendid Weruche Opia). A devastating, freshly-angled indictment of misogyny.
To January 31; 020 7565 5000
Register for free to continue reading
Registration is a free and easy way to support our truly independent journalism
By registering, you will also enjoy limited access to Premium articles, exclusive newsletters, commenting, and virtual events with our leading journalists
Already have an account? sign in
Join our new commenting forum
Join thought-provoking conversations, follow other Independent readers and see their replies