Life is a Dream, Sadler's Wells, London, review: Rambert's first evening-length work for decades is understated
Kim Brandstrup's new adaptation of Pedro Calderón de la Barca 17th century play is a dance narrative in a hall of mirrors 
Zo Anderson
Thursday 24 May 2018 18:59 Comments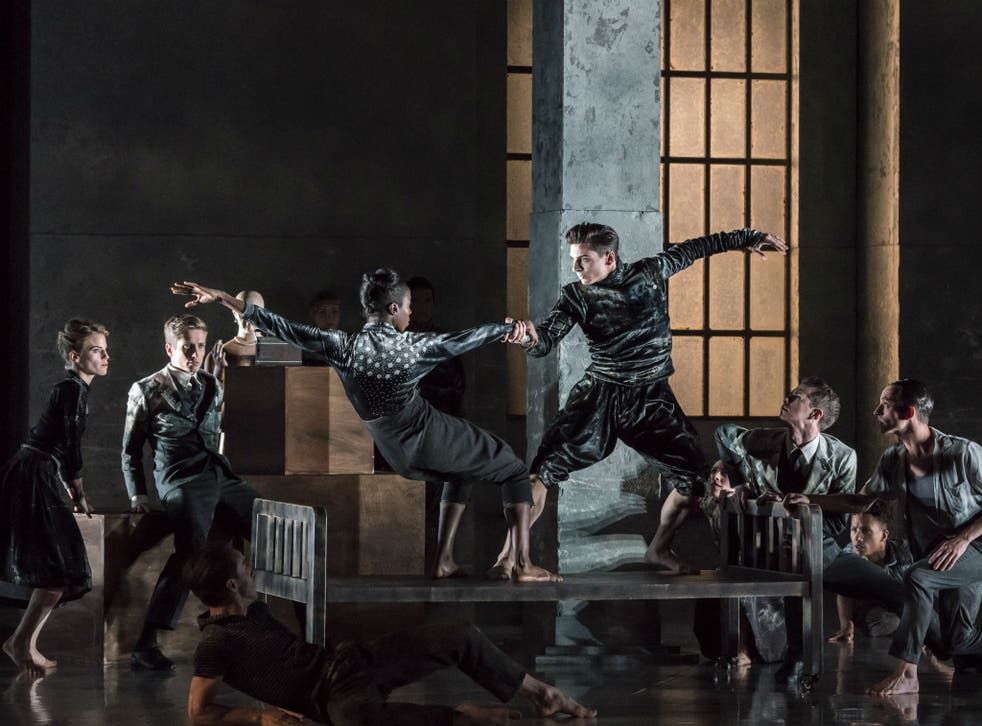 Kim Brandstrup's new work for Rambert is a story of a story of a story, as if its dance narrative had been reflected through the tarnished mercury mirrors that appear in its design. It's dense and always thoughtful, but I found myself wishing for something a little more obvious to hang on to.
Life is a Dream is a large scale project, Rambert's first evening-length work this century. It's inspired by the 17th century play by Pedro Calderón de la Barca, in which an imprisoned Polish prince wreaks havoc when he is released, trying to seize everything he has missed. Imprisoned again, he is told that everything he experienced was a dream.
Taking on this story, Brandstrup adds several more layers of distance and fantasy. It's set in a rehearsal room, where a dreaming director remembers scenes from the play, repeated and revised with different characters in the leading roles. In the second half, he ventures out of the rehearsal room, where the scenes replay – as reality, or something the director comes to see as another illusion.
Brandstrup sets his unreal drama in 1950s Poland, behind the iron curtain. The sets, by cult filmmakers the Quay Brothers, evoke a dilapidated, slightly gothic world. In silhouette, an unnerving costume dummy looks like a real person. Film projections suggest the world outside – a view of trees through the huge window, which then spreads to cover the walls of the rehearsal room.
Even these visions are monochrome; everything is stylised, with nothing so blatant as colour. Holly Waddington's costumes suggest 1950s and 17th-century shapes, with silvery patterns that look both lavish and decayed.
The music, by Witold Lutosławski, has a tangled intensity. Brandstrup finds dramatic impact in this series of concert pieces, handsomely played by Rambert's orchestra. It gives an urgency to the fragmented action, even if you don't know what's going on.
Brandstrup loves ambiguity and understatement. His last work for Rambert, the wonderful Transfigured Night, suggested both a romance and how his characters experienced and remembered it. Stretched over a full evening, Life is a Dream is much less accessible. Refusing to pin down the identity and action of its characters, it tends to hold their emotions at arm's length.
Some scenes shine out. I loved Nancy Nerantzi switching on the radio and swinging the prop bed across the floor as if it were her partner in a waltz. There's a jelly legged, vulnerable solo for Liam Francis, as the director trying to make sense of what happens to him. Edit Domoszlai, as one version of the captive prince, swirls and battles the air around her.
Now on tour (rambert.org.uk)
Register for free to continue reading
Registration is a free and easy way to support our truly independent journalism
By registering, you will also enjoy limited access to Premium articles, exclusive newsletters, commenting, and virtual events with our leading journalists
Already have an account? sign in
Join our new commenting forum
Join thought-provoking conversations, follow other Independent readers and see their replies