Looking for Mummy: Nazanin's Story, Edinburgh Fringe 2017, review: 'Entertaining and inspiring'
This brand new play by Emi Howell has the audience on the edge of their seats with an electrifying portrayal of Nazanin-Zaghari Ratcliffe's ongoing struggle to be released from an Iranian prison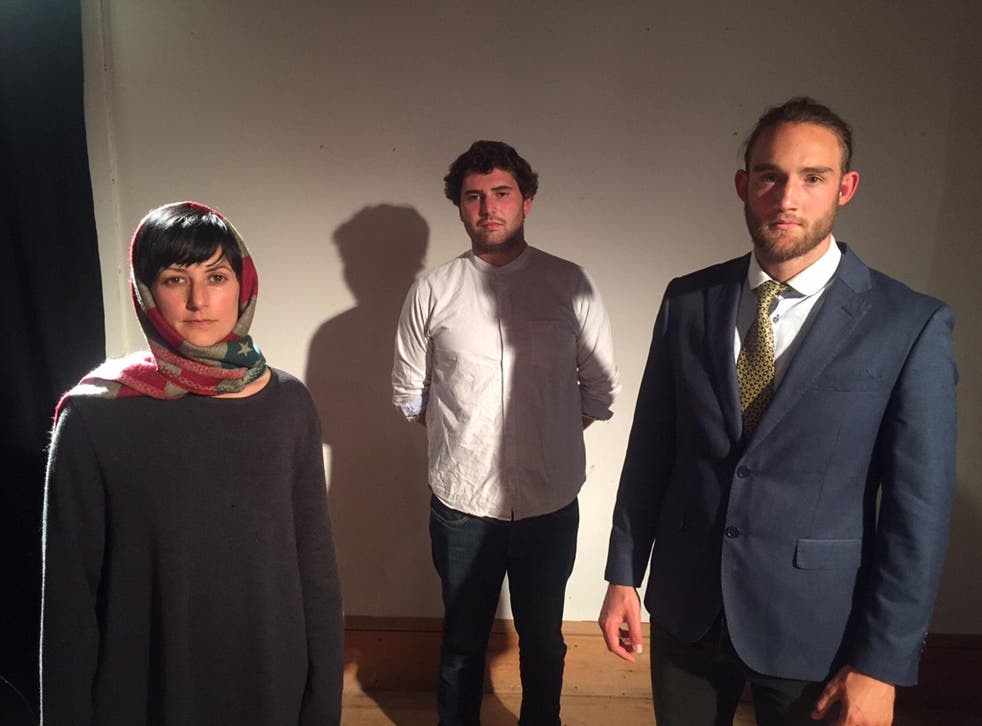 In her book Revolutionary Ride Lois Pryce, who motorcycled her way around Iran, stops in her tracks to give thought to the inmates of Evin, Tehran's notorious prison.
It is a poignant moment as she considers the plight of political prisoners. Not all of Evin's inmates, of course, are political at the outset – some become politicised having been jailed arbitrarily.
Among these is the woman invariably described as "British-Iranian north London mum" Nazanin-Zaghari Ratcliffe – for more than a year now she has been kept without charge, separated from her daughter with whom she was visiting her country of birth Iran last year, leaving her husband Richard in the UK where he has been running a tireless campaign for her release.
That very campaign inspires this work: a powerful relaying of an ongoing story that engages the audience viscerally without any cheesy moralising.
The fear with this sort of play would be of a series of monologues cobbled together to make a serious point to DHL to the Edinburgh Festival but this work by Emi Howell is reminiscent of My Name Is Rachel Corrie in its punch.
Using words from news reports and Richard Ratcliffe's blog to tell Nazanin's story anew, it effortlessly conquers the challenge of how to provide an ending to a story that doesn't have one – the audience is invited to join the Ratcliffes on tenterhooks in a topsy-turvy world they are resisting the normalisation of.
This is subversive theatre, made on a shoestring, which has the audience on the edge of their seats all the way through.
The story is expressed with phone calls between Nazanin and her husband dealing with corruption or intransigency, take your pick, of not one but two governments.
There is even a hint – just a hint – of slapstick as Howell herself and Patrick Carmody play Iranian prison guards with plummy accents one minute and Foreign Office fob-off specialists the next.
Why, the play asks, have our government ministers not yet demanded her release; why have they only just "voiced concern".
Among the events the play charts are the moment she Nazanin received a five-year sentence for the vague and ludicrous charge of plotting to overthrow the Islamic Republic, the UK Government dissuading her husband from continuing his campaign, the physiological problems she faced earlier this year and daughter Gabriella's third birthday.
Real-life and acted-out video pivot the story along. One shows a march for Nazanin and the tree near her home which was decorated with people's messages about freedom and yellow ribbons.
Sara Versi's Nazanin is an intelligent and deeply emotive study of one woman's isolation – in capturing her character's silences with an impressively cultivated gaze of despair on stage, she gives voice to the real Nazanin in jail in Tehran – it's goosebumps stuff.
Neizan Fernandez does an excellent job playing Richard Ratcliffe, who was in the audience for this preview at the The Red Hedgehog theatre in London.
This play entertains and inspires. A friend refused to join me to watch it. "God how depressing," she said. This production is far from depressing, however. It is doing its bit to keep this story from becoming wallpaper by pointing to the hypocrisy not just of the Iranian regime but also, sadly, our elected representatives in Westminster and the business interests they serve.
Until 28 Aug at C cubed, Celtic Lodge, Brodie's Close, Edinburgh
Tickets £8.50-£10.50, concessions £6.50-£8.50. Recommended 12+
Register for free to continue reading
Registration is a free and easy way to support our truly independent journalism
By registering, you will also enjoy limited access to Premium articles, exclusive newsletters, commenting, and virtual events with our leading journalists
Already have an account? sign in
Register for free to continue reading
Registration is a free and easy way to support our truly independent journalism
By registering, you will also enjoy limited access to Premium articles, exclusive newsletters, commenting, and virtual events with our leading journalists
Already have an account? sign in
Join our new commenting forum
Join thought-provoking conversations, follow other Independent readers and see their replies