Lulu - A Murder Ballad, theatre review: 'Not so much dark as pitch black'
Performed by The Tiger Lillies and Laura Caldow
Jonathan Brown
Friday 31 January 2014 15:18 Comments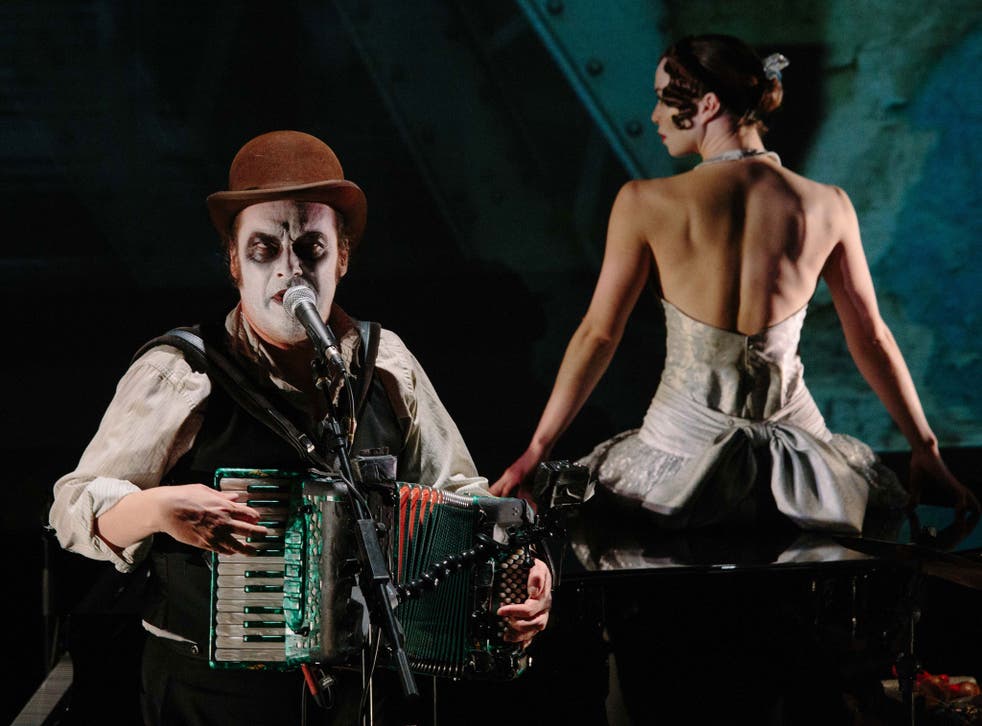 It is not like we weren't warned. "It is not a happy or a nice story," explain the programme notes to this rekindling of Frank Wedekind's epic descent into the obscene heart of the male psyche and the unspeakable underbelly of the Victorian streets.
But by the time you are reading the health warning it is already too late.  This is not so much dark as pitch black. A steampunkish operetta about child sexual exploitation, prostitution, suicide and ultimately misogynistic murder, it is not an evening for people who get angry watching Benefits Street.
Martyn Jacques and The Tiger Lillies enjoyed a cult hit and a 2002 Olivier award with their Shockheaded Peter and Lulu offers extraordinary challenging musical theatre in the same vein. Vilely beautiful, chillingly mesmerising, the MC from hell leads us by the clammy hand through the tragic brutalised life of Lulu, a woman born to be abused by every man she ever meets.
Needless to say, this Opera North, West Yorkshire Playhouse and Warwick Arts Centre co-production is not comfortable viewing, although I would defy anyone to remove their eyes from the sublimely illuminated stage as Laura Caldow delivers a heartbreakingly tender dance performance as the tragic heroine.
Jacques' trademark falsetto, mournful accordion and tinkling grand piano are accompanied by the brilliant Adrian Stout on contra bass, Theremin and musical saw and the equally outstanding Mike Pickering on percussion, who together create the most haunting and hypnotic of soundtracks with the sparsest resources.
Even in her death throes Lulu brings shame on man, explains Jacques. True. Yet by presenting the abuse as some kind of burlesque "entertainment" it is hard not to feel we are simply propagating the timeless circle of male-on-female violence. You might want to take a shower when you get home but you won't forget this.
West Yorkshire Playhouse to 1 February, then Warwick Arts Centre, Contact, Manchester and Northern Stage, Newcastle-upon Tyne to 1 March
Register for free to continue reading
Registration is a free and easy way to support our truly independent journalism
By registering, you will also enjoy limited access to Premium articles, exclusive newsletters, commenting, and virtual events with our leading journalists
Already have an account? sign in
Join our new commenting forum
Join thought-provoking conversations, follow other Independent readers and see their replies