Macbeth, Barbican, London, review: It's beautiful but this Macbeth never grabbed me
A revival of the late Japanese director Yukio Ninagawa's 'Macbeth', which sets the action in a 16th century samurai world, is performed in Japanese with English surtitles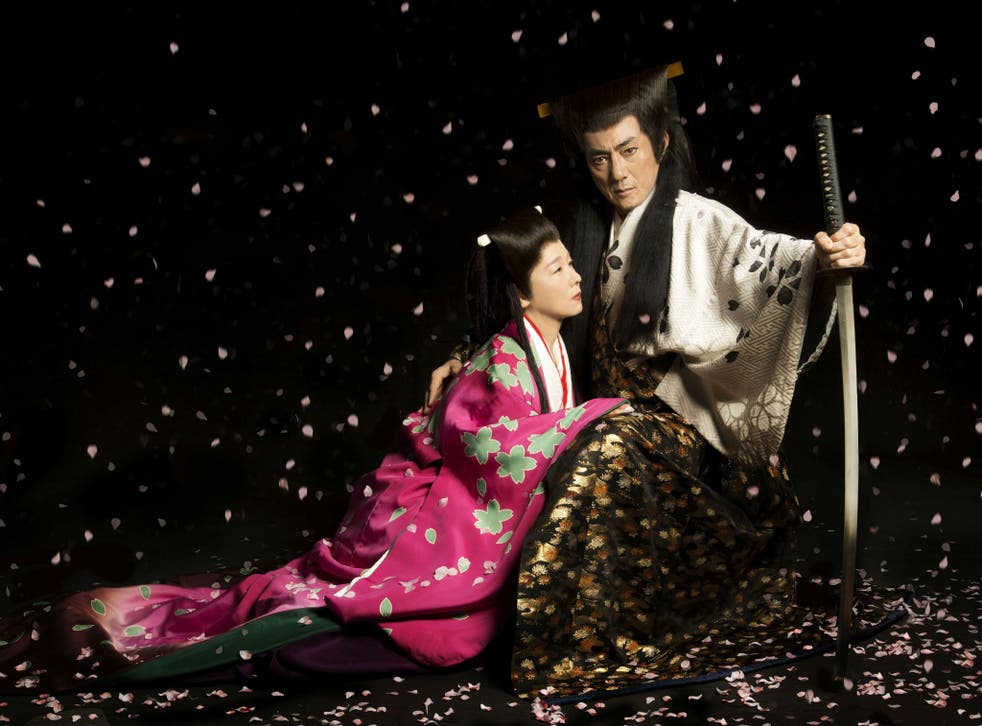 This is a legendarily beautiful Macbeth: a production first seen in the UK in 1985, directed by Japanese director Yukio Ninagawa, who died last year. A reverential revival, it promises to cleave to his original vision.
Shakespeare's gloomy play is staged amid cherry blossom, every aspect of its distinctive aesthetic appearing as quintessentially "Japanese" as a foreign audience could possibly desire, in a production rich and heavy with ritualised performance.
It really is beautiful. It's staged in an ornate black and gold wooden box with sliding screens, that often effectively remove the action, especially during the supernatural scenes. Scenes are accented symbolically with splashes of violent vermillion: a huge heavy moon, and the inside of a kimono, are blood red. Costumes are sumptuous, and that cherry blossom is gorgeous: fluttering down mournfully over witches and murderers, and providing the most ironically charming Birnam Wood you ever did see.
It's all rather painterly, and that continues with the action: actors scurry occasionally, but most of the time movement is slow and stately and sad, gestures exaggerated and grandiose. Attractive stage pictures are drawn with sweeping kimonos, ritualised handwashing, and armies of Samurai soldiers reacting in non-naturalistic unison.
Yet Ninagawa's production can also offer a sickly surfeit: the cloying sweep of classical music might have seemed original 30 years ago but now smacks of cheap Hollywood, or even advertising, tactics (especially the use of the now over-familiar Barber's "Adagio for Strings"). And for all it looks luscious, this Macbeth never fully grabbed me. There's something removing about the slow precision, and the prettiness.
It's often going to be harder to emotionally connect to Shakespeare performed in another language, and here the performance style makes it harder still: there's good deal of what feels like over-emphatic shouting, which at certain key points – such as the announcement of Lady Macbeth's death – tips into shrieking so shrill it's hard not to recoil. The surtitles occasionally seem to go a bit awry, too: we get "direct" rather than "direst" cruelty, for instance.
Some performances shine through: the weird sisters, played Kabuki-style by men in yellow and red kimonos, faces painted white, are certainly compelling, their voices swooping grotesquely. Yuko Tanaka makes for a silky, mesmeric Lady Macbeth, and she and Masachika Ichimura as Macbeth interestingly convey a couple bound together in melancholy even after the deed (though you might hanker for something more raw than 'melancholy' by that point).
But blackouts for scene changes drag, as each time we revisit two poor peasant crones who have to sit at the front of the stage, lamenting. They don't add much.
It's always interesting to open yourself up to performance traditions from other cultures, but watching this production – which stretches Macbeth to three hours long – felt more like a dutiful act of appreciation than a revelatory experience.
Register for free to continue reading
Registration is a free and easy way to support our truly independent journalism
By registering, you will also enjoy limited access to Premium articles, exclusive newsletters, commenting, and virtual events with our leading journalists
Already have an account? sign in
Register for free to continue reading
Registration is a free and easy way to support our truly independent journalism
By registering, you will also enjoy limited access to Premium articles, exclusive newsletters, commenting, and virtual events with our leading journalists
Already have an account? sign in
Join our new commenting forum
Join thought-provoking conversations, follow other Independent readers and see their replies