Macbeth, Shakespeare's Globe, review: Thrilling with riveting performances, this is the Globe at its best
For David Lister, the performance of the night comes from 'underrated' actress Tara Fitzgerald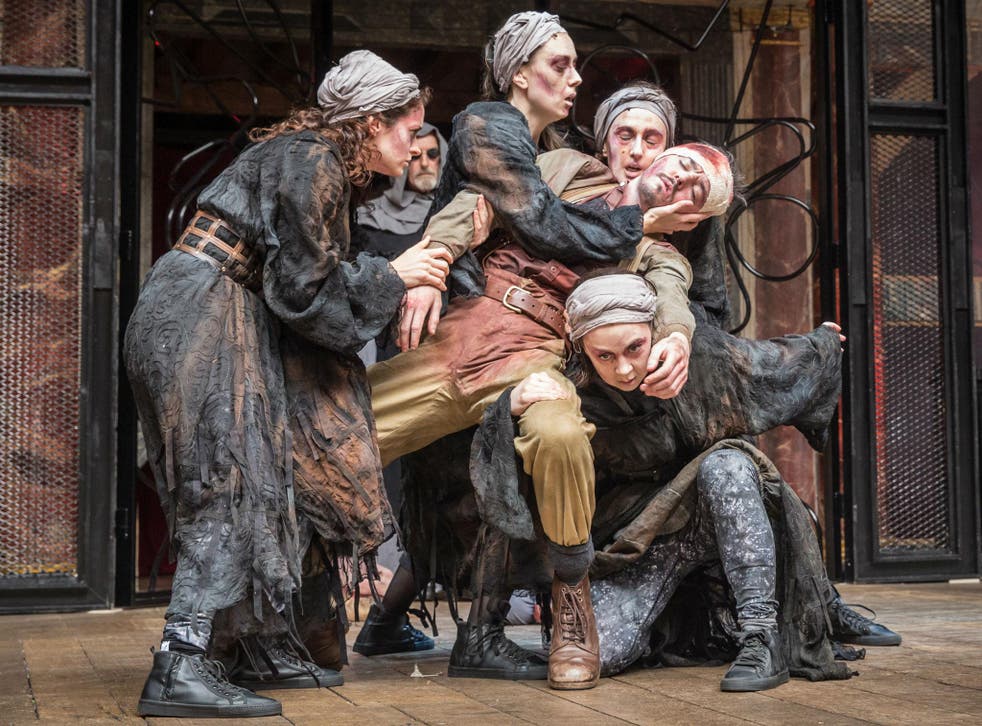 The very first greeting between Ray Fearon's Macbeth and Tara Fitzgerald's Lady Macbeth is actually an advanced state of foreplay.
In his absorbing and powerful production, director Iqbal Khan has an unusually sexy and strikingly attractive pair of tyrants. Fearon commands the stage, conveying utterly convincingly his journey from nervy enthusiasm to see the witches' predictions come true, through palpable anxiety to blind ruthlessness.
But for me the performance of the night comes from that too often underrated actress Tara Fitzgerald. Far from the 'fiend-like queen' of Malcolm's concluding speech, she is more the bored housewife possessed of a girlish enthusiasm for the unexpected possibilities ahead. She lets forth an involuntary giggle when discussing Duncan's murder. She petulantly throws a glass of wine in her husband's face when he has doubts. It's a bit of a game for her, which makes her eventual decline all the more painful and affecting. The sleepwalking scene, where she skips as well as walks, is mesmerising, the stage bathed in a red glow from the very effectively lit central pillars, Jocelyn Pook's affecting original music enhancing a sense of horrible foreboding.
How integral the music and Melanie Pappenheim's haunting singing is to this production. How suitably weird it is to have the weird sisters' words sung from above rather than spoken by them.
And a special mention too for Nadia Albina's porter. I always groan at the thought of the porter's scene, a scene that has long since ceased to be funny or fresh. But Albina makes it both, a piece of stand-up (and lie down) physical comedy, full of contemporary ad-libs from Trump to Brexit, the actress even making fun of her own handicap (her right arm finishes at the elbow), and offering the groundlings a high five.
Yes there are caveats. When every schoolchild knows that Macbeth opens with three witches and the line 'When shall we three meet again?' it's a little perverse of the director to give us four. I'm not sure I understand the motif of a small boy following the Macbeths around. Is he their child, which Shakespeare left very unclear, a page boy, a symbol of the future? And while I relished the ad-libs in the porter's scene, these should not have continued, however briefly, into Macbeth's entrance from killing Duncan, causing the actor to smile. Cut that out please.
But no caveats can really distract from such a thrilling, beautifully spoken production, with the richly evocative music a memorable backdrop to two riveting central performances. This is the Globe at its best.
Runs until 1 October, call 0207 401 9919 box office
Register for free to continue reading
Registration is a free and easy way to support our truly independent journalism
By registering, you will also enjoy limited access to Premium articles, exclusive newsletters, commenting, and virtual events with our leading journalists
Already have an account? sign in
Register for free to continue reading
Registration is a free and easy way to support our truly independent journalism
By registering, you will also enjoy limited access to Premium articles, exclusive newsletters, commenting, and virtual events with our leading journalists
Already have an account? sign in
Join our new commenting forum
Join thought-provoking conversations, follow other Independent readers and see their replies