Magic Mike Live review: Strip show, dance spectacular, and wannabe feminist entertainment all rolled into one
'Magic Mike Live' is not your typical theatrical experience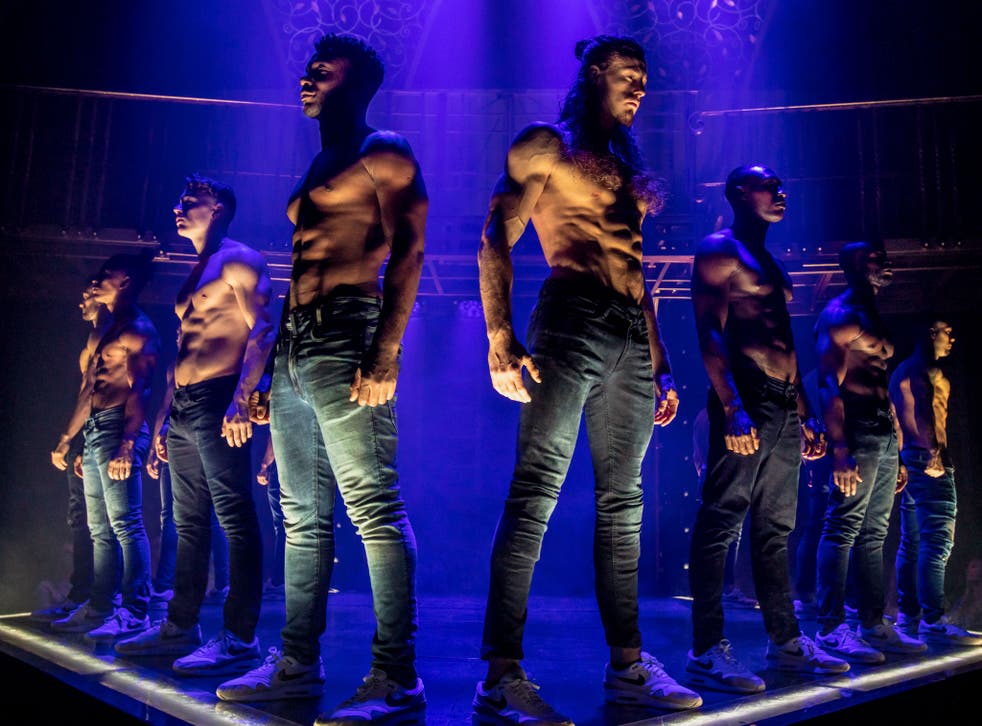 Trying to scribble in your notebook while dodging a pair of legs akimbo? It's not a typical problem in the life of a theatre reviewer, but then, audience lap dances and all, Magic Mike Live is not your typical theatrical experience. Instead, this much-hyped extension of Hollywood star Channing Tatum's film franchise about "male entertainers" is strip show, dance spectacular, and wannabe feminist entertainment all rolled into one.
Through two films, and now this stage offshoot, Tatum has certainly played a blinder in capitalising on his brief pre-Hollywood career as an exotic dancer. Instead of red-facedly disavowing his past, he has remodelled male stripping as an enlightened art form, where strippers are choreographically-breathtaking caretakers of female desire. That Magic Mike Live wants to be a cut above your average flesh parade is signalled from the off with an opening conceit, which, without giving too much away, takes the mickey out of old-school stripper stereotypes.
As for the Magic Men? The fact one is bigged up as "The Vegan" probably tells you all you need to know. These are not Chippendale-like chumps but oh-so-sensitive millennial lotharios: diverse in nationality, ethnicity and look, but united by an eminently approachable, boy band-ish demeanour – as well as abs with the contours of upturned ice cube trays, obviously. At the centre of the show's notional plotline is the eponymous Mike, a rosy-cheeked naif played by Sebastian Melo Taveira, who has to be initiated in the ways of seduction via various dance showcases – and a lesson, in case you feared for its post-#MeToo credentials, in gaining a woman's "permission".
Is this the emperor wearing no clothes – bar the requisite posing pouch? Slightly. Initially, at least, the show is so determined to prove its woke credentials, it drags out the set-up for too long: there's too much telling and not enough showing, for want of a better phrase. And while comedian Samantha Baines, as the MC guiding proceedings, has a winning stage presence, her strain of "oo er" innuendo is a tad over-emphatic. Nor, in general, does her down-to-earth British manner sit entirely comfortably with some of the more evangelical American-sounding proclamations she's given, such as "Why don't we celebrate womanhood and raise each other up?"
But when it comes to the show's meat-and-(two)-veg – the dancing, it scores. While showcasing various styles, from street to tap to robot, like Strictly on Viagra, it also boasts a sequence between Mike and a female dancer that, aside from being almost indecently intimate, is simply a stunning piece of choreography, all the more so for being performed amid cascading water – It should be mentioned that the venue, the theatre at Leicester Square's Hippodrome Casino, has been expertly remodelled to accompany various stage-shifting wizardry. Melo Taveira, in particular, is a star: another sequence in which he performs for Baines is an exhilarating whirl of balletic spins.
It would be remiss not to mention the audience interaction, with the dancers' various bits of bumping 'n' grinding climaxing in the mild pandemonium of them lap-dancing their way through the audience. On this, I must defer to my companion Alice for her verdict – men, gay or straight, being rather a spare wheel in this context. She reports: "After 20 minutes of clutching the side of my chair, I relaxed into the show and enjoyed the dancers catching my eye and occasionally stroking me as they danced past. Then the inevitable happened and one of the – very attractive – dancers ran at me and hopped onto my lap. I stopped breathing – but I have to admit I enjoyed it. I do think the dancers achieved the show's aim of making the women in the audience feel special." So there you are.
Indeed, it has to be said, the rest of the audience seem nothing less than ecstatic throughout; certainly, the decibel level is one that should be experienced sparingly. And if it will surely launch a thousand think pieces about male objectification, then I think the show has achieved enough of the right balance between sexy, skilful and silly to shrug them off with aplomb.
Support free-thinking journalism and attend Independent events
Register for free to continue reading
Registration is a free and easy way to support our truly independent journalism
By registering, you will also enjoy limited access to Premium articles, exclusive newsletters, commenting, and virtual events with our leading journalists
Already have an account? sign in
Register for free to continue reading
Registration is a free and easy way to support our truly independent journalism
By registering, you will also enjoy limited access to Premium articles, exclusive newsletters, commenting, and virtual events with our leading journalists
Already have an account? sign in
Join our new commenting forum
Join thought-provoking conversations, follow other Independent readers and see their replies