Maliphantworks, Coronet Print Room, London, review: Fluid, elegant and self-possessed choreography
A collection of contemporary dance works curated by choreographer Russell Maliphant includes the 1998 'Critical Mass', as well as a new dance for Maliphant and his longtime muse, Dana Fouras
Zo Anderson
Thursday 08 March 2018 11:37 Comments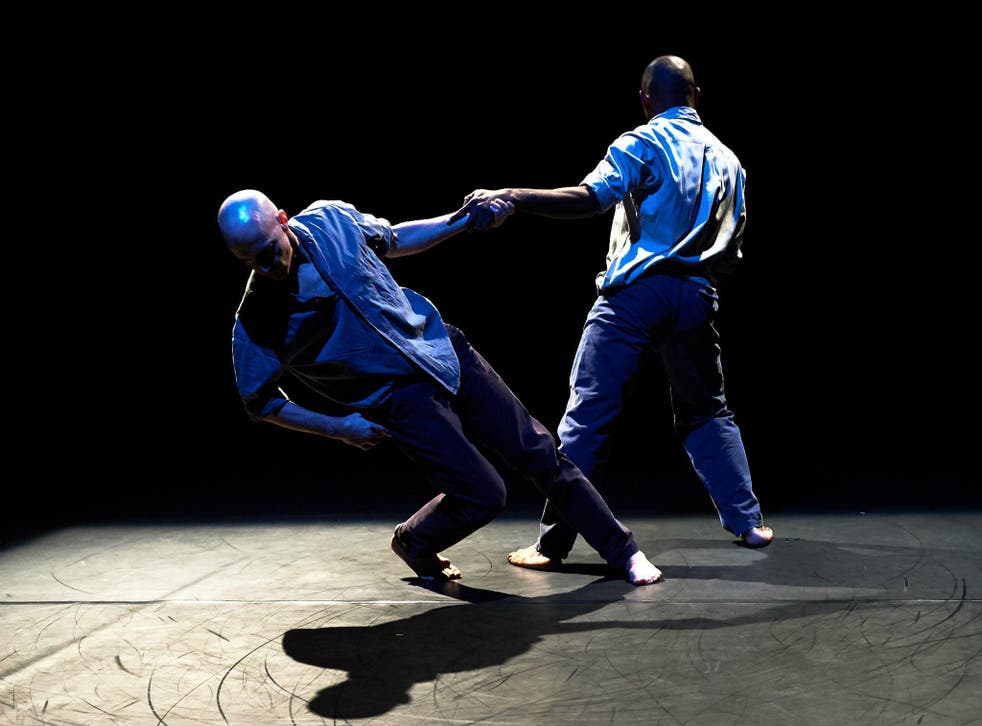 Russell Maliphant's choreography is fluid, elegant and self-possessed. He doesn't do flashy: he and his dancers reveal extraordinary strength, not in big moves but in effortlessly sustained lines. Shimmering in golden light, they remain poised and thoughtful.
Since founding his own company in 1996, Maliphant has become quietly starry, collaborating with superballerina Sylvie Guillem, the BalletBoyz and more. Still, his dances work particularly well in intimate spaces, making him a good fit for the distressed chic of the Print Room at the Coronet. His second collaboration with this venue, maliphantworks2, is an evening of duets and film, from the 1998 Critical Mass to a new dance for Maliphant and his longtime muse, Dana Fouras.
The two male dancers of Critical Mass can look like mirror images. With Maliphant himself and the marvellous Dickson Mbi, it's more of a study in contrasts, between the long-limbed choreographer's lean experience and younger Mbi's rich power. Mbi plunges into a silky backbend, caught and held by Maliphant: it's an image of trust as well as balance.
Maliphant's duets often emphasise the independence of each performer. Two Times Two is a double solo. Fouras and Grace Jabbari each stand in a box of light created by Michael Hulls, arms whirling so fast that they blur, or reaching out in gestures of etched clarity. They're both isolated and overlapping. Arm positions chime; one bends forwards as the other bends back.
In Still, the lighting and Jan Urbanowski's animation make an aggressive partner for Mbi, who stands in a field of strobing, twitching patterns. His moves are impossibly slow and steady, turned into a crackling, flickering image. It's both a celebration of his quality of movement and a distraction from it. Late in the piece, he's joined by Jabbari, who matches his moves but stays a remote figure.
The new duet for Maliphant and Fouras is all about the connection. There's a sense of a couple with bone-deep knowledge of each other, played out with serene assurance and hints of nostalgia. Fouras's score brings together fragments of a Donizetti aria, sung by Caruso, emerging from snatches of radio static.
Circling each other, Maliphant and Fouras are as sophisticated as tango dancers, but without the sense of power struggle. Each is independent and free, with an extra softness suggested by their fullness of movement. Perched on his back or shoulder, she reaches into space with floating, balletic ease.
Until 17 March (the-print-room.org)
Register for free to continue reading
Registration is a free and easy way to support our truly independent journalism
By registering, you will also enjoy limited access to Premium articles, exclusive newsletters, commenting, and virtual events with our leading journalists
Already have an account? sign in
Join our new commenting forum
Join thought-provoking conversations, follow other Independent readers and see their replies