Matthew Bourne's Swan Lake, Sadler's Wells, review: All-male reinvention of the world's favourite ballet is still a marvel
First seen in 1995, this revival of Matthew Bourne's spellbinding production is as urgent as ever 
Thursday 13 December 2018 13:57
comments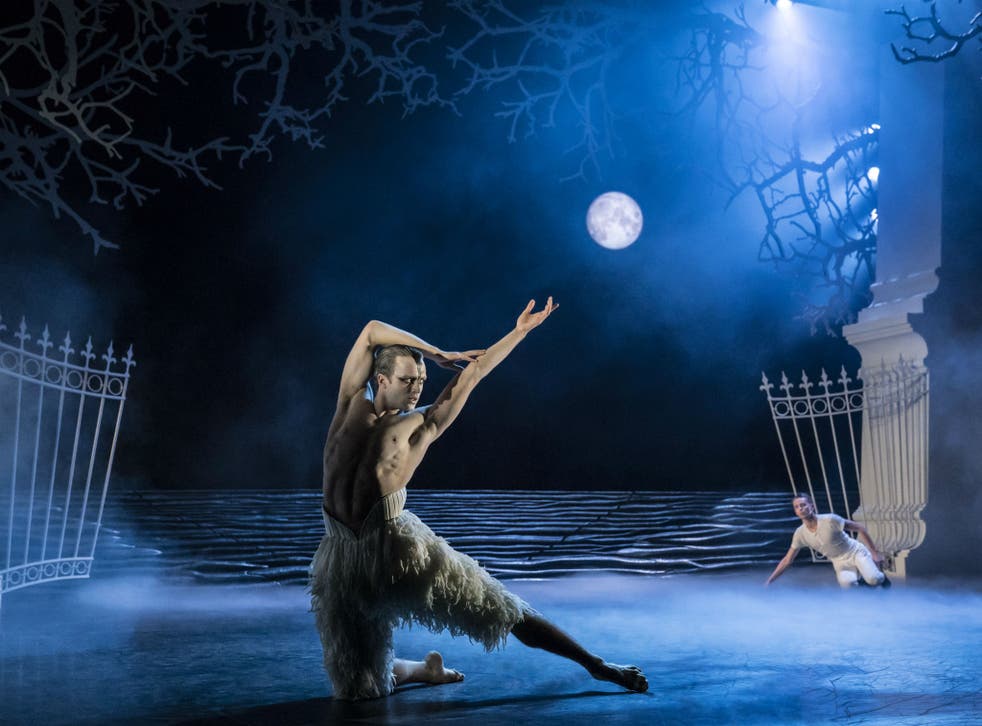 Swan Lake with male swans: Matthew Bourne's reinvention of the world's favourite ballet is still a marvel. For this revival, he and regular collaborators Lez Brotherston and Paule Constable have refreshed their staging, but the shape and the urgency of Bourne's storytelling continue to sing out. This is a Swan Lake that taps into the power of the classic – the yearning for love, for freedom – while finding its own spellbinding imagery.
Created in 1995, Bourne's work brings the tale of prince-meets-swan into the present day. His hero is a repressed modern royal, dominated by his regal mother and her Machiavellian press secretary, barred from emotional outlets. His Swan is everything the Prince needs and can't have. This depiction of male love, both fierce and tender, was groundbreaking; decades on, it's still fairly rare to see anything but heterosexual love on dance stages.
It also offered a new role model for male dancers. Bourne's present New Adventures company have grown up with his Swan; some have also come through its youth production of Lord of the Flies.
For this revival, The Royal Ballet's Matthew Ball makes guest appearances as the Swan. He's a wild thing, unpredictable and alien, with fluid, sensuous upper body movements and a sense of the swan's heft and dangerous power. Yet there's also a sense of vulnerability in his duets with Liam Mower's Prince, wonder and discovery on both sides. And as the Stranger – Bourne's equivalent to the ballet's Black Swan – Ball is teasing and predatory, a gatecrasher whose upending of protocol thrills the Prince even as it torments him.
There's much more dancing for the Prince in Bourne's revised choreography, with ardent leaps as well as uptight mime. Mower suggests aching need, particularly in his scenes with Ball's Swan. The Queen has become a starkly unsympathetic character – not just repressed, but seeming to despise her son, which undermines her eventual grief for him; Nicole Kabera is icily elegant, with a sense of held-down feeling. Katrina Lyndon is a delight as the Prince's unsuitable girlfriend, wonderfully unguarded in all her reactions.
Brotherston's designs are as fluid and witty as ever, from the many swan references to the trundling corgi. Some details have been dropped: the club scene is more generic, with fewer individualised types. Similarly, some of Bourne's jokes have got broader. In the ball scene, the princesses are played more for laughs – it's fun, but there's less emphasis on the Stranger's overwhelming impact. They're minor details in a marvellous work. "The legend returns", posters declare, and for once it's not just hype.
Until 27 January, sadlerswells.com
Join our new commenting forum
Join thought-provoking conversations, follow other Independent readers and see their replies