Measure for Measure, Barbican, review: Excellent production draws thought-provoking parallels with Putin era
Cheek By Jowl and Moscow's Pushkin Theatre's collaboration brings finesse
Paul Taylor
Friday 17 April 2015 20:32 Comments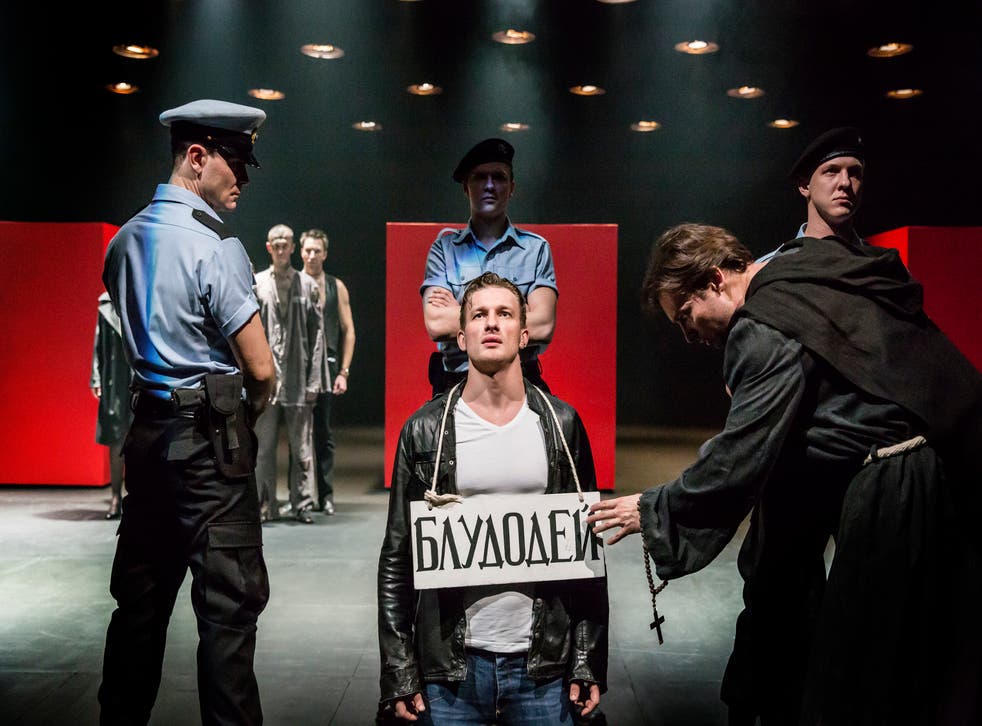 The abuse of power is an ever-topical theme, though one that is itself open to mistreatment by axe-grinding, opportunistic directors. But in this stunning account of Measure for Measure – Declan Donnellan's stripped-back, modern-dress co-production between Cheek By Jowl and Moscow's Pushkin Theatre – the parallels with the Putin era never feel remotely forced.
They emerge with alarming naturalness from the director's searching, X-ray approach to Shakespeare's purposefully problematic play.
Nick Ormerod's setting is clinically abstract. "Vienna" is evoked with just five red container-cubes, an anonymous desk and a few chairs. The 13-strong Russian company are a constant kinetic presence, giving the production its nimble-footed energy and sardonic trenchancy.
At the start, they seem to be an intimidatory, pursuing phalanx, seen through the nervy, bespectacled eyes of Alexander Arsentyev's fabulously conflicted Duke who, evidently undergoing some personal crisis, bottles out of power and hands over the reins of reform to the zealous Angelo (Andrei Kuzichev).
This disparate troupe then whirls the Duke around with dream-like fluidity from location to location when he returns, disguised as a friar, to observe the vicious, exploitative behaviour of his seemingly incorruptible deputy. He witnesses things that are a quite worse than his neurotic imaginings.
The bare, brilliant suddenness of the staging – its dynamism and diagrammatic lucidity – releases a pungently fresh force from features of the play to which we have become calloused. We tend these days to make too light of the horror of what is demanded of novice-nun Isabella (to save her brother's life by having sex with Angelo). But here there's a truly disgusting, low-key creepiness to the way Kuzichev's excellent Angelo, a nerdy pen-pushing apparatchik whose rampancy otherwise finds its outlet in paper-work, stares between her legs and angles to rape Anna Khalilulina's superbly impassioned Isabella in his dreary office.
And it's a terrible moment when the desperate Claudio (Petr Rykov) has to be hoisted by the chorus away from violating his sister because of her insistence on Christian virtue.
Portraits of Playwrights

Show all 7
Equally admirable is the chutzpah with which the production conveys that the disguised Duke is very far from in control of the scenario he affects to be masterminding and there's a wonderfully squashed bravura to the way he tries to make political capital out of the "happy ending" he has concocted. Donnellan engineers a terrifically comic sense of a thread being snapped when the Duke's hand-to-mouth stratagems fail to kick in.
Face-savingly, the whole show goes into waltz-time, a flagrantly ersatz form of order, idiotically/plangently underscored by Claudio's double-bass. Then there's the fact that the noisy crowd don't quite respond as the returned Duke would ideally like. The dance partners jib at his over-neat choreographic designs. With a red carpet rolled out and microphones positioned, he tries to milk the (recorded) acclaim, but here it just seems like another abuse of power.
The great virtue of this production is that it combines a solar plexus punch with real, thought-provoking finesse about the issues. If , by any chance, you are a Cheek By Jowl virgin, it's the first of their shows to be live-streamed. Don't miss it on April 22nd.
To 25 April; 020 7638 8891
Register for free to continue reading
Registration is a free and easy way to support our truly independent journalism
By registering, you will also enjoy limited access to Premium articles, exclusive newsletters, commenting, and virtual events with our leading journalists
Already have an account? sign in
Register for free to continue reading
Registration is a free and easy way to support our truly independent journalism
By registering, you will also enjoy limited access to Premium articles, exclusive newsletters, commenting, and virtual events with our leading journalists
Already have an account? sign in
Join our new commenting forum
Join thought-provoking conversations, follow other Independent readers and see their replies