Medea, National Theatre, review: Unforgettable and horribly gripping
A scrupulously judicious modern-dress production
Paul Taylor
Tuesday 22 July 2014 14:37 Comments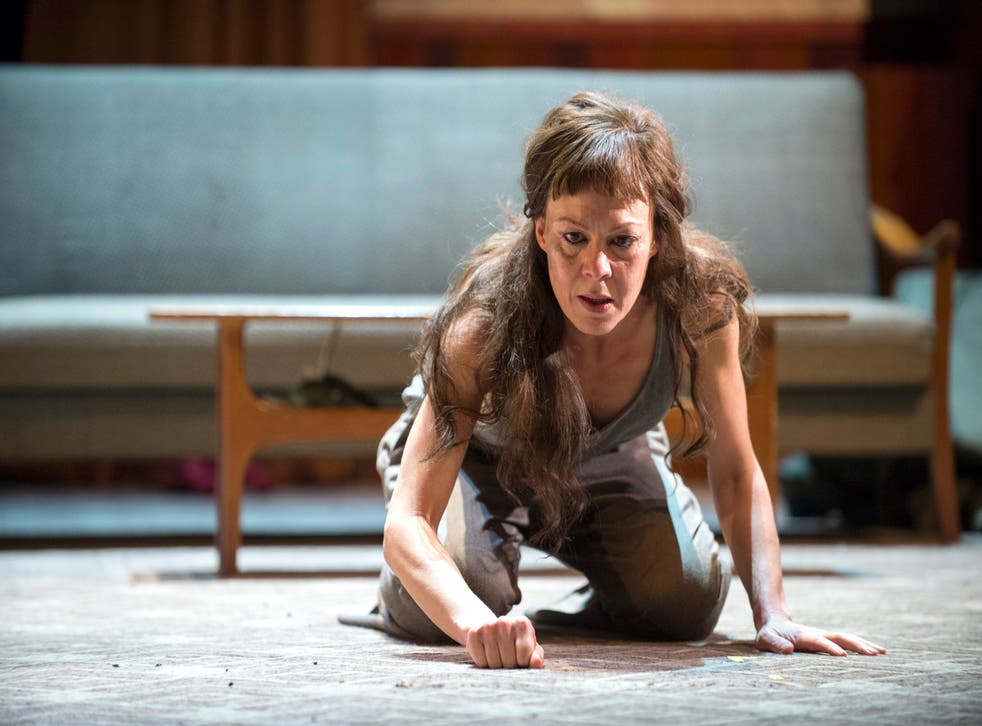 This is, incredibly, the first ever staging of Medea in the National Theatre's 50 year history. It's an omission all the more remarkable, given the complex feminist issues raised by Euripides' unsparing portrayal of a dumped woman driven to exacting revenge on her treacherous partner by the ultimate (and tragically self-defeating) recourse of murdering their children.
Carrie Cracknell plugs the gap now with this horribly gripping, scrupulously judicious modern-dress production (part of the Olivier's £15 Travelex season) in which Helen McCrory gives a performance of scorching emotional power and searching psychological acuity.
Our first view is of her two little sons lying on sleeping bags and watching TV in the dilapidated guest house – which gives onto a dark, creepy garden – in which they and their mother are camping out before banishment.
Up above behind glass (on Tom Scutt's striking split-level set) we get silent glimpses of the wedding celebrations for their father's politically expedient marriage to the local princess.
The 13-strong chorus of Corinthian women are here the bridesmaids who, as the tension mounts, register their nervousness in the involuntary judders and tics of Lucy Guerin's disturbing choreography.
It's performed to the pulsing, out-kilter uncanniness of the score by Will Gregory and Alison Goldfrapp that gets right under your skin as it eloquently intensifies the atmosphere of the foreboding.
Medea is no meek victim-figure pushed to a sudden mad crime of passion. She has already burned all her boats for Jason in a series of atrocities that includes the dismembering of her own brother.
If the couple can be loosely likened to Bonnie and Clyde, it's as though Clyde is now rewarding Bonnie for her resourceful loyalty by marrying the Sheriff's daughter. "Just for old times' sake/Let's pretend I don't despise you." McCrory declares with a wonderful swoop of scorn (the lean, mean new version is by Ben Powers).
But of course she'd have him back in a moment as is indicated here by a hungry embrace from which Jason (a curiously under-energised Danny Sapani) gingerly extricates himself leaving her humiliated and holding only air. It's her inability to get over him, even though she can see he's not worth it, that draws on the disaster.
The heroine's formidability and vulnerability are brilliantly entwined in McCrory's performance.
Pacing frustratedly round these grotty quarters and trading in scathing, end-of-the-tether ironies, she is the embodiment of how if you leave a person with only their wits to live on, those wits are likely to warp.
She runs rings of cool calculation round the male characters but there are stunning moments where her entire system seems to collapse under the pressure of maternal instinct – such as the superb point when she realises, with claustrophobic panic, that by using her sons as pawns in her vengeance against the bride, she has trapped herself into now having to kill them in order to protect them from a worse death at the hands of her foes.
The stricken fury with which she psychs herself up for the deed manages to feel both horrible and piercing. And I don't think I have seen a Medea where the hollowness of the protagonist's triumph has been communicated with such harrowing bleakness.
I won't disclose too much about the ending but let's just say that it invokes the deus ex machina tradition only to deny it and it gives graphic weight to the notion of shouldering blame.
Unforgettable.
To Sept 4; 020 7452 3000 – NT Live broadcast in cinemas on Sept 4
Register for free to continue reading
Registration is a free and easy way to support our truly independent journalism
By registering, you will also enjoy limited access to Premium articles, exclusive newsletters, commenting, and virtual events with our leading journalists
Already have an account? sign in
Join our new commenting forum
Join thought-provoking conversations, follow other Independent readers and see their replies