A Midsummer Night's Dream review: Nicholas Hytner's take on the Bard comedy is another mould-breaker
This production, which reunites the team responsible for last year's smash hit 'Julius Caesar', stars Gwendoline Christie from 'Game of Thrones' as Titania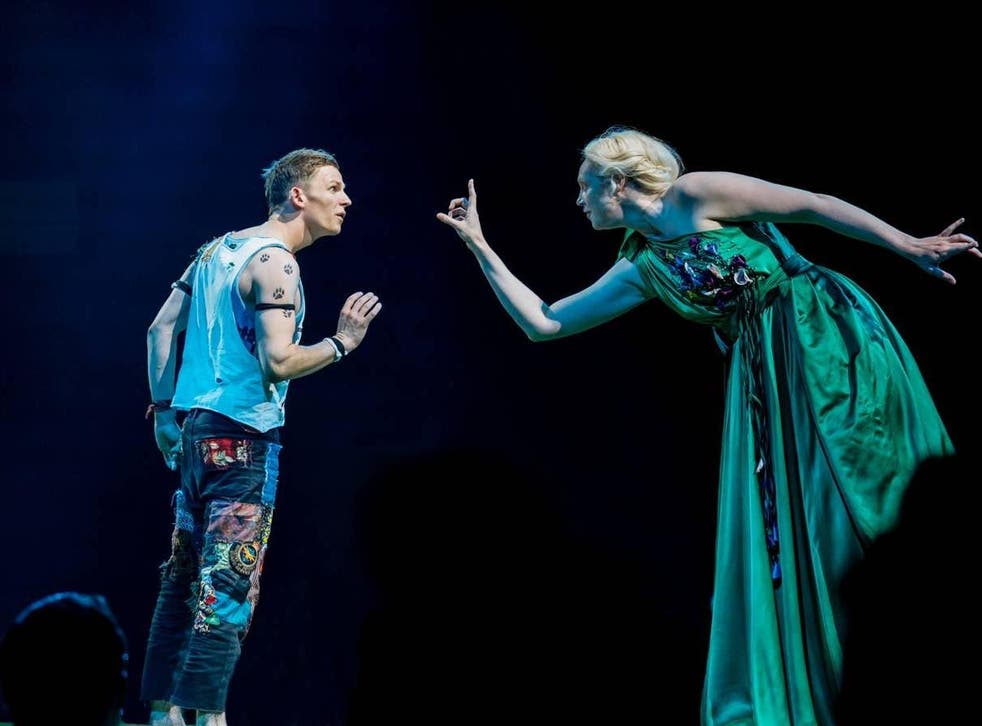 In several parts of Nicholas Hytner's gloriously funny, immersive take on A Midsummer Night's Dream at the Bridge Theatre, I was reminded of Michelle Obama's pitch-perfect put-down: "When they go low, we go higher". Except that, in regards to this production, it's as if the former first lady had continued, with a dignified wink: "Oh, and lower too – just to be on the safe side."
There is not a tutu in sight amongst Hytner's band of adult fairies. They are a troupe of insubordinate show-offs of all genders and sexualities. Non-human and often downright inhuman, these wayward creatures end the first half in synchronised aerial display to the strains of Beyonce's "Love on Top". It would be misleading, though, to give the impression that this is a strenuously louche Dream. True, this is a play that has a deceptive reputation as being the most child-friendly in the Shakespeare canon – hence the mould-breaking productions over the years. In the 1970s, Peter Brook's version had a simple white box set, designed by Sally Jacobs and influenced by the Chinese circus; in the 1990s, Robert Lepage's National Theatre transformed the wood outside Athens into a mud bath symbolising the Freudian id.
Hytner's Dream – which reunites the team responsible for last year's smash hit Julius Caesar – is in this tradition but more approachable (literally so if you choose to plump for being a promenader in the pit).
The bunch of rude mechanicals who rehearse and mount the inset "Pyramus and Thisbe" play are enchanting because they are not performed as buffoons but as innocents. I won't insult Hammed Animashaun's performance as Bottom the weaver with the summary description "adorable". Oh, it's that all right, but mixed in with the traditional bumptious enthusiasm are exquisite touches of shyness and vulnerability. Felicity Montagu, deliciously funny as the gender-changed Quince, is brimming, all-purpose benignity. Bottom asks her to write a special prologue for him: if she had time, you would feel that this Quince would happily oblige. I love it that she has aide-memoire stickers for her cast like Madge, Dame Edna's sidekick.
A Midsummer Night's Dream is a play that revels in cock-ups with the magic love juice that sedates and causes characters to wake up infatuated by the first person they see. Here it's not the Queen of the Fairies, Titania (a charismatic Gwendoline Christie from Game of Thrones); it's Oliver Chris's superlatively funny Oberon. From butch-as-hell hippy, he becomes a highly strung male diva with a possessive, neurasthenic passion for his new chum. This might seem to sail uncomfortably close to gay stereotypes if it weren't for the affectionate way the production ridicules camp convention. In the venerable tradition of doubling the human and fairy potentates, he plays Theseus too. The latter is, in his hands, a bit of a Draconian fool. Chris is actually never more majestic than when emerging from a his'n'his champagne bubble bath – his modesty preserved only by a strategically placed wisp of foam.
David Moorst excels as the obstreperous hobgoblin Puck. In his vest and vegetable tattoos, he sometimes looks to be blending Lily Savage with twitchy version of Smike from Nicholas Nickleby. The production often encouraged the promenaders to clasp hands in a ring round Bunny Christie's rectilinear, Bedknobs and Broomstick set. Talk about good fellowship.
Despite its frivolous reputation, this is a work that touches on serious issue: it begins, after all, with two forced marriages. Hytner's version raises the stakes by giving the "fierce vexation of a dream" a perversely nonchalant edge at times. Puck ends by dangling upside down and clutching the hands of a punter in the front row. A gesture of magical grace. I am delighted to give the show a very enthusiastic welcome.
To 31 August (bridgetheatre.co.uk). In cinemas through NT Live from 17 October
Join our new commenting forum
Join thought-provoking conversations, follow other Independent readers and see their replies