Mission Drift, Traverse, Edinburgh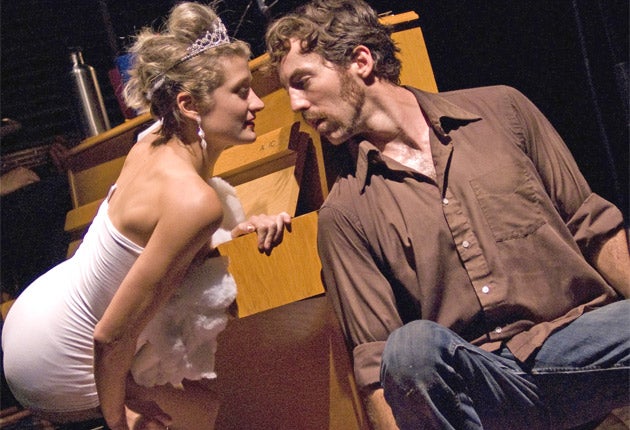 The Team don't do things by halves. The New York-based Theatre of the Emerging American Movement state their mission as being to dissect what it means to be an American, living in America today.
In Mission Drift, a musical romp which combines economics with Elvis, they undertake to perform a history of national capitalism from the earliest pilgrims to the credit crisis in just under two hours. Team spent three years researching the project, quizzing Wall Street employees and boning up on fiscal matters before embarking on a month-long Las Vegas residency, in which they lived in a foreclosed home and spent their days roaming the city, from Steve Wynn's new hotels to failing timeshare developments and the Neon Boneyard.
You can tell. There is a Vegas-y insanity to Mission Drift – and I mean that in a good way. On a stage decorated with tinsel palm trees, fake grass and the occasional chucked bucket of sand, we meet Joan, a sacked casino waitress, disillusioned at being spat out like a used quarter by her beloved city, and Chris, a Native American who finds himself homeless, his land hoovered up by the sprawling Sin City. Then the action swooshes back to 1624, and a young pilgrim couple setting out from Amsterdam to make their fortune in the west. Randy, adventurous and hungry for more, more, more, they wind up in Vegas.
And so we watch as the desert city takes shape among the sands, careening from the heyday of Sinatra and Siegfried & Roy to the current day of short-selling and dead cat bounces. Meanwhile, the American soul is taking shape, in the form of our immortal pilgrims and their expansionist adventures. Somewhere, though, their mission comes adrift.
The Team specialise in total theatre – a band and a sound man are on stage at all times; speeches are bellowed or hissed through microphones. They also specialise in total entertainment. Running the show is Miss Atomic, a growling, snarling, purring beauty queen who, in a mesmerising turn from the blues singer Heather Christian, provides musical interludes from behind a white grand piano.
Among many other things, Mission Drift is that rare beast, a musical in which the music is really cool – jazz, blues, gospel and a little Elvis of course, all performed by a powerful cast of five with panache and soul. The performances are excellent, though Libby King's tour de force as the century-striding Catalina deserves mention. Just at the very end it starts to lag, but the ambition here is breathtaking and the energy intoxicating. A must-see.
To 14 August (0131 228 1404)
Join our commenting forum
Join thought-provoking conversations, follow other Independent readers and see their replies