Mosquitoes, National Theatre, London, review: Amazing chemistry between Olivia Colman and Olivia Williams
'Chimerica' writer Lucy Kirkwood's new play about sibling rivalry is directed by Rufus Norris and stars Olivia Colman and Olivia Williams as the two sisters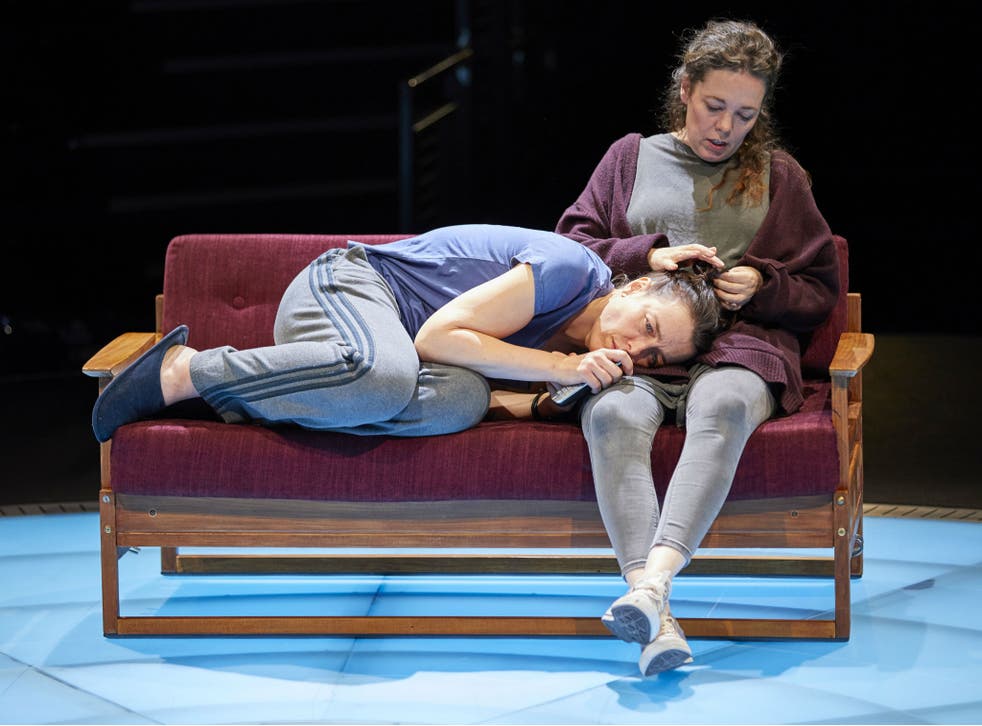 Olivia Colman and Olivia Williams work wonders together playing the sisters at the centre of Lucy Kirkwood's characteristically bold and wide-ranging new play. The author of Chimerica here gives us a tale of sibling rivalry set against the backdrop of cutting-edge particle physics.
The piece is set in 2008 and scientist Alice (Williams) is gearing up for the launch of the Large Hadron Collider which, for her, will be the culmination of 11 years' work. The gifted daughter of two renowned scientists, Alice despairs of her sloppy, unintellectual sister Jenny (played by Colman) who prefers reading horoscopes and getting dodgy answers to her questions off Google. At the start of the play, Jenny is in the late stages of long-desired pregnancy and bickering with Alice about her refusal to have an Ultrasound because of some scaremongering article. Soon after that we learn that the baby died because the MMR jab was declined.
When the tragedy sends Jenny for a supposedly recuperative trip from Luton to Geneva, it's not just particles that collide and threaten chaos. Colman gives a heart-rending and very funny performance as a bereaved woman struggling not to be patronised by her clever-clogs clan who assume that she won't get the point or pick up on the joke. There's always been the prejudice that "I'm Forrest Gump and you're the Wizard of f***ing Oz" she tells Alice at the start.
In an agonising scene, she tries to seduce Alice's horrified entomologist boyfriend because she's desperate to present her sister with something she won't understand and is breezily dismissive of the Collider and its scientists: "Their ideas don't work so they invented some particle to solve it. Sorry we can all do that. My marriage isn't working because we don't have a cappuccino maker. I mean f*** off right!"
Rufus Norris's production has to convey a great wealth of material as it shifts between the domestic scenes and the illustrated lectures on the physics delivered by a playfully sneering white-coated boffin (Paul Hilton) who it emerges must be the husband who walked out on Alice and her son years before. But there's wonderful freshness and fluidity to the proceedings, played out on Katrina Lindsay's striking circular set, as we are swept up – courtesy of the marvellous swirling video designs of Finn Ross and Ian William Galloway – into various endgame scenarios for the cosmos. The most stunning imagines that scientists in the future will be able to watch 14 billion years of evolution unfold in 53 seconds and mankind step into a reconceived world.
Williams is superlative, suggesting a woman under huge strain as she struggles to keep the family together. Joseph Quinn is spot-on as her tortured, faintly autistic son. Luke, with his problems fitting in to foreign school and his ordeals through social media. Opining that love is somewhere down the list of prime forces in the universe (behind gravity and superglue), Amanda Boxer is terrifically good as the fierce, unsentimental old mother who resents that her husband received the Nobel Prize she deserved and who now seems to be slipping into dementia.
Alice and Jenny become close when there is an emergency with Luke and when Jenny secretly takes the rap for her nephew, she's devastated to be pushed away. The actresses make you feel how vulnerable the sisters are to each other and how raw and unbalanced their rapport. To invoke the wrong science, their chemistry is amazing.
Join our new commenting forum
Join thought-provoking conversations, follow other Independent readers and see their replies