Motown the Musical, Shaftesbury Theatre, review: Lacking smarts as well as soul
Please stop, in the name of love
Holly Williams
Wednesday 09 March 2016 13:12 Comments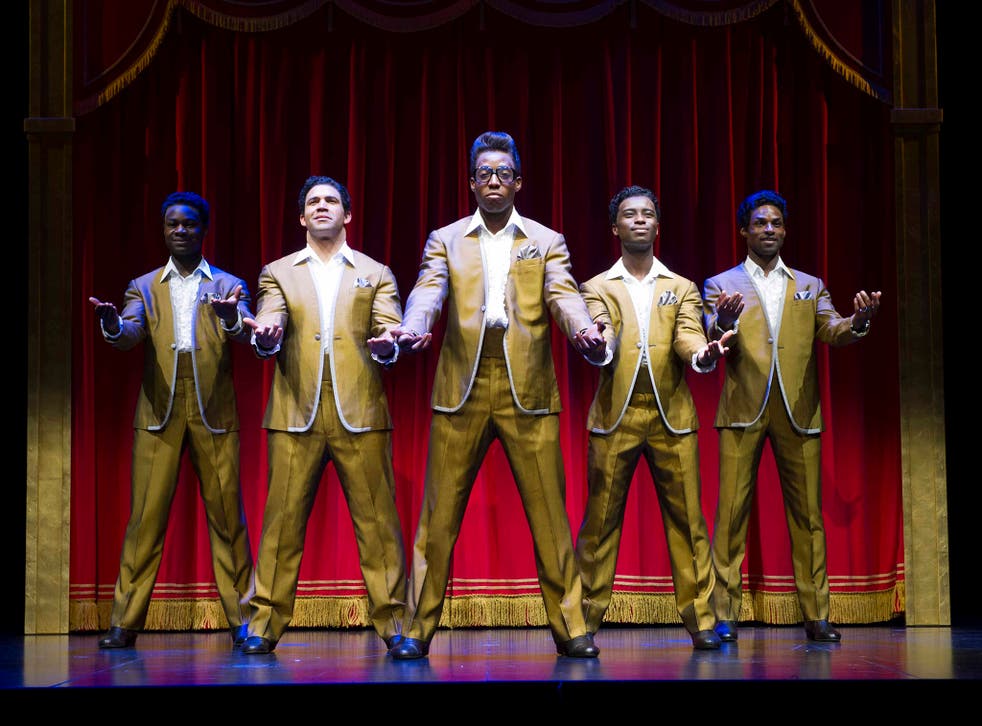 Well, the tunes are good. Of course the tunes are good: this hagiographic juxebox musical, written by Motown founder Berry Gordy, has his legendary label's entire back catalogue to draw on, and serves up hit after hit. 'Dancing in the Street', 'My Girl', 'I Heard it Through the Grapevine', 'I Want You Back', 'Signed, Sealed, Delivered'…
What is doesn't deliver on, however, is the storytelling. A monstrous feat of ego, Gordy really should not have been allowed to tell his own story: this is a self-serving auto-biography that skitters as lightly over lawsuits and bust-ups as it does over the ever-changing racial politics of America, so tumultuous during Motown's landscape-alerting first 25 years.
There's rich dramatic potential in the Detroit label's history, which could have been fashioned into a potent musical. Instead, we get a squished potted-history using Gordy's own dismal, stiff dialogue; you can practically hear the grinding gear-changes, plot and historical backdrop only ever serving to propel us from one song to the next (and often not even managing that). There are also some seriously corny lines: "that little Stevie is a wonder!" prompts symphonic groans around the auditorium.
Still, the band is tight, the top notes hit, the large ensemble have buckets of sass and groove, and audiences inevitably approach these much-loved songs with a sizeable portion goodwill. Cheesy touches like pulling people out to sing along with Diana Ross (Lucy St Louis) are harmless fun. The big dance numbers are period-appropriate and zing with energy – although I actually wished there had been more roof-raising routines, given the size and quality of the ensemble.
But, in order to rattle through that impressive hit parade of 50-odd songs, very few are played in full – which is a real shame. Don't fade out Marvin Gaye, man! As for the occasional new numbers written to plug emotional gaps… they're cheesy, clichéd affairs, which wouldn't pass muster as B-sides.
There's no weak link in the strong cast when it comes to belting out the hits – but no-one manages to make the dialogue work either, meaning these characters remain as two-dimensional as the flown-in back-drops.
Cedric Neal as Gordy gives a cheerfully cartoonish, strong-lunged rendering of the man himself, and Charl Brown is engaging as Smokey Robinson, a role he played when the show was on Broadway. Diana Ross may be famous for her diva-ish ways, yet here Louis plays her as a coy, rather dribbly sweetheart.
In a really good-all-round ensemble, Samuel Edwards stands out, giving a laser-sharp, acrobatically sexy performance as Jackie Wilson, and as frontman of the Contours. Although the most impressive young talent is surely Eshan Gopal, playing a very small Michael Jackson on press night. He's got the voice, the moves, the attitude, the charisma… it's a totally astonishing performance, and has the crowd quite rightly roaring.
It's a five-star performance from the kid – and five stars for Motown's music. But Motown, the musical shines far less brightly, lacking smarts as well as soul. Please stop, in the name of love.
Register for free to continue reading
Registration is a free and easy way to support our truly independent journalism
By registering, you will also enjoy limited access to Premium articles, exclusive newsletters, commenting, and virtual events with our leading journalists
Already have an account? sign in
Join our new commenting forum
Join thought-provoking conversations, follow other Independent readers and see their replies