Network, National Theatre, London, review: A magnetic yet weighty performance by Bryan Cranston
The 'Breaking Bad' star plays news anchorman Howard Beale in the stage adaptation of Paddy Chayefsky's 1976 film, walking the line between anger and madness perfectly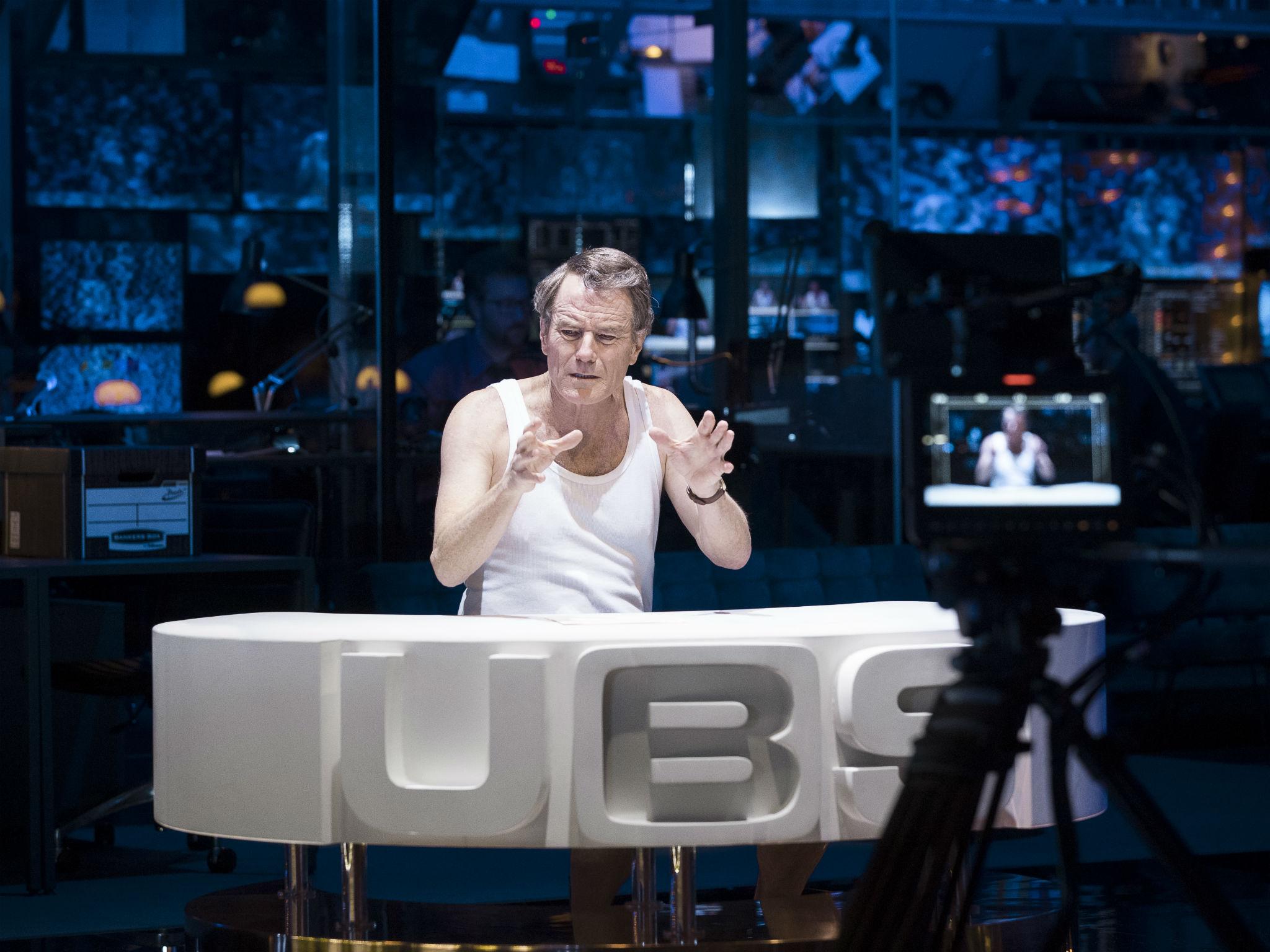 "I'm mad as hell, and I'm not going to take this anymore": the rallying cry from Paddy Chayefsky's 1976 film about Howard Beale, a news anchor who loses it on-air, has become a much-quoted meme, as the film seems only more prophetic with each passing year.
It's a ripe time to revisit it. Beale captures the popular imagination in speaking out against "bullshit" and denouncing hypocrisy, but in doing so whips up rage and outrage. Network's anxieties about news turning into entertainment and mass media as lowest-common-denominator ratings-chasing is obviously applicable to the clickbait age. And the final conclusion, that money trumps ideology in a world defined more by multinationals than nationhood, also chillingly hits the spot.
Lee Hall sticks close to the film, pruning subplots but retaining famous speeches, delivered with superb, focused charisma by Breaking Bad's Bryan Cranston as Beale. It's a magnetic yet weighty performance, with Cranston becoming craggy and wearied before attaining something that seems like grace. Ivo Van Hove's screen-filled production is frenetic – but within it, Cranston finds stillness; the "mad as hell" speech begins with a wounded bewilderment.
He walks the line between pissed-off "mad" and mentally unwell "mad", as the performance seems to travel from Hamlet, feigning madness to expose the rottenness of a society, to Lear, raving alone in the middle of a (media) storm.
But there's a thorny ambivalence at its heart, of course: while it's easy to feel Beale's messianic fury at a messed-up world, he's also the populist, nationalist, Trumpian disruptor, using the power of TV to produce a cult of personality. Or rather, being used by the TV execs, keen to extract ever higher ratings and ad revenue. They divide between a more noble old guard and a ruthless younger generation, who, as represented by the hard-nosed workaholic Diana (Michelle Dockery), appear to have had common decency cauterised by the tube.
Her story arc feels unfortunate in the current climate: part man-eater, part male-fantasy, basically the argument that pushy young women exploit hapless, head-turned older men in the workplace made flesh. Dockery's plasticky performance never quite convinces – but it's possibly not even meant to, with the suggestion that she's so caught up in creating fictions and spinning fake news, she's incapable of any real emotions. (Hall does, at least, ditch the ending where she get punished for the twin sins of being ambitious and up for it.)
Van Hove and longtime collaborator, designer Jan Versweyveld, recreate various favourite old tricks: there are big screens and live relay cameras, while both the backstage of the fictional TV studio and a real restaurant (with real audience members, real food, a real kitchen) are maintained onstage. These fill the space with constant flickering, restless movement, exacerbated by the screens subdividing and showing endless retro adverts.
Some will doubtless find all this scrappy and distracting, but that's the point – one that's only more relevant 40 years on, when we're constantly exposed to fragmented, relentless content. We never switch off; we never focus on just one thing.
And even with a performance as mighty as Cranston's, our attention is constantly drawn to the blown-up, artificial image rather than the man standing before us. In some productions, this tactic of Van Hove's can detract as is distracts, but here it seems apposite. The screen wins, every time.
'Network' is at the National Theatre until 24 March (nationaltheatre.org.uk)
Join our commenting forum
Join thought-provoking conversations, follow other Independent readers and see their replies