Nuclear War, Jerwood Upstairs, Royal Court, London, review: Intriguing but truly satisfying only in snatches
Simon Stephens joins forces with movement director Imogen Knight for this highly visual and physicalised play that uses its dramatic title merely as a metaphor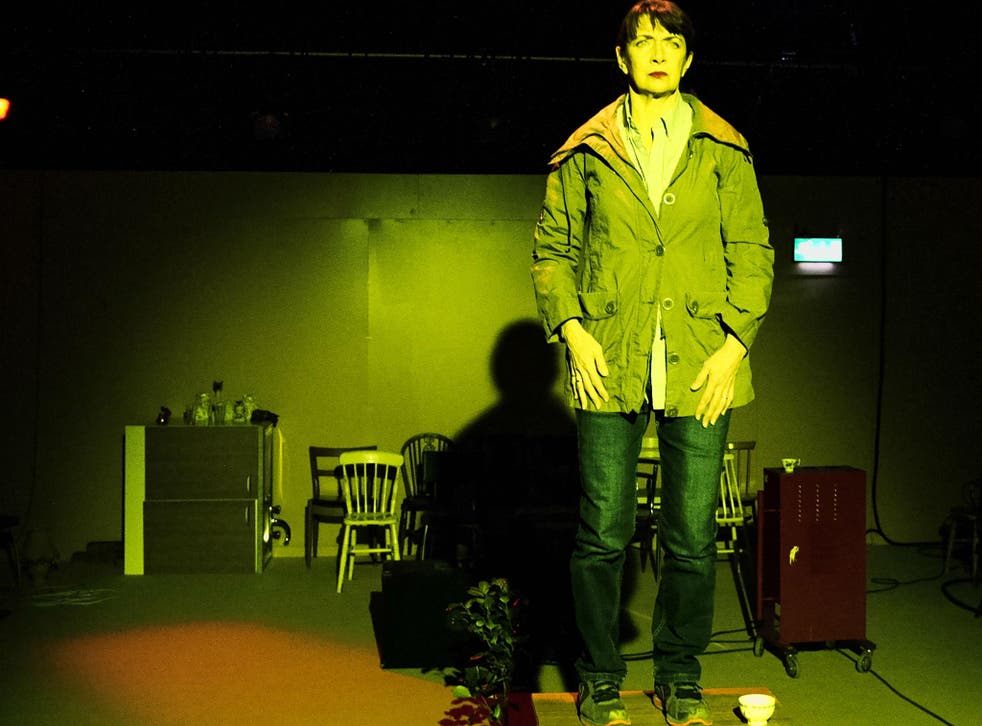 Any play that calls itself Nuclear War is liable to look a bit over-pitched if it turns out to be dramatising a situation less fraught than the brink of Armageddon. So I felt somewhat sorry for Simon Stephens and his company last week as the dangerous political posturing over the Korean peninsula forced them into admitting that the name of the piece, with its suggestions of thermonuclear apocalypse, is a "metaphor".
The best people can, of course, come unstuck over hyperbole with nomenclature. But is there any sense of equivalent disproportion between the stated barrier-violating aims of the piece and the artistic results?
The prolific Stephens, who has had major mainstream success with his adaptation of The Curious Incident of the Dog In The Night-Time, is saluted for the relish with which he spans an English and a European sensibility in plays such as Three Kingdoms. He's long had the itch to delegate more responsibility to his collaborators over who says what and in what order (as exempiIfied by Pornography).
In the current piece, he joins forces with movement director Imogen Knight for a fusion of text and movement that lasts for 40 minutes at the Jerwood Upstairs, an intimate space which we sit perched on a variety of chairs. The script is 10 pages long. The "initiating" stage direction, Stephens tells, is that "all of these words may be spoken by the performers but none of them need to be".
What follows is a physicalised poem of urban alienation. The sound design creepily bloats and intensifies the music so that you throb and judder with it. The five-strong company centre on a middle-aged woman (played by Maureen Beattie) who tells us, through interior monologue voiceovers and direct address, that she is emotionally at ground zero.
Seven years ago, in circumstances that are never specified, she experienced a profound loss, and now longs to arrest the drift towards death by being for one more time "absolutely in the moment" of orgasm. The other four twist and twitch in zombie lurches, wearing gas-masks or struggling to eat tangerines nylon hoods. They are sometimes outward manifestations of her maladjustment; sometimes a posse in pitiless pursuit.
I found the piece never less than intriguing but truly satisfying only in snatches. I was surprised to find that these latter were mostly when I had scant rational understanding of that particular development but appreciated the intensity and the purity of how it was expressed – like when the protagonist sudden notices a profusion of women in the final section who seem to have come from all over the world to a place where they were born to be. "I want to watch them take their shoes off at the end of the day. And they all smell so beautiful like they're made of cur glass and fire."
Nuclear War is often frustratingly vague. But it says a lot for its associative power that this final epiphany and the joyful reeling dance whose tune resumes the drifting one at the start should command such deep assent.
Join our new commenting forum
Join thought-provoking conversations, follow other Independent readers and see their replies