Of Mice and Men, Longacre Theatre, review: James Franco excels in Broadway debut
Franco is a welcome illustration of what can happen when a star sheds his other personas and takes to the stage to simply act
Tom Teodorczuk
Thursday 17 April 2014 12:47 Comments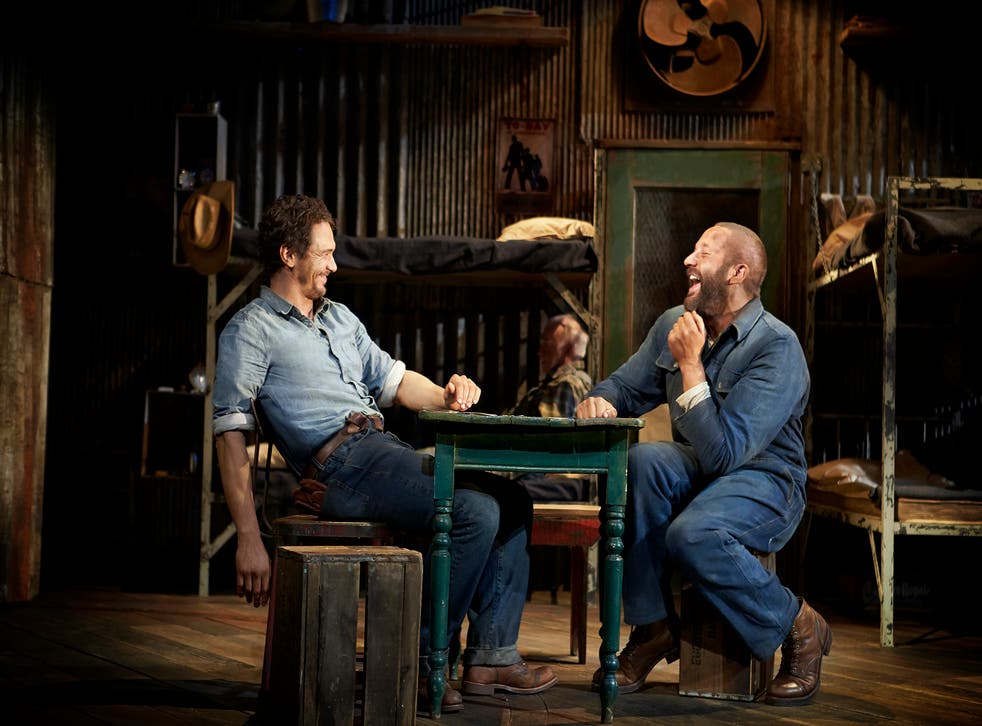 "When it rains in the winter, we'll just say to hell with goin' to work," observes migrant worker George, played by James Franco in John Steinbeck's 1937 stage adaptation of his classic novella Of Mice and Men that has just opened on Broadway.
Perhaps Franco himself should lately have been basing his career on the weather conditions. The 35-year-old performer, director, writer and acting professor has 95 acting credits to his name, according to IMDB, yet his quest to be 21st century's most prolific polymath has too often been served at the expense of insufficient entertainment for the audience.
That is far from the case in the riveting Of Mice and Men revival that opened at the Longacre Theatre yesterday directed by Anna D. Shapiro. Making his Broadway debut, Franco excels as the distressed and resourceful George who travels through Northern California during the Great Depression of the early 1930s seeking itinerant work together with his sweet but simple friend Lennie (Chris O'Dowd of Bridesmaids fame.) The pair find employment at a ranch only for tragedy to ensue when they encounter the boss's son Curley (Alex Morf), his unhappy wife (Leighton Meester best known for her stint on TV teen drama Gossip Girl) and veteran ranch handyman Candy (Jim Norton).
Steinbeck perceived his examination of friendship and failure as a "playable novel" when he adapted it for the stage but eight decades later Of Mice and Men doesn't feel innovative so much as a powerful slice of depression life that lays bare the fatal consequences of not knowing how to deploy human strength.
It's driven by Franco's performance as George, whether reveling in the charismatic hold he wields over Lennie or conveying his desperation at his own miserable circumstances. Particularly commanding in his line delivery and movement, Franco presents a brilliantly dynamic star turn that exudes significant stage presence.
The bond between Lennie and George- the key to the success of the play- is strong but O'Dowd fares less well as Lennie. While he possesses the right physicality for the role, he is too loud and zany for a character that Steinbeck's stage directions call for speaking "softly" and "timidly". While O'Dowd's interpretation appealed to fans of his comedy films at the performance I attended, his Lennie is more wounded bear than anguished mouse.
But this is the only jarring note in proceedings. Shapiro, who also directed August: Osage County at the National Theatre, has coaxed fine performances from the supporting cast ranging from the veteran Norton to Meester, also making her Broadway debut, who enlivens a small role as the play's only woman with a moving reminiscence on the fate of her father. Credit is also due to Todd Rosenthal's dusky sets and costume designer Suttirat Anne Larlarb's workmans' clothes that the impoverished leads tellingly never once change out of.
Of Mice and Men is an excellent Broadway revival fuelled by Franco who offers a welcome illustration of what can happen when a star sheds his other more modern personas and takes to the stage to simply act.
Of Mice and Men is on at the Longacre Theatre until 27 July.
Register for free to continue reading
Registration is a free and easy way to support our truly independent journalism
By registering, you will also enjoy limited access to Premium articles, exclusive newsletters, commenting, and virtual events with our leading journalists
Already have an account? sign in
Join our new commenting forum
Join thought-provoking conversations, follow other Independent readers and see their replies