Old Fools, Southwark Playhouse, London, review: Dementia drama with heart
Tristan Bernays has created a parable that somehow moves and finds light in the deterioration of the mind – through love
Joe Vesey-Byrne
Sunday 18 March 2018 19:48 Comments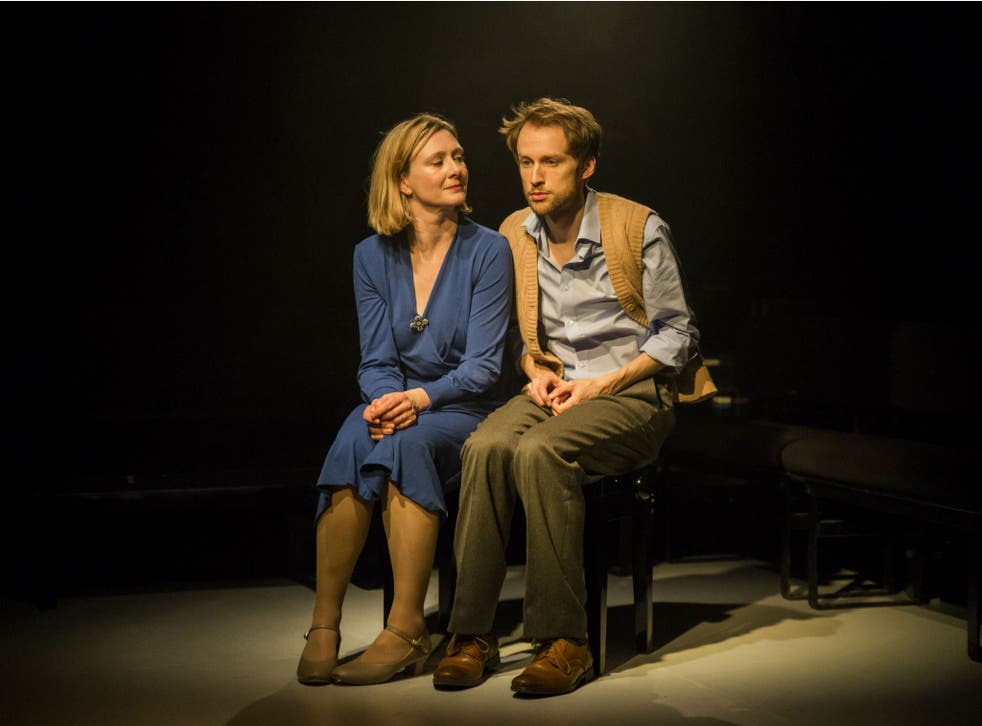 The especially cruel element of Tristan Bernays' Old Fools, a one-hour play on dementia, is that it understands how much memories constitute romance. In the intimate setting of the Little Theatre at Southwark Playhouse, we are introduced to musician Tom and linguist Vivian. Told out of sync, the better to place us in Tom's position, unguided by coherent narrative memory, Bernays' play is a simple boy-meets-girl yarn, but with this cruel twist: Tom will eventually remember none of it. Despite this downbeat premise, this play nevertheless rejoices in the "living in the moment", here and now truth of love.
Bernays, previously a sci-fi high-concept writer, in this dramatic setting uses human frailty and Tom's inevitable alteration into dementia as his romance high concept. Much like intrepid galactic explorers on a new planet, Tom and Vivian are shown to travel to new worlds, which nonetheless have their own internal logic – what happens when one half of a partnership is going to forget the other?
Frances Grey and Mark Arends are spectacularly genuine as Vivian and Tom. Grey turns what could be a dull "straight-laced girlfriend of the artist" into the living, breathing, beating, screaming, heart of the play. Grey carries many of the scenes when Arends as Tom remains muted, warped into silence by his disease, and she similarly slides between doctor, daughter, and wife characters without disrupting the story's emotional narrative. Arends meanwhile never tips over into caricature as he shows Tom in later life, while as the youthful, cheeky Tom, and ageing "cool" Dad, he exudes adorable charm that makes their romance feel all the more real.
And yet, the cruelty of dementia's deteriorating effect on romance is rammed home in the memory-based set pieces of their relationship – learning the steps of the foxtrot, Tom flirting in his intentionally misremembered French. Even their first meeting is based on phony confusion. Bernays is toying with our hearts, yet never relishes in the pain caused by knowing Tom's fate.
One qualm with this loveable piece is that because of the constraints Bernays puts into making it a one act, one-hour play, told out of linear order, it prevents us from getting an in-depth view of the characters on stage. He has created a dementia parable of sorts. Moreover, a plot development that reveals Tom is no saint, despite providing realism, nevertheless makes necessary scenes of discord that feel unoriginal compared to the authenticity of the rest of the drama.
This terribly sad play is nonetheless worthy of a place in your memory. Bernays' script and the performances of Grey and Arends present a better than expected take on dementia, providing entertainment and enough investment and conscientious interpretation of the subject matter that you feel the gut punch of moments when Tom forgets who Vivian is, or when their youthful romance foretells a later tragicomic moment. Bernays sees that so much of intimacy is shared memories – and when these suddenly lose permanence, what is left of love?
Until 7 April (southwarkplayhouse.co.uk)
Register for free to continue reading
Registration is a free and easy way to support our truly independent journalism
By registering, you will also enjoy limited access to Premium articles, exclusive newsletters, commenting, and virtual events with our leading journalists
Already have an account? sign in
Join our new commenting forum
Join thought-provoking conversations, follow other Independent readers and see their replies