On the Town, Open Air Theatre, Regent's Park, London, review: Drew McOnie's choreography is thrillingly alive
The revival of the 1944 Leonard Bernstein musical which is performed in the amphitheatre in Regent's Park deserves to be a helluva hit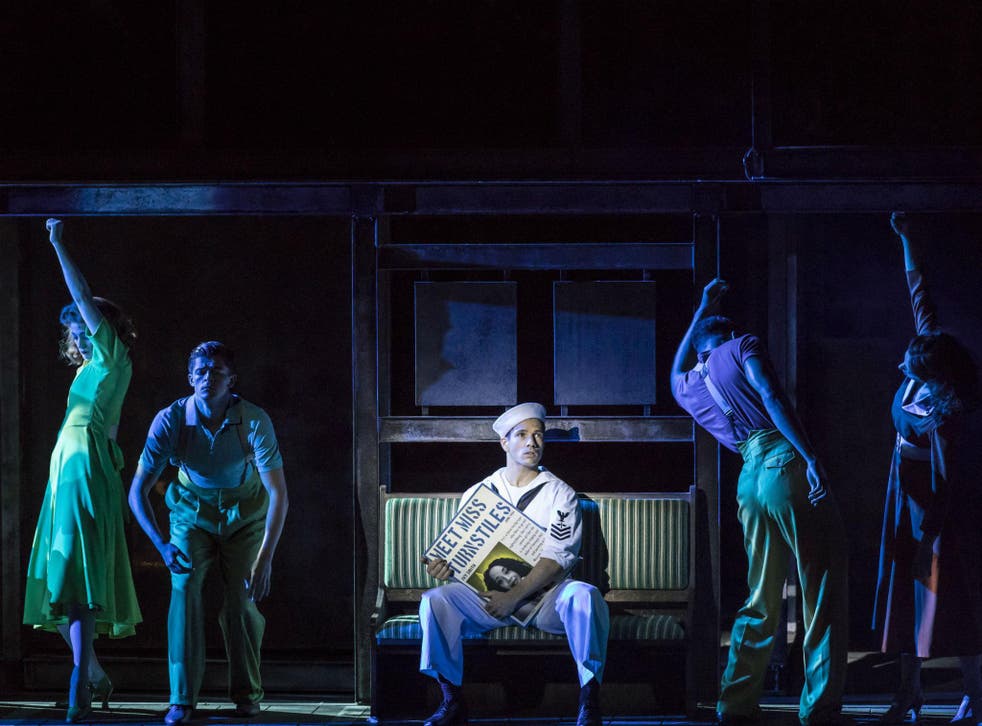 Lovers of the dance-driven musical are certainly in luck in London this summer: An American in Paris, 42nd Street and now Drew McOnie directs and choreographs this terrific revival of On the Town, the 1944 Leonard Bernstein musical about three horny sailors with 24 hours of shore leave in wartime New York. The show came out of an earlier collaboration between the composer and choreographer Jerome Robbins: the one-act ballet Fancy Free in which the trio of tars, with the same time restriction and only two girls, competitively danced to win favour. It's a measure of the phenomenal talents of the creative team that it took them under six months to re-conceive the material as a full-length Broadway musical, with Bernstein providing an entirely new score and Betty Comden and Adoph Green a book and lyrics that convert the belligerent sailors into best buddies who are out to help one another in seizing the day.
"Sex and art don't mix. If they did, I'd have gone straight to the top," declares Madame Dilly (Maggie Steed), the bibulous singing teacher. On the Town proves that she is sorely mistaken. McOonie's choreography is thrillingly alive to the matchless blend of raunch and wit in Bernstein's gloriously brassy music and to the sense of transience that tinges its youthful exultancy. The improbably large cast leap and scissor and pirouette as though their lives depend on it and they sizzle in those sudden segues from ballet to swing that are both dynamite and delectably droll. Tom Deering and his 14-piece orchestra play with a spine-tingling shimmer and attack.
If a sylvan amphitheatre does not seem the obvious venue for a musical located in a thronging urban environment, Peter McKintosh's excellent design will silence sceptics. It's evocative rather than literal-minded with its massive steel shipping containers that give the choreography space to breathe. Courtesy of smoothly sliding truck-sets for scenes set indoors and in the subway carriage, the production achieves a wonderful, dotty fluency as the piece goes on its whirlwind tour of New York in quest of the idealised Miss Turnstiles.
Part of the show's attractiveness is that it is the sex-drive of the women that is celebrated and powers the good-humoured proceedings – and, with Sienna Kelly, Lizzie Connolly and Miriam-Teak Lee, these roles have been ideally cast. Lizzy Connolly is hilariously blatant as man-hungry cabbie, Hildy (her hot-mama "I Can Cook Too" is a high point), while Lee makes a hugely impressive professional debut as Claire, the glamorous, unlikely anthropologist whose professional cool keeps being blown by her tendency to get "Carried Away".
The big draw is Strictly Come Dancing finalist, Danny Mac, as the lovelorn Gabey, and the performer proves that he's possessed of a lovely light tenor voice as well as a flair for dance. He's winningly flanked by Samuel Edwards as Ozzie and Jacob Maynard whose performance as Chip is so charming that you would never guess that he's the understudy replacing the injured Fred Haig. McOnie's triumphant choreography captures the hectic silliness (the progression through a succession of nightclubs in the second half is particularly delirious) and brings out the underlying melancholy, as in the "Lonely Town" pas de deux which is here transformed into a hauntingly erotic encounter between a gay New Yorker and a confused sailor looking for sex. "Helluva town?"; yes, and this deserves to be a helluva hit.
Join our new commenting forum
Join thought-provoking conversations, follow other Independent readers and see their replies