Opposites Attract, Sadler's Wells, London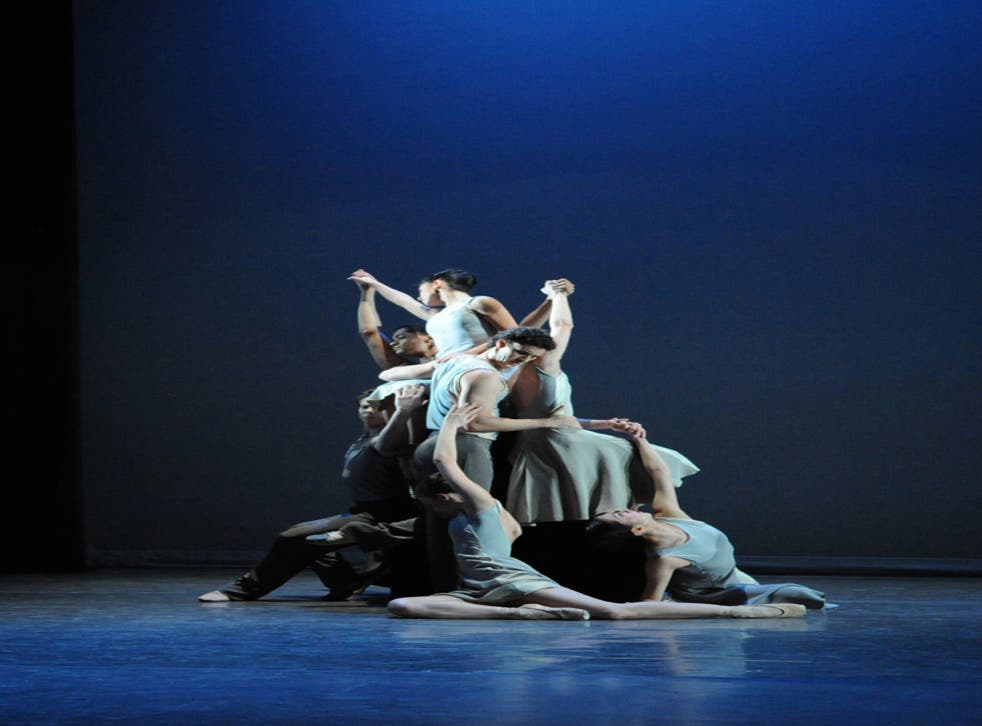 Birmingham Royal Ballet's Opposites Attract is a light, brisk programme that goes soggy at the end. The dancers move with easy confidence from David Bintley's jazzy Take Five and Jessica Lang's fluent Lyric Pieces to the doughy posturing of Hans van Manen's Grosse Fuge.
Created by company director David Bintley, Take Five makes a perky opening number. The musicians of the Royal Ballet Sinfonia have fun with jazz musician Dave Brubeck's best-known tunes, transcribed by Colin Towns.
Jean-Marc Puissant dresses the dancers like 1950s college students, with full skirts and tidy bodices for the women, polo shirts for the men. Peter Mumford lights up the stage floor with geometric shapes. Carol-Anne Millar leads the pack, skipping and dipping. Four men clap out rhythms to match those from the pit, kicking and flicking their feet as they go. Joseph Caley whizzes through his solo.
Lyric Pieces is the first European commission from leading American choreographer Jessica Lang. It's a set of flowing classical dances to Grieg piano music, though Lang also gets caught up in her stage design. The work is framed by lengths of black folded paper, which the dancers open into fans or screens, curl into stools or, when all else fails, flap hopefully about the place.
Between origami sessions, Lang creates light, fleet steps. Maureya Lebowitz leads an ensemble of pointy-fingered sprites, scampering about the stage. Jenna Roberts and Iain Mackay are softly romantic in a gentle pas de deux. Everybody clusters around and over one of the paper screens, grouped elegantly over several levels.
Created in 1971, Hans van Manen's Grosse Fuge sets four men and four women stomping ponderously to Beethoven. The men wear draped sarong skirts and belts. The women are stuck with pretzel-shaped hair combs and horrid 1970s foundation garments. Van Manen, who designed the costumes, builds them into his choreography. The men climb out of their skirts on stage, while the belts are used in partnering. Women grab hold of them, pulling themselves up from the floor, or cling on as their partners drag them about.
Van Manen goes in for deep squats and extended fists, with a hint of yoga practice. Women alternate between passivity, lying flat as their partners stand astride them, and goddess posing. The men are unfailingly macho. The Birmingham dancers give a forceful performance, striding and strutting with muscular energy. I admired Joseph Caley, partnering Momoko Hirata with fluid strength.
Sadler's Wells season continues until 27 October. Box office 0844 412 4300.
Register for free to continue reading
Registration is a free and easy way to support our truly independent journalism
By registering, you will also enjoy limited access to Premium articles, exclusive newsletters, commenting, and virtual events with our leading journalists
Already have an account? sign in
Register for free to continue reading
Registration is a free and easy way to support our truly independent journalism
By registering, you will also enjoy limited access to Premium articles, exclusive newsletters, commenting, and virtual events with our leading journalists
Already have an account? sign in
Join our new commenting forum
Join thought-provoking conversations, follow other Independent readers and see their replies