People, Places and Things, Dorfman, National Theatre, review: Generous-spirited with a strong streak of darkly humane humour
Duncan Macmillan's new play has a thoughtful, shifting ambivalence
Paul Taylor
Wednesday 02 September 2015 15:16 Comments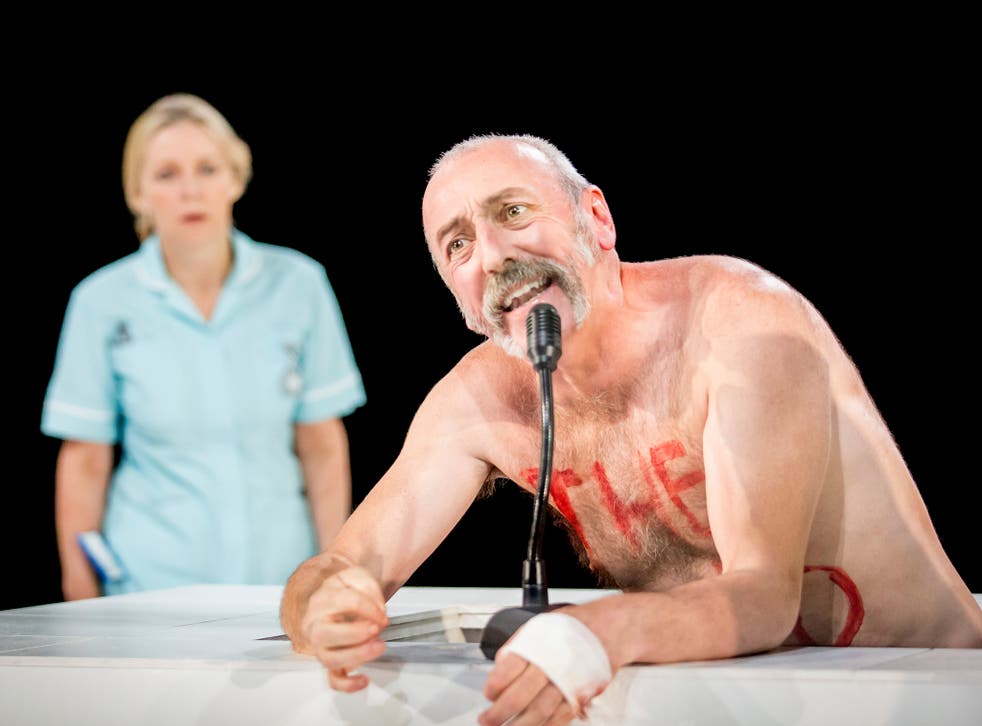 Back in 2000, David Hare's play My Zinc Bed suggested that, in the moral vacuum left by the collapse of the old certainties, addiction (to drink, drugs, shopping) had replaced ideology. We were now driven by our compulsions rather than our convictions, it was argued, and one of its characters castigated Alcoholics Anonymous as a cult that substituted one form of dependency with another. I liked the piece better than some, while agreeing that it was slightly too systematic and that it didn't pull you into the nervous system of an addictive personality.
By contrast, Duncan Macmillan's new play – which is co-produced by the National Theatre and Headlong and billed as "a mesmeric trip into addiction, rehab and identity" – throws up a host of perceptions about the things that drive people to desperate self-medication and about what it is in the psychology of an addict that makes the road to recovery so fraught with difficulty. But it refuses to proffer any crisp, cultural diagnoses and it includes hallucinatory sequences where we see the world through the tormented subjective experience of its protagonist. Generous-spirited, with a strong streak of irreverent, darkly humane humour, the play – superbly directed by Jeremy Herrin – has a thoughtful, shifting ambivalence that suits a problem where the solutions can only ever be provisional and the amends inadequate.
Portrayed in a magnificently unsparing performance by Denise Gough, Emma is a thirtysomething actress whom we first see nightmarishly unravelling, through substance-abuse, as Nina in a production of The Seagull. As a result, she checks into a rehab centre (a gaping, clinically white-tiled mouth in Bunny Christie's striking traverse-stage design). Gough brilliantly captures both the jittery hell of cold turkey and the abrasive, Irish scorn with which Emma repudiates the 12-step spiritual side of the programme. "We're addicts because we have a toxic combination of low self-esteem and grandiosity," opines Mark, the wisest fellow-patient in her therapy group beautifully played by Nathaniel Martello-White. "People are living in war zones and here we are thinking about ourselves," jeers Emma who thinks that intoxication is "the only absolute truth in the universe".
Occasionally, Emma's comments hit home, even if they are also the rationalisations of a woman on the run from her fear of having no real self. (Having been disappointed at the start that that the leading addict was an actress rather than an ordinary person, I was eventually persuaded that her profession serves to intensify metaphorically anxieties that we all feel about our identity.) And though we are rightly meant to be glad when Emma nervously relents, the play is far from po-faced about the clinic's "boredom and shame and f*****g orange squash" culture. There's a devastating penultimate scene with her parents that shows how the cosily supportive role-play version of this that she'd acted out with her rehab brethren had perhaps not fully prepared her for the stark stringencies of their love. Barbara Marten is gloriously persuasive in the roles of Doctor/Therapist/Mum while Denise Gough can expect to feature on all reputable short-lists for Best Actress of 2015.
To November 4; 0207 452 3000
Register for free to continue reading
Registration is a free and easy way to support our truly independent journalism
By registering, you will also enjoy limited access to Premium articles, exclusive newsletters, commenting, and virtual events with our leading journalists
Already have an account? sign in
Join our new commenting forum
Join thought-provoking conversations, follow other Independent readers and see their replies