Pericles, Barbican, London, review: Shakespeare as modern psychodrama
Declan Donnellan's French version of Shakespeare's lesser-performed romance is fitfully very interesting, but not vintage Cheek by Jowl
Paul Taylor
Tuesday 10 April 2018 12:46 Comments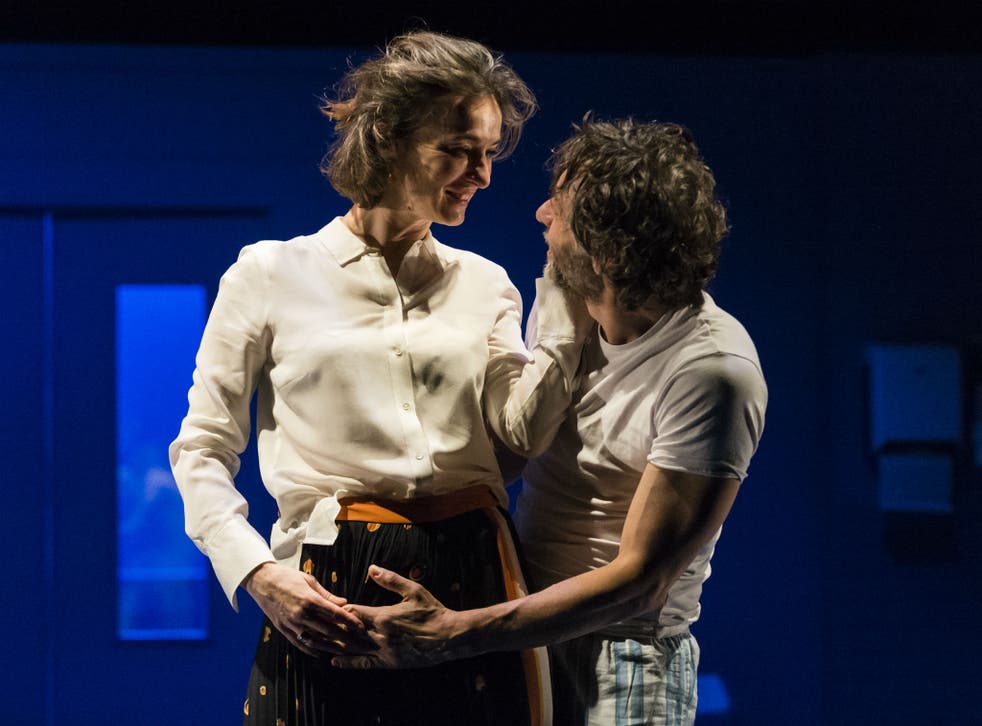 Pericles is the most geographically restless of Shakespeare's late plays. The hero goes on a lengthy journey round the eastern Mediterranean before his family – sundered by a storm at sea and by the perfidy of guardians – is hauntingly reunited in the last act. The journeys undertaken separately by himself and his daughter involve riddles, tournaments, pirates, sleazy brothel-keepers, miraculous rebirths and the divine intervention of Diana.
For a long while, the play was the least popular of the romances. The text is contentious and collaborative (with George Wilkins) and Shakespeare's voice is not heard in any sustained fashion until the third act. If it has always been agreed that the reunion between father and daughter rivals the equivalent in King Lear for depth of emotion, it has taken our contemporary concern with the asylum-seeker crisis to boost an interest in this drama. There have been powerful interpretations (from Yukio Ninagawa, Cardboard Citizens and others) that have emphasised the hero as the archetypal refugee.
Declan Donnellan takes a radically different approach in this Cheek By Jowl production, performed in French translation (with English surtitles) by his French company, which was last seen over here in its brilliantly inventive version of Ubu Roi. This account presents Pericles as a psychodrama. The whole piece is played out in an impersonal modern hospital room (the aquamarine design with its swing doors is by Nick Ormerod). His adventures now evidently over, Christophe Gregoire's fraught, grizzled-bearded hero lies in bed in a coma, attended by white-coated female doctor (Cecile Leterme) and two male nurses (Guillaume Pottier and Martin Nikonoff). Concerned visitors (whose identity we begin to guess) try to attract his attention.
As if undergoing some turbulent inner journey, Pericles keeps snapping out of this comatose state and agitatedly reliving his earlier trials, with the cast of seven playing multiple roles that have dream-like connections with one another.
You can see why the emphasis is on psychic disturbance. In the opening episode, our wife-seeking protagonist solves a deadly riddle that betrays the secret of King Antiochus's incestuous relationship with his daughter. A fearful escape by sea follows, attended by depression, and a hard to shake off sense of taint. His current circumstances in the hospital and the details of his hazardous life merge. Remembering a storm, he chucks the contents of chamber pot over himself. A fished-up suit of armour becomes a straitjacket. The nurses (who treble as knights and gentlemen) have their work cut out calming him down and leading him back to bed.
The concept has validity (Neil Bartlett tried something similar a few years ago at the Lyric Hammersmith) but there are problems here with how it is deployed. With the one location and no changes of costume, the episodes lose some of their sharp distinctness of tone, and the attempts at comedy are not always fortunate. It makes perfect thematic sense to have Leterme play the white-coated modern medic and Cerimon, the physician who brings round Pericles' wife from apparent death and the goddess Diana. But I failed to see why the actors playing the royal couple had to moonlight as the squalid keepers of the brothel in Myteline. This, to my eyes, results more in confusion than the Freudian inversion, such as you get when Valentine Catzeflis strikingly plays both Antiochus's corrupted child and Marina, the militantly chaste daughter of Pericles.
The reunion scene is beautifully done – Gregoire shading from a violent out-of-control eagerness, that unnerves Marina, to an infinitely touching shy wonder. He just can't cope with the onslaught of happiness. Hence the fainting need for further medical support.
Fitfully very interesting, but this production – one hour 40 minutes, played straight through – is not vintage Cheek by Jowl.
Until 21 April (barbican.org.uk)
Register for free to continue reading
Registration is a free and easy way to support our truly independent journalism
By registering, you will also enjoy limited access to Premium articles, exclusive newsletters, commenting, and virtual events with our leading journalists
Already have an account? sign in
Join our new commenting forum
Join thought-provoking conversations, follow other Independent readers and see their replies