Phoenix Dance Theatre, Linbury Studio, London
Our friends in the North are welcome to hang around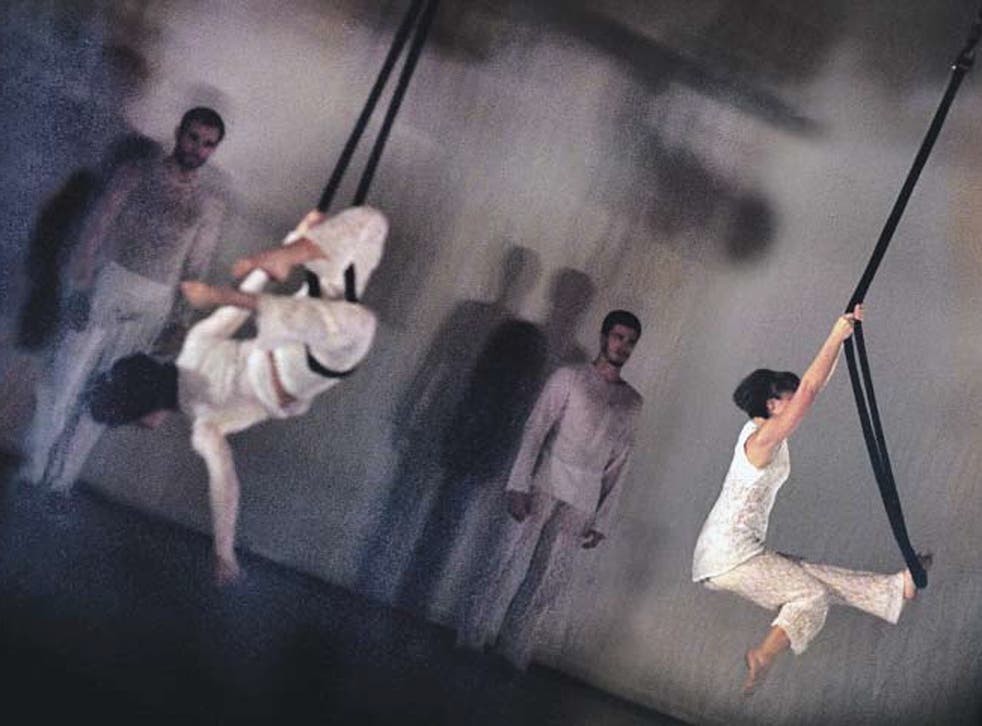 Whoever came up with the name Phoenix 30 years ago can have had no idea how many times the Leeds-based dance company would subsequently rise from its own ashes. Critical changes of leadership and policy – membership was originally all-male and all-black, and has since been through every other permutation – have caused feathers to fly repeatedly. But contemporary dance companies are hardly two-a-penny in the north of England, and Phoenix Dance Theatre has held fast to a sense of its rarity value.
On its first visit to London in almost five years, it brought four strongly contrasted pieces. Henri Oguike's Signal uses the pounding beat of Japanese Taiko drums to send shudders of movement through the body in shoulder flexes, chest twitches, spine flicks and wild upper-body shakes. Red bodysuits slashed with black allow every contour to register. Jumps are blade-sharp against a scarlet sky, and, later, braziers of real flame. But in quieter mood few of these dancers know how to fix the audience's gaze. Tall, steel-strung Glenn Graham is a magnificent exception. When he's on stage, it's all you want to look at.
In Catch, by Ana Lujan Sanchez, René Magritte's overcoated gent in a bowler is multiplied by six, but only one of these clones has a hat, and the other five want to wear it. Dashing hither and thither in a tight bunch (an echo of the nearer-to-home L S Lowry), the bowler is serially reappropriated. That could have been funny if all the dancers were as smart as Azzurra Ardovini, a pint-sized spitfire whose every move registers like a concentrate of what everyone else is doing.
By contrast, the dancers seemed to be in their element in Soundclash, a clubby, hip hop workout credited to "Kwesi Johnson and the cast". The term cymatics is a new one on me, but it's apparently about the patterns of soundwaves made visible (and there I was thinking that was a snowflake projected on the floor). Through thick, fuzzy lighting, a rubber-limbed quartet scramble through athletic sequences of handsprings, head butts and bodypops: super stylish, clearly revelling in it.
Director Sharon Watson's Melt, with white-clad figures swooping and spiralling on aerial ropes, brings the evening to an elegant, if rather sedate, close.
Aberystwyth Arts Centre (01970 623232) 14-15 Nov, York Theatre Royal (01904 623568) 20-21 Nov, and touring
Next week
Jenny Gilbert sees statues move in The Rodin Project
Critic's choice
Top-price tickets are a snip at £37.50 for the Royal Ballet's first mixed programme of the season. It includes a welcome revival of Wayne McGregor's Infra, with haunting neon artwork by Julian Opie, the luscious Fools Paradise by Christopher Wheeldon, and work by emerging talent Liam Scarlett. At the Royal Opera House, from Sat.
Register for free to continue reading
Registration is a free and easy way to support our truly independent journalism
By registering, you will also enjoy limited access to Premium articles, exclusive newsletters, commenting, and virtual events with our leading journalists
Already have an account? sign in
Register for free to continue reading
Registration is a free and easy way to support our truly independent journalism
By registering, you will also enjoy limited access to Premium articles, exclusive newsletters, commenting, and virtual events with our leading journalists
Already have an account? sign in
Join our new commenting forum
Join thought-provoking conversations, follow other Independent readers and see their replies