Pinocchio, Lyttelton, National Theatre, London, review: A handful of ridiculously catchy songs
This is the first time that the Disney organisation has given its blessing to a stage version of the 1940 movie
Paul Taylor
Friday 15 December 2017 09:54 Comments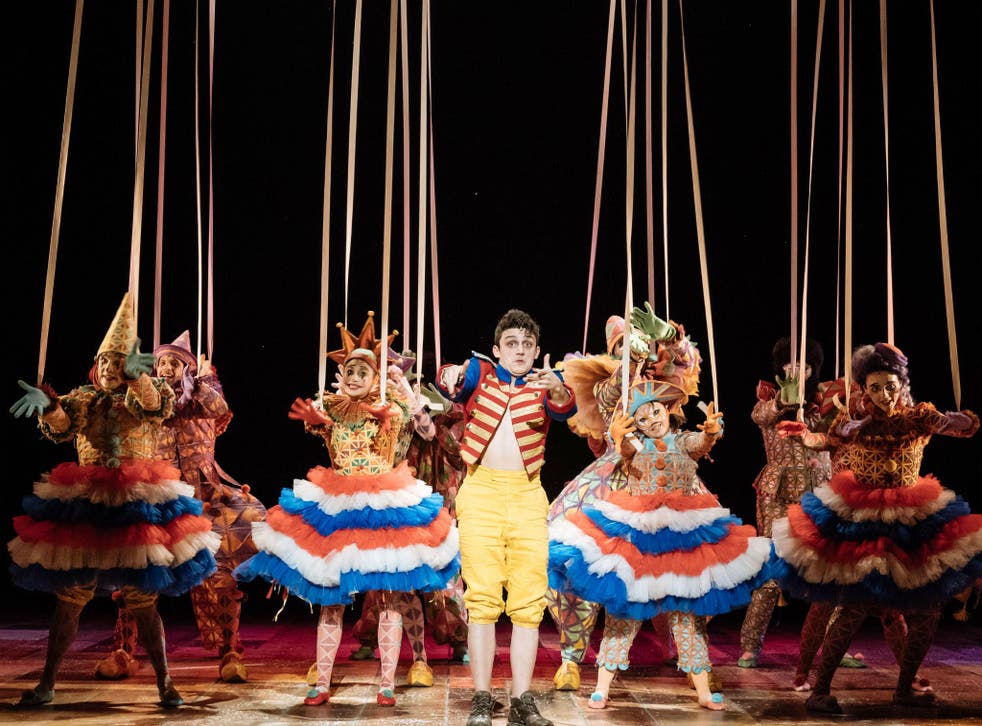 Jiminy Cricket is female and she's a worrier about hygiene – that's the fabulous idea in the National Theatre's beguiling new adaptation of Pinocchio, its Christmas show this season.
A diminutive green puppet adorably worked and voiced by Audrey Brisson, the gangly insect bounds around in protective pursuit of our hero, fretting about the bacterial challenges posed by the places he winds up in. "Oh look – I'm stress-cleaning" she declares at one vexed point in the narrative.
There are some nice in-jokes in the version of Collodi's tale, written by Dennis Kelly (Matilda) and its droll twist that Jiminy's antennae start to extend revealingly when she fibs that her release of Pinocchio from Stromboli's cage was down to her new commitment to upper-body work rather than to the aid of the Blue Fairy.
The production by John Tiffany (Harry Potter and the Cursed Child) is fairly lavish but it is beautifully proportioned, so that we're always reminded that, at the heart of the piece, there's a simple fervent story about a wooden puppet's quest to be a real boy and to find the answer to the riddle of what it is that unites people and makes them human.
David Langham is deliciously despicable as the Victorian-style Fox, absurdly vain about his tail ("I haven't shampooed it in a week") and jealous of the living spirit in Pinocchio so he that lures him onto false trails: fame (as a star attraction in Stromboli's travelling theatre); and pleasure (in the hedonistic hell of Pleasure Island where people are turned into donkeys).
Co-designed by Toby Olié and set-and-costume designer Bob Crowley, the puppets of the main adults in Pinocchio's world have a lurid or (in the case of his poor puppet father) hypersensitive looming quality – giant heads and torsos manipulated on sticks by an entourage of handlers below.
Joe Idris-Roberts is very engaging as the real-life (so to speak) puppet – at first wayward and selfish, then fired up with a rather desperate and naïve determination. In the big Stromboli theatre number, "I've Got No Strings", it's both exhilarating and painful to watch him, in his soldier's tunic, leap into awkward would-be spontaneous gestures against a simulated chorus of impeccably manipulated marionettes.
This is the first time that the Disney organisation has given its blessing to a stage version of the 1940 movie and Martin Lowe as music supervisor does some lovely, ingenious work, with his orchestration and embellishments, in stringing out, the handful of ridiculously catchy songs ("Give A Little Whistle", "When You Wish Upon A Star", "Hi Diddle-Dee-Dee – An Actor's Life For Me" et al) that comprise the score. He effects some remarkable variations of rhythm on "Give A Little Whistle" so that it's almost a limp when our hero and sidekick near home and the stepladder houses full of the hard-hearted start to glide past them.
If I was not fighting sobs by the end, this was no fault of Annette McLaughlin, who is deeply affecting in her climactic rendition (with choir) of "When You Wish Upon A Star", nor of Mark Hadfield, who achingly captures the puppet-maker's lonely selfless devotion to his substitute son. The ingredients are all there. I expect that the breakthrough into truly racking sentiment will come during the run. Meanwhile, down at the bottom of the ocean, there's a knockout whale...
Until 10 April 2018 (nationaltheatre,org.uk)
Register for free to continue reading
Registration is a free and easy way to support our truly independent journalism
By registering, you will also enjoy limited access to Premium articles, exclusive newsletters, commenting, and virtual events with our leading journalists
Already have an account? sign in
Join our new commenting forum
Join thought-provoking conversations, follow other Independent readers and see their replies