Breakfast at Tiffany's review, Theatre Royal Haymarket, London: Pixie Lott's magnetism shines in seedier take on classic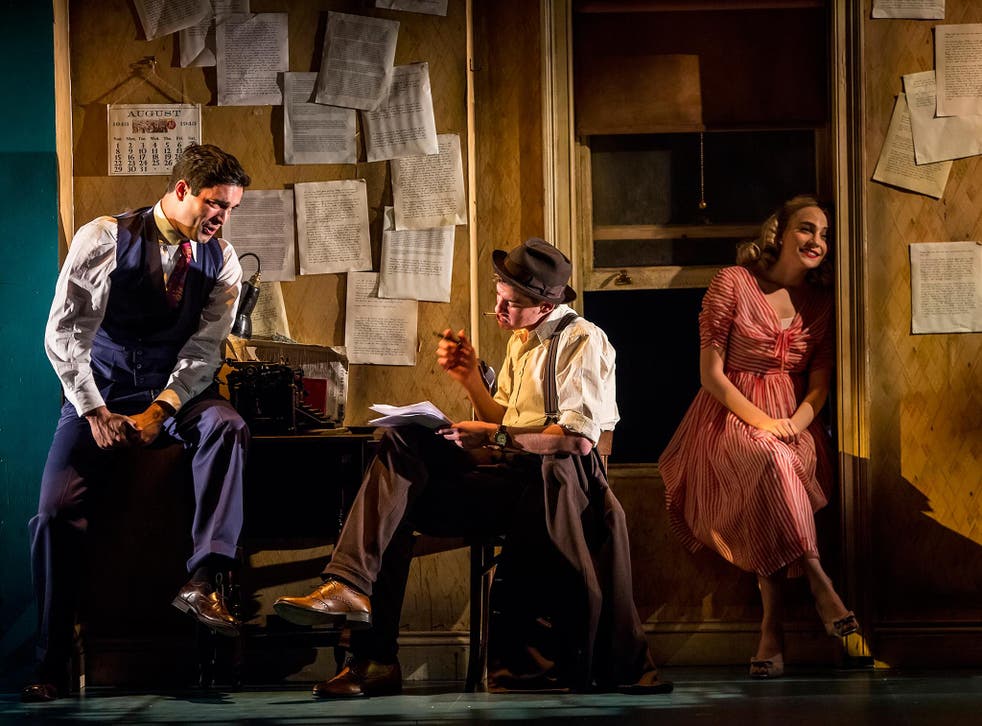 She's famous for her little black dress, but Holly Golightly's shoes are what you've got to worry about filling. Because they're already firmly occupied in most people's minds by Audrey Hepburn in the 1961 film of Breakfast at Tiffany's. Hoping to shoo her ghost away is Pixie Lott, pop star turned actress, who plays the girl-about-town in American playwright Richard Greenberg's stage version of Truman Capote's novella.
A previous outing in New York, starring Emilia Clarke of Game of Thrones fame, was a flop; this version has been touring with an alternating cast of Hollys before arriving in the West End.
It's a big part for a stage debut, but one Lott brings her own distinctive charm to. With doe-eyes flashing naughtily and a host of golden curls, she's more glamourpuss than gamine. At first, the seductiveness seems effortful: her mannered delivery has an oddly over-emphasised relish, her quirkiness heavily telegraphed; there's little of the light airiness of Miss Golightly. And yet… Lott brings a particular magnetism to the part. She is, as one character sums her up, "a phony, but a real phony": if she's stagey, it's in part to cover for a past barely kept at bay. And we get the full gold-digging, friend-betraying, cynical survivalist here, not the Hollywood rom-com Holly, even if it is always glossily lacquered.
For Greenberg's version returns to the source material, attempting to restore some of the seediness of Breakfast at Tiffany's. If the first half is pure froth under Nikolai Foster's direction, the second lets the darker undertow pull. Surprisingly, the arrival of Holly's old hillbilly hubbie (Robert Calvert) brings in a note of pathos. It may not quite be what the hen party crowd had in mind, but it mostly works.
Still, a play oughtn't just be a book stood up, and the text is arguably too faithful to its source: a deal of judicious pruning would have helped the pace. There are entirely unneeded and poorly realised moments – a horse bolting through Manhattan springs to mind – that someone surely should have nixed long before this reached the West End.
Much of the text is delivered as narration by Fred, a struggling writer and Holly's neighbour. Capote's hint that Fred may prefer men is heavily spelt out here, and yet there's also no doubt that the man is obsessively, dangerously in love with Holly. And here lies a major problem: Fred needs to be a sharp-eyed, watchful observer of events, but in Matt Barber's over-egged performance, he's a grinning, gurning, love-lorn dolt with a rat-a-tat delivery that grates. This huge performance – matched by the many cartoonish bad guys Holly hangs around with - over-rides even Lott's larger-than-life confection, and pulls the story off-centre. Holly needs to be the exceptionally bright spark, not one of a cast of crazy characters.
It's billed a 'stage play with music' – they're obviously not gonna pass up the chance to hear a pop star croon 'Moon River'. And when that famous number comes, it is very much the X Factor version; big and tremulous.
Designer Matthew Wright creates a swish New York city, apartments and fire escapes flying in and out, everything tinged with Tiffany turquoise. Long streams of cool lighting from Ben Cracknell are a beautiful thing to behold. And yes, there's a real-life cat. Elsewhere, the show isn't quite sure if it's an exposure of phoniness or in love with shallow surfaces. Still, despite its faults, I enjoyed spending a few hours travelling in Miss Golightly's company.
Register for free to continue reading
Registration is a free and easy way to support our truly independent journalism
By registering, you will also enjoy limited access to Premium articles, exclusive newsletters, commenting, and virtual events with our leading journalists
Already have an account? sign in
Register for free to continue reading
Registration is a free and easy way to support our truly independent journalism
By registering, you will also enjoy limited access to Premium articles, exclusive newsletters, commenting, and virtual events with our leading journalists
Already have an account? sign in
Join our new commenting forum
Join thought-provoking conversations, follow other Independent readers and see their replies