Portraits in Otherness, Sadler's Wells, London, review: Four superb dancers prove to have strong choreographic voices
The Akram Khan Company looks to the next generation, finding plenty of talent
Zo Anderson
Friday 08 June 2018 14:27 Comments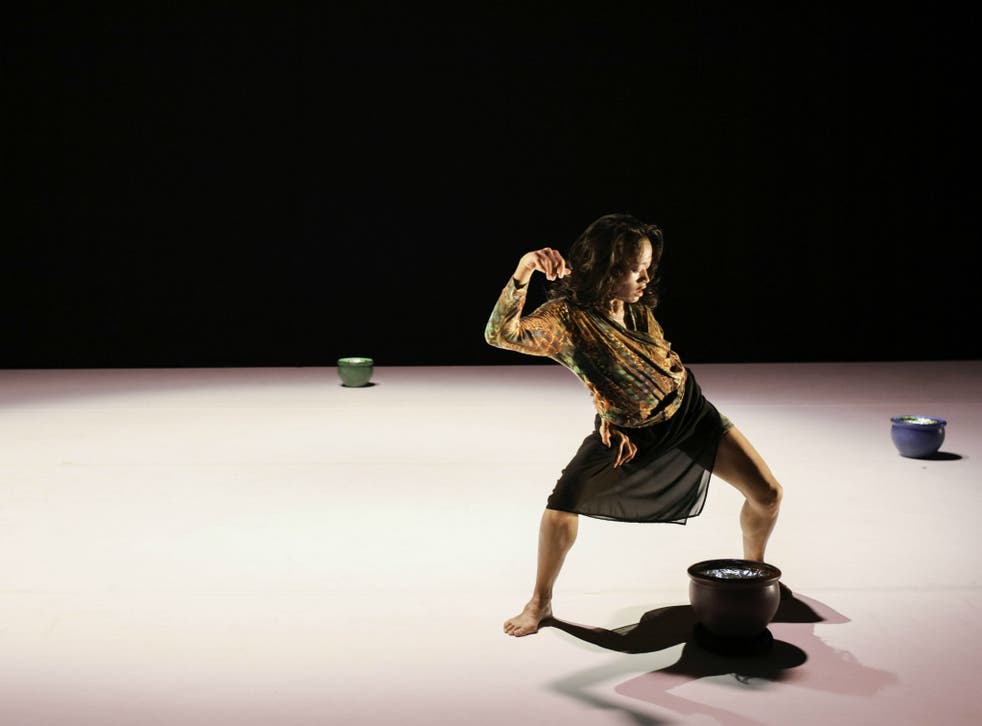 With Portraits in Otherness, the Akram Khan Company looks to the next generation. Across two programmes, four superb dancers create their own work. It's no surprise that these are powerful performers: they also prove to have strong choreographic voices.
Supported by Khan and his producer Farooq Chaudhry, the works by Maya Jilan Dong, Dickson Mbi, Ching-Ying Chien and Joy Alpuerto Ritter are handsomely staged, lit by leading designer Fabiana Piccioli, with new music and often striking designs. These don't feel like apprentice pieces; they step out with confidence and a touch of luxury.
Maya Jilan Dong's Whip starts with a slash of scarlet. Dong lies onstage, wrapped in a long red cloth. Designed by Marie Cantenys, the train of her dress stretches right across the stage, coiling around the chair of cellist Joanne Clara, who plays her own score. Circling the musician, Dong unhooks her train, using a pole to unhitch the layers of her costume. Balancing the stick on her head, she moves in a fast, steady glide, or breaks into wilder dances.
Drawing on a folk dance from the Chinese Bai people, Whip has a hypnotic intensity. Dong can switch from delicate movement to huge, bold steps, but always within a larger pattern of movement.
Dickson Mbi is a star of both hip hop and contemporary dance. In his solo Duende, he moves through dappled light and smoke, dipping into a crouch or arching into floating backbends. Movement ripples across his torso, tiny twitches moving and stopping as if seen under a strobe light. It's a less finished work, but shows off his extraordinary fluidity and control.
Both Ching-Ying Chien and Joy Alpuerto Ritter were outstanding in Khan's Until the Lions. Chien's Vulture starts with composer Joseph Ashwin standing in a huge cape, again designed by Cantenys. As he steps away, the fabric pools like an oil slick, showing the shape of a body lurking under it. Seen through cloth, Chien looks both human and alien.
It's the same when she emerges, dressed in a hat and tattered coat. She folds herself up like a nesting bird, elbows pointing skywards, or hops across the stage while still in the lotus position. She uses her flexibility to create birdlike, aggressive moves, spellbinding images of transformation.
In BABAE, Ritter casts her own spells, sometimes on her own body. Inspired by the Witch Dance of modern dance pioneer Mary Wigman, BABAE shows Ritter prowling between dishes as if preparing a ritual. Her hands hold a chattering conversation with each other; when she points at her feet, it's as if they're moved by outside command rather than normal motion. In one breath, Ritter can flip from ceremony to disco glitter, and make both feel momentous.
Until 8 June (sadlerswells.com)
Register for free to continue reading
Registration is a free and easy way to support our truly independent journalism
By registering, you will also enjoy limited access to Premium articles, exclusive newsletters, commenting, and virtual events with our leading journalists
Already have an account? sign in
Join our new commenting forum
Join thought-provoking conversations, follow other Independent readers and see their replies