Prism, Hampstead Theatre, London, review: Robert Lindsay gives a superb performance
Terry Johnson's play about the Oscar-winning cinematographer Jack Cardiff with dementia is sensitively directed by the author 
Paul Taylor
Wednesday 20 September 2017 19:56 Comments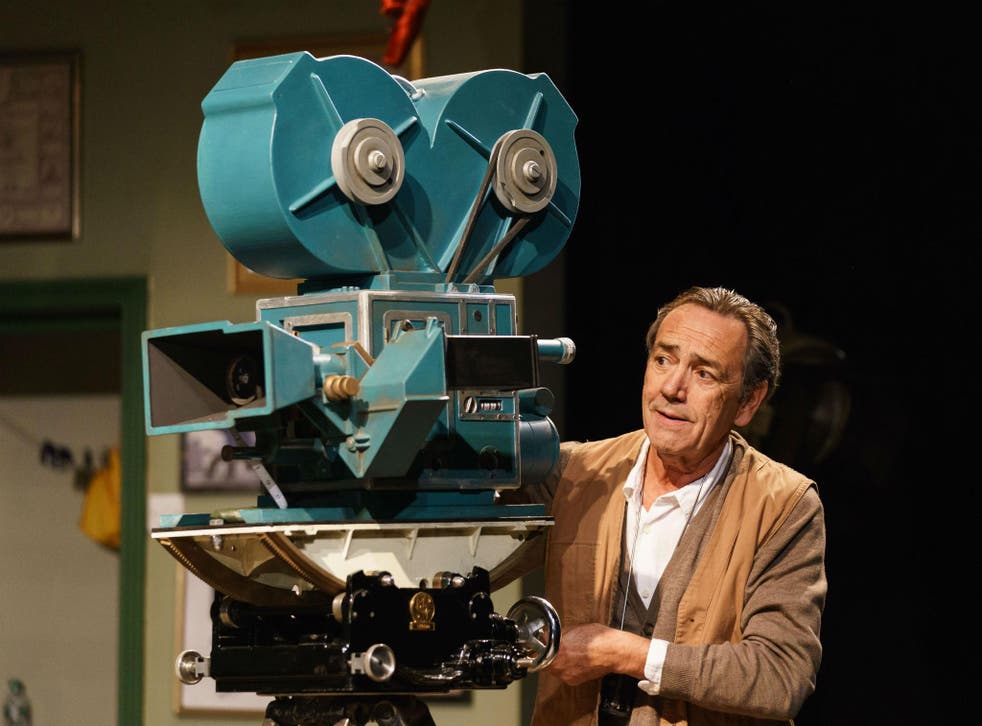 Terry Johnson's first full-length main-stage play in more than a decade is an affectionate, funny and poignant homage to Jack Cardiff, the great British cinematographer whose genius for "painting with light" suffuses such classic films as Black Narcissus (1947) and The Red Shoes (1948). He won an Oscar for both. His life was colourful in more ways than one. He captured hues hitherto unseen, because no one had photographed them before. And he was known as "the man who made women beautiful" with his lighting for which service many fell gratefully into his arms.
The play approaches Cardiff in his declining years when he is in the grip of dementia and bewildered by even elementary details in the present. We see how his son Mason has converted the garage of Jack's Buckinghamshire home into a retreat, stuffed with memorabilia, where he can finish writing his autobiography.
Bewitchingly luminous photographs of the female stars he worked with (Katharine, Marilyn, Marlene et al) decorate the walls alongside copies of the great paintings (Vermeer, Van Gogh) that inspired his fascination with the texture of light. There's his ancient Technicolour camera, a trusty comrade-in-arms now obsolete and minus its prism – the optical wonder that is "God's eye" as Cardiff hymns it.
The proceedings, which are sensitively directed by the author, kick off with a great sight gag. As the garage door chugs upwards to admit him and his son, Jack discourses opinionatedly on the different screen sizes and aspect ratios that are left by its gradual ascent. "Call this a sound stage? It's the size of a bloody garage," he objects once they get inside. Mason has hired a young woman, Lucy (Rebecca Knight), to be his carer and amanuensis, but it's clear that Cardiff's condition dictates a desire to re-enact the past rather than to put it on record.
Barnaby Kay, as the son who is lost in his shadow, and Claire Skinner, as Nicola, the much younger wife who's distraught because he can no longer recognise her, movingly convey the despair, frustration and devotion of his loved ones.
Prism was written with Robert Lindsay in mind and he gives a superb performance as Cardiff, communicating the effortless charm that was so attractive to women and the fanatical professionalism that sent him on his experimental quests. There's a faint suggestion of the soft-shoe-shuffling music-hall comedian, evocative of his family's vaudevillian roots.
Piercingly, he flashes fitful signs of a sudden pained recognition of reality. In a magical transformation, the garage walls of Tim Shortall's set, beautifully lit by Ben Ormerod, dissolve and we are on the mosquito-ridden Congo River (courtesy of Ian William Galloway's video design) for an extended flashback to the fraught location shoot for The African Queen, where Skinner and Kay become Hepburn and Bogart.
Johnson's production does not overindulge us with visual coups (there are lovely effects, to be sure – watch out for those photographs) and occasionally I found myself wondering what a multimedia whizz-kid such as Robert Lepage would do with this arresting mix of neurological deterioration, fear of blindness and still-rampant obsession with colour. But the dramatist writes with great eloquence about what Jack calls "lighting by God" and the mechanics of capturing on film the chromatic beauty of moments "worth scheduling an entire day around".
The structure is artful. Rebecca Night reappears as a lustrous Marilyn Monroe in order to re-enact, word for world, an earlier scene with Jack in which he'd confused his carer, Lucy, with the screen goddess, draped on his casting couch. (Kay is a pompously affronted Arthur Miller). These lapses between precarious present and distorted past take us into the jungle of Jack's ailing mind, while the doubling and tripling bring home the ache of being mistaken for one of the luminaries in his thronging cinematic memory-bank. Our sense of his wife's misery at being wooed now as if she were Katharine Hepburn and her worry that she was always the consolation prize is heightened by the fact that Skinner also turns in a witty impression of Hepburn, wryly jousting with Jack in his African Queen remembrances.
"Submit your life to any decent script editor and they'd reject it on structure alone", Jack Cardiff quotes his words. "The importance of our lives is not the finished masterpiece, it's whatever we've got in the can today". So though Mason might aspire to bring his dad's life to "a meaningful conclusion", Johnson's rich avoidance of a narrative arc is true to the intuition he gives this neurologically disordered protagonist – that the experience life is "like shooting a film, not watching one". Exquisitely achieved.
Register for free to continue reading
Registration is a free and easy way to support our truly independent journalism
By registering, you will also enjoy limited access to Premium articles, exclusive newsletters, commenting, and virtual events with our leading journalists
Already have an account? sign in
Join our new commenting forum
Join thought-provoking conversations, follow other Independent readers and see their replies