Prom 55: Classical Music of India and Pakistan, Royal Albert Hall, London, review: Fine performances marred by lack of musical context
The 70th anniversary of partition is marked by celebrating the Hindustani music of North India, South India's Carnatic music and Sufi music of Pakistan
Michael Church
Monday 28 August 2017 15:46 Comments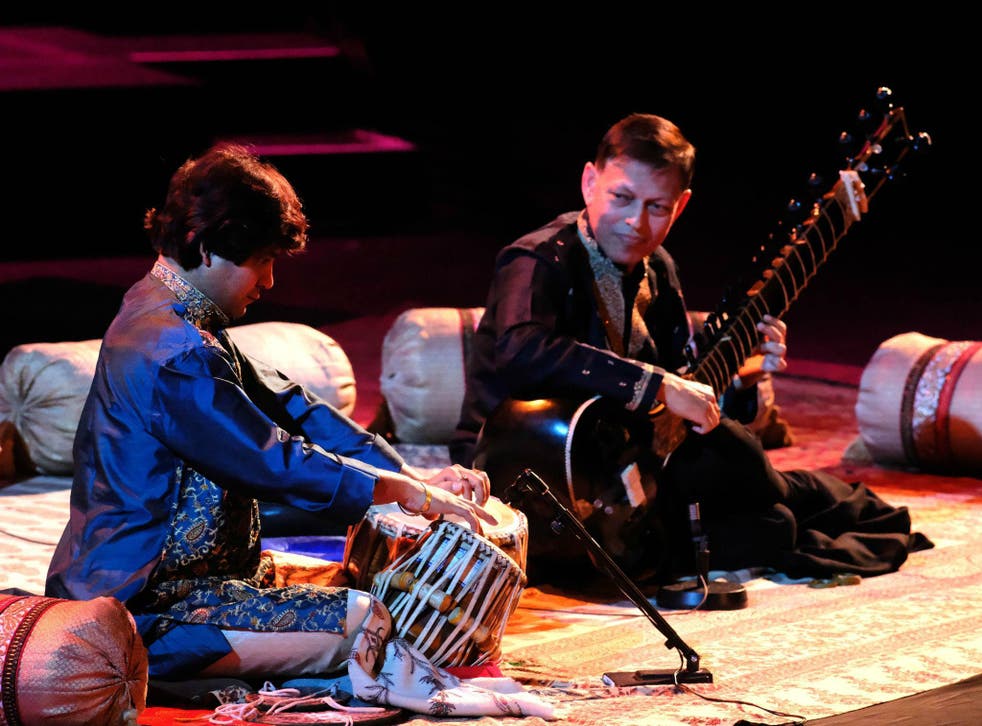 Most late-night Proms are sparsely attended, but this one – which went on until the small hours – was impressively full, its audience drawn equally from Europe and the South Asian sub-continent. The peg was the 70th anniversary of the partition of India, which had its sad musical equivalent. In 1947 Muslim musicians had to flee to the safety of the new Pakistan, while their Hindu and Sikh counterparts fled in the opposite direction. And the new states' respective musics were seen as rallying-points: Delhi promoted raga, while the Pakistani government looked to the ghazal and qawwali song-forms as the musical badge of their new nation.
This well-amplified Prom came in three parts – North Indian raga, South India's version of that art-form, and Pakistani qawwali. Sitar-player Pandit Budhaditya Mukherjee's raga, underpinned by Soumen Nandy's tabla, was superbly sustained, and Jayanthi Kumaresh's saraswati veena – partnered by Kumaresh Rajagopalan with eloquent versatility on the violin – made a vivid and full-blooded contrast; Fareed Ayaz, Abu Muhamamd Qawwal and Brothers lit up the hall with their intoxicating brand of Sufi chant.
The only problem was the absence of any musical context from the BBC – particularly striking when you consider the solid hour they'd spent doing so with Dvorak's New World' Symphony two days before. Western audiences need to get a handle on the purpose and structure of raga, on how Carnatic music works, and on the poetry of qawwali, but the Proms' leaflet squandered much of its space on promotional guff. This was a big chance missed.
Register for free to continue reading
Registration is a free and easy way to support our truly independent journalism
By registering, you will also enjoy limited access to Premium articles, exclusive newsletters, commenting, and virtual events with our leading journalists
Already have an account? sign in
Join our new commenting forum
Join thought-provoking conversations, follow other Independent readers and see their replies