The Queen of Spades review, Royal Opera House, London: A near-definitive performance of majestic score
A near-definitive performance of this majestically beautiful score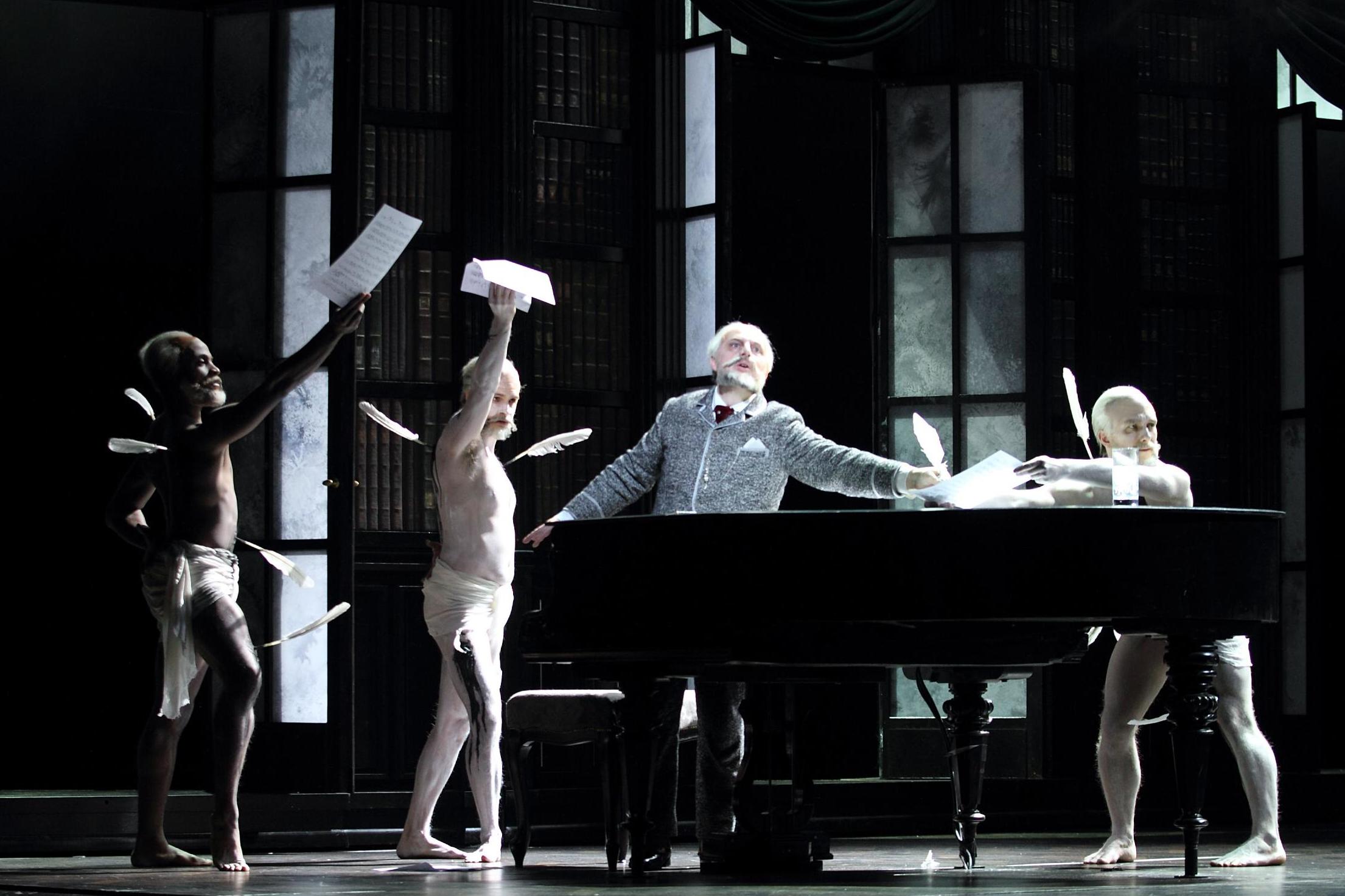 When is a libretto not a libretto? When it falls into the hands of Stefan Herheim. For this Norwegian director, existing classics are merely material out of which to make an opera of his own. Sometimes this works brilliantly, as with his take on Verdi's Vepres Siciliennes, whose Risorgimento struggle he transformed so that art itself became the territory over which battle was raging. Sometimes it only half works, as with his Glyndebourne Pelleas et Melisande, whose entire plot unfolded in a simulacrum of Glyndebourne's organ room.
News had travelled in advance about what he had done with Tchaikovsky's The Queen of Spades – which premiered two years ago in Amsterdam – but the reality of his staging still comes as a shock.
Tchaikovsky's opera, with a libretto by his brother Modest, is a ghost story based on Pushkin's novella of the same name. A young officer named Hermann is in love with Lisa, grand-daughter of a Countess who was a noted gambler in her youth, and who has a three-card secret which will always guarantee a win. Brandishing a pistol, Hermann visits the Countess at night to learn how to win enough money to marry his betrothed, but the Countess dies of fright. Lisa drowns herself in despair; Hermann goes mad at the gaming table and, confronted by the Countess's ghost, kills himself.
Simple? Well, certainly not the way Herheim construes it. He regards the dramatics of this opera as so crude as to be almost meaningless, so he tinkers vigorously with all the scenes which depend on interaction. In his view, the work is all about Tchaikovsky himself: fired by his belief that the composer was martyred for his sexuality, and taking his cue from Tchaikovsky's admission that he wept buckets while composing Hermann's death, Herheim has concluded that all the characters must represent the composer. And that is what, quite literally, he puts on stage.
The best theatre of 2018
Show all 10
Grey-haired in a grey three-piece suit, this Hermann is surrounded by clones of himself: not just the other male characters, but all the flunkeys and members of the children's chorus too; when Catherine the Great makes her triumphal appearance, even she turns out, behind her mask, to be another Tchaikovsky. The busiest Tchaikovsky of all is forever feverishly composing at the piano, conducting the other Tchaikovskys (who are also conducting themselves), and showering them with manuscript pages.
Confusion is compounded by the fact that people often don't seem to be physically addressing the person the libretto has them singing to. And when Hermann and the Countess have their nocturnal encounter, the Tchaikovsky who mutely interposes himself between them drains the scene of all tension; you don't notice the Countess's death until after it has happened.
Herheim's approach is too wilfully idiosyncratic to be worth bothering to decode. So why three stars? Because of the adroitly-choreographed choral scenes, which radiate by turns horror and old-style Russian joie de vivre with infectious gusto, and above all because of the singing. Apart from Aleksandrs Antonenko's painfully hard-toned Hermann, all the singing is either good or outstanding.
Eva-Maria Westbroeck's sound as Lisa has power and beauty in equal measure; Vladimir Stoyanov's Yeletsky and John Lundgren's Tomsky are vibrantly realised; Anna Goryachova's performances in the Baroque and Mozartian interludes are gorgeously sung and captivatingly acted. Felicity Palmer turns the role of the Countess into a creation both convincing and highly original. Meanwhile Antonio Pappano extracts wonderful playing from the orchestra. If you want to hear a near-definitive performance of this majestically beautiful score. Herheim's production, despite the perverseness of its staging, is a show to catch.
Join our commenting forum
Join thought-provoking conversations, follow other Independent readers and see their replies