Review: From Here to Eternity - Sir Tim Rice's musical has many faults, but it wins you over
Some have quipped that it should be called From Here To November, but it should survive a little longer than that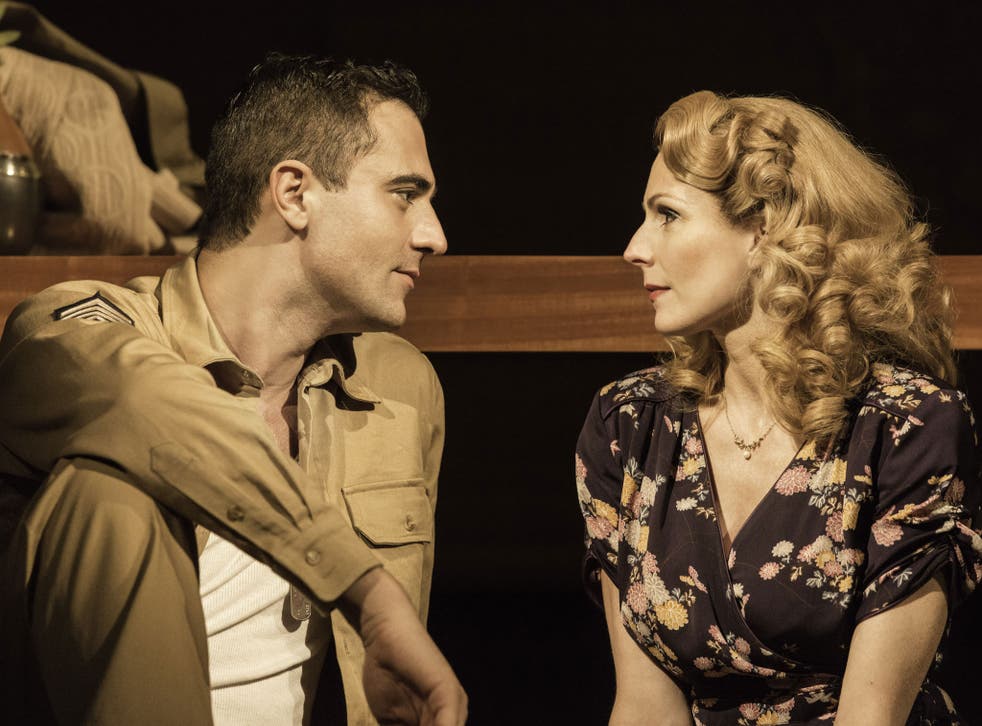 You remember Burt Lancaster and Deborah Kerr and their passionate snog in the surf, naturally. Ditto: the brooding intensity of Montgomery Clift and the terrifying bombardment of Pearl Harbor. But how about Honolulu's Waikiki gay bar where hard-up, straight American soldiers earn some extra cash in return for sexual favours? Or the Drag Queen? Thought not.
The makers of this new musical have gone back to the unexpurgated version of the James Jones novel on which the Oscar-winning, but bowdlerised, 1953 movie is based.
The aim is a grittier, sexier low-down on life in the US army and the show – with lyrics by Tim Rice and music by newcomer Stuart Brayson – certainly gives you a powerful sense of men, thrown by poverty into this substitute family, and the nervous energies that are barely held in check by the furious military drilling in Javier de Frutos's testosterone-fuelled choreography.
Tamara Harvey's production is strong on atmosphere – with its dissolving painted postcards of Hawaii and its crashing waves projected at the back of Soutra Gilmour's design of receding ruined arches.
And Brayson's catchy score, which moves deftly through swing, blues, jazz and early rock'n'roll can rise to good old showbiz brassiness when needed, as when the whores at the New Congress Club strut their stuff and sing "You got the money/We got the ass/Between the two of us we got potential" – a lyric reprised, with pronouns tellingly reversed, in the gay bar. The musical is much less persuasive, though, in its handling of the two love affairs that are played out against the backdrop of impending war.
An air of unintended embarrassment hangs around the illicit passion between Darius Campell's tall, dark and lecherous First Sergeant Milt Warden and Karen (Rebecca Thornhill), the neglected wife of his boss. There's no sizzle in the wise-cracks, and though the first act climaxes, rather laughably, in a spot of rear-view nudity, there is little erotic spark between them. The lyrics to their meditative numbers feel flaccid with cliché – "We are simply hanging out to dry/We don't know where we are/We don't know why" – and can't be filed with the best of Tim Rice who is returning from a 13-year break with this show.
Robert Lonsdale magnetically conveys the stubborn, passionate individualism of Prewitt, the star boxer who is given the sadistic "treatment" when he refuses to box for the company because he blinded an earlier opponent. In this musical version, Prewitt vents his frustration in the blues numbers and protest songs that he composes on the guitar. Performed with a high, wiry fervour by Lonsdale, his recurring, cumulative anthem "Fight the Fight" ("I made my own choice/I found my own voice") is, again, more powerful than any of the love songs involving Siubhan Harrison's moving, golden-toned Lorene, the escort girl who dreams of respectability.
For all the show's many defects, though, you come away impressed by its seriousness of purpose, by individual performances (Ryan Sampson is excellent as the jesting, bullied-to-death Maggio) and by the heart-tugging ambivalence of its patriotic set-pieces. Wags have quipped that it should be called From Here to November. But I reckon it's going to survive quite a bit longer than that.
Register for free to continue reading
Registration is a free and easy way to support our truly independent journalism
By registering, you will also enjoy limited access to Premium articles, exclusive newsletters, commenting, and virtual events with our leading journalists
Already have an account? sign in
Register for free to continue reading
Registration is a free and easy way to support our truly independent journalism
By registering, you will also enjoy limited access to Premium articles, exclusive newsletters, commenting, and virtual events with our leading journalists
Already have an account? sign in
Join our new commenting forum
Join thought-provoking conversations, follow other Independent readers and see their replies