Road, Royal Court, London, review: Not as confrontational as the original
The Royal Court's revival of Jim Cartwright's protest play about the working class is as relevant as ever 30 years later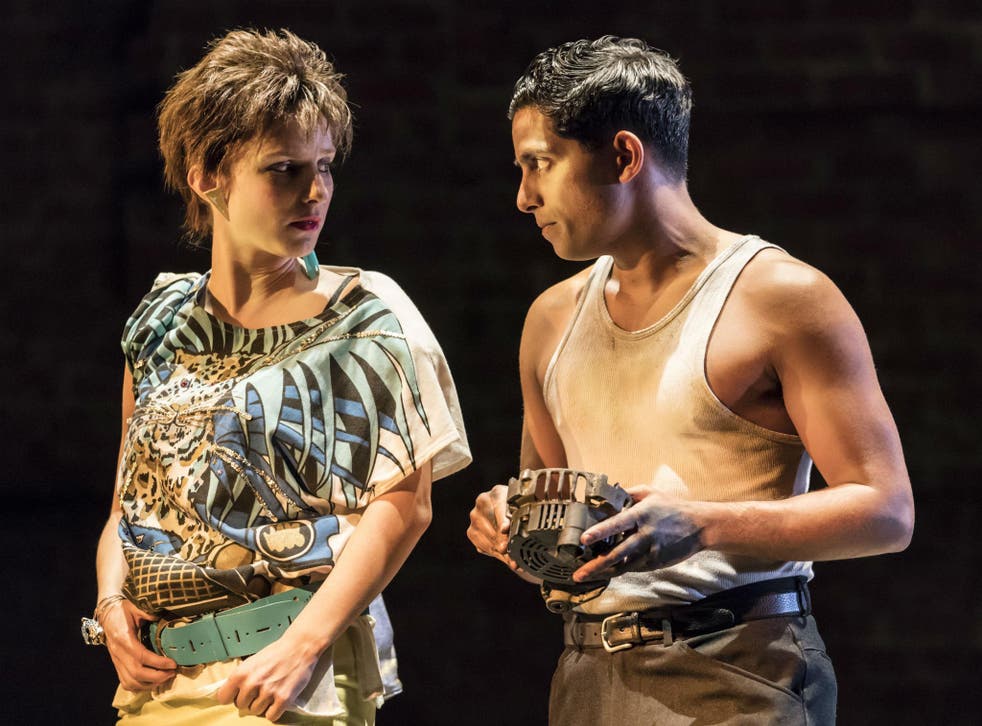 It was dubbed the Under Milk Wood of urban dereliction when Jim Cartwright's Road sprang to startling and seminal life 30 years ago. Here was a guided tour of a street in a Lancashire town ravaged by Thatcherism, poverty and joblessness. The abandoned were given a voice – lyrical, gobby, surreal. The barriers between actors and audience were broken down by Simon Curtis's promenade production, in which Ian Dury played Scullery, the scavenging master of ceremonies.
The Royal Court's revival now of one of its greatest hits is timely. This is a play that's in tune with the Austerity Britain of welfare cuts, food banks, Grenfell Tower and chronic job insecurity. Wisely, director John Tiffany allows the parallels to speak for themselves in his non-promenade production that's set firmly in the era of big hair and shoulder pads ("Me shoulder pad's slipped." "Pissing hell, Louise, there's always summat wi' you.").
It's not, almost by definition, as confrontational as the original and the weakest aspect of the show is the weedy attempts at audience interaction. Instead of being led on a nocturnal journey, we sit and watch a pageant of vignettes, our well-heeled voyeurism frankly acknowledged by the large glass box that rises and falls – a strip-lit prison with a hint of the display-case – at the centre of Chloe Lamford's bricked-up design.
"Are we protesting?" asks Clare, who has taken to bed with Joey in a suicidal hunger-strike. (Faye Marsay and Shane Zaza are perfection in the parts.) The plight of the people in Road seems either to have pushed them beyond politics to a more existential despair or to a frenzy for obliterating pain through drink and sex.
In Tiffany's production, which is beautifully acted by a multi-tasking ensemble, the free-wheeling lyricism ("Why is the world so tough? It's like walking through meat in high-heels") and the raucously rude leap into pungent life. Mark Hadfield is superb as a lonely old man, threadbare but punctilious, who can remember a time when there were so many jobs it was possible to flit through three in two days: "I can't see how that time could turn into this time."
Liz White gives sharp poignancy to Valerie, who describes herself as a "bony rat" forced to "sniffle out" money because her husband boozes the giro money down the pub. She knows it's not his fault that there's no work and she hates herself for hating him as he wanders round "like a big, wounded animal". And Michelle Fairley is hilarious and desolating as Helen who tries to prop up and seduce an insensibly drunk young squaddie while pretending that he's seducing her ("Oh, I am sorry. I've kneeled in my chips").
There's a wonderful sequence where Lemn Sissay's Scullery performs a whizzing, rapturous pas de deux with a supermarket trolley to the strains of Swan Lake. This longing to be free from a dead-end existence is even more affectingly conveyed in the final scene where a double-dating foursome speed-drink and then listen in silence to the whole of Otis Redding's "Try A Little Tenderness". Hearing this record stuns them from their previous fractious inanities and they endeavour rise to above their lives in a group mime of would-be escape, performed here to the music of Elbow and gradually incorporating all the company. A Road well worth taking.
Join our new commenting forum
Join thought-provoking conversations, follow other Independent readers and see their replies