The Royal Ballet, Linbury Theatre, Royal Opera House review: 'Rigorous production ranges from prickly to serene'
Gorgeously lucid programme celebrates the centenary of contemporary dance pioneer Merce Cunningham
Friday 11 October 2019 08:52 Comments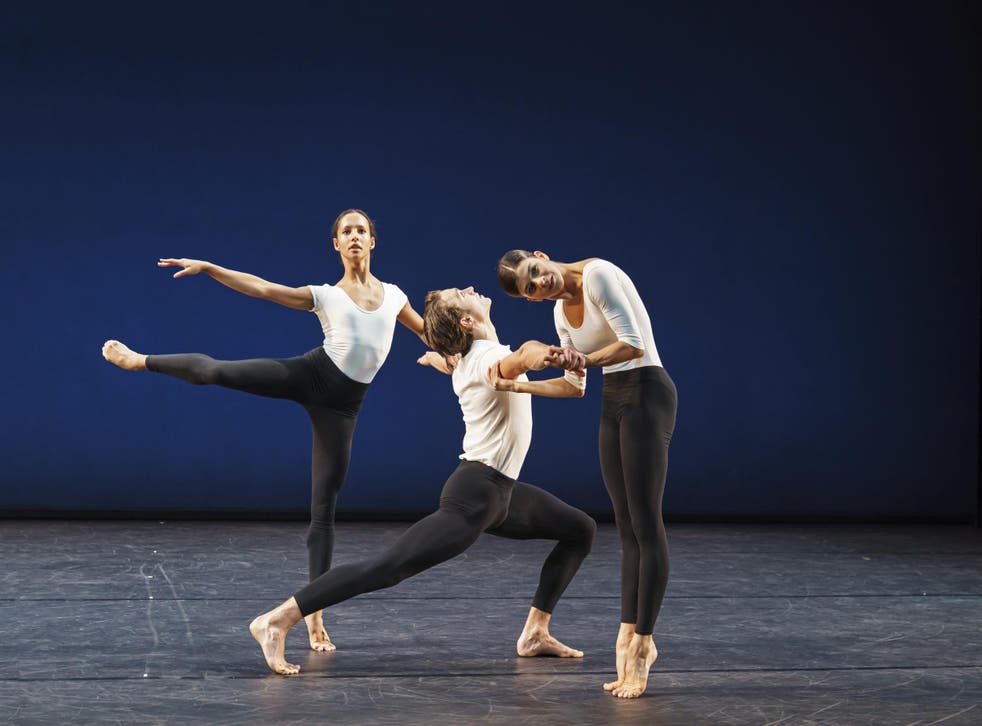 This programme by The Royal Ballet combines gorgeously lucid dancing with an exploration of influence. It celebrates the centenary of contemporary dance pioneer Merce Cunningham with a world premiere from in-demand choreographer Pam Tanowitz and Frederick Ashton's luminous Monotones II. Always rigorous, it's an evening that ranges from prickly to serene.
Tanowitz formed her own company in 2000, but her international career is skyrocketing after the recent success of Four Quartets, which responded to TS Eliot's poetry with dance of glowing, spacious beauty. The new Everyone Keeps Me is on a smaller scale, focused on connections: between dancers, between Tanowitz and the choreographers who came before her. The intimacy is very appealing, though it's frustrating that The Royal Ballet keeps putting female choreographers in smaller spaces like the Linbury, away from main stage.
Musicians sit at the side to play Ted Hearne's string quartet, a mix of scratchy and sonorous sound. But the ballet starts in silence, with a chain of eight dancers winding their way across the stage. They're high-stepping but gentle, arms around waists, with a glance at folk dances.
Tanowitz emphasises the chemistry and focus between dancers. One or two will recline around the stage as others keep dancing, framing a shared space. It's almost a shock when Fumi Kaneko snaps her gaze out to the audience, beckoning us in.
40 of the greatest plays ever written

Show all 40
Tanowitz has fun with the personalities of her fine, young cast, giving them moments of surprise. Beatriz Stix-Brunell arranges herself into a waltz hold with Calvin Richardson, then ducks under his arm to go hopping away. Left alone, Harris poses with his back to the audience, arms twisted behind his back. Then he peeks under his own armpit at us, before rippling into a long, complex solo. It ends with a return to the line of dancers – but now there are nine of them, another dancer appearing as if from nowhere.Everyone Keeps Me keeps you guessing.
The trio Cross Currents underlines Cunningham's classicism as well as his modernism, with long, lyrical lines cutting across Conlon Nancarrow's insistent player-piano score. I loved the quicksilver in-and-out of Francesca Hayward's footwork, and Matthew Ball's fast switch from froggy jumps to mooching shimmies. Mayara Magri is sumptuous in a move where she stretches a leg behind her, then turns around to face it.
Ashton's 1965 Monotones II was also a response to Cunningham, a trio of stripped-down, lunar beauty. Melissa Hamilton, Reece Clarke and Nicol Edmonds were poised in its demanding, interlinked poses.
Until 11 October. Box office 020 7304 4000
Register for free to continue reading
Registration is a free and easy way to support our truly independent journalism
By registering, you will also enjoy limited access to Premium articles, exclusive newsletters, commenting, and virtual events with our leading journalists
Already have an account? sign in
Join our new commenting forum
Join thought-provoking conversations, follow other Independent readers and see their replies