Les Patineurs, Winter Dreams and The Concert review, Royal Ballet: A soufflé of an evening, with a very heavy middle
In recent years, The Royal Ballet has regularly presented a festive mixed programme, an alternative to the Christmassy charms of The Nutcracker
Wednesday 19 December 2018 11:43 Comments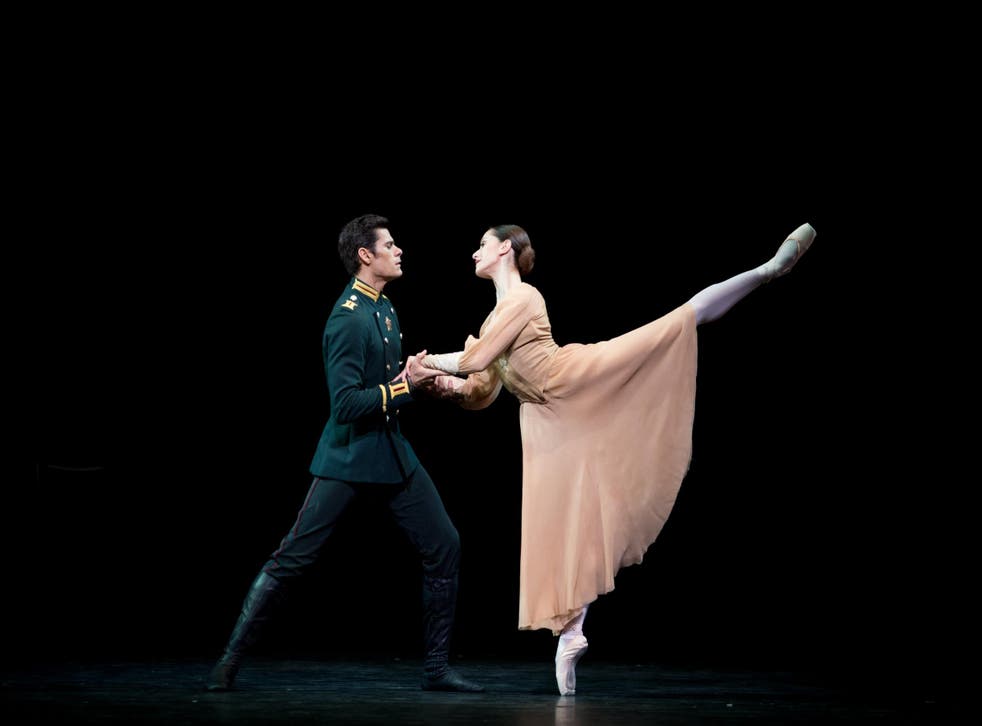 The Royal Ballet's latest triple bill should be a souffle of an evening, with a centre that obstinately refuses to rise. Frederick Ashton's Les Patineurs is a delightful skating ballet, and Jerome Robbins's The Concert makes a witty finale. Kenneth MacMillan's Winter Dreams sits very heavily in the middle.
In recent years, The Royal Ballet has regularly presented a festive mixed programme, an alternative to the Christmassy charms of The Nutcracker. Les Patineurs, created in 1937, is a perfect choice. Skaters glide, slip and spin in a wintry park.
Designer William Chappell wraps them up in cosy Victorian costumes, while his setting glows with frosty branches and paper lanterns. This performance needed fizzier pacing, but it's still a gorgeous mix of virtuoso steps and characterisation.
A prancing walk en pointe suggests chipping steps into the ice; less experienced skaters wobble or get their courage up. Marcelino Sambé whirls and bounds as the dazzling skater in blue, his smile as bright as his bravura technique. Yuhui Choe and Anna Rose O'Sullivan are crisp and sprightly as the girls in blue, with Mayara Magri and Beatriz Stix-Brunell delightful as the unsteady beginners in red.
MacMillan's 1991 Winter Dreams started out as a gala pas de deux for Darcey Bussell and Irek Mukhamedov, which he then overextended into a 55-minute ballet. Based on Chekhov's Three Sisters, it's a series of scenes and character sketches, danced to Tchaikovsky piano music and an onstage balalaika band.
There's far too much of it. Moments of lyrical dancing or sharp characterisation are swamped by repetition and dim lighting. This revival was finely danced, with Marianela Nuñez an ardent Masha, partnered by Thiago Soares's forceful Vershinin. Yasmine Naghdi makes Irina vivid, while Gary Avis is very touching as Masha's fussy, well-meaning husband.
The Concert ends the evening with a bang. In Robbins' 1956 ballet, a series of daffy characters gather to listen to a Chopin concert with on stage pianist Robert Clark. It starts with audience behaviour, from rustling and lost tickets to outraged shhhs, then spins into comic fantasy. Dancers dream of revenge, try on hats or shelter from the rain, all deftly set to the music.
The "mistake waltz" is an irresistible set piece, with somebody always just out of step. The hen-pecked misogynist jokes have dated, but Laura Morera is still fab as 'er indoors, quelling Nehemiah Kish with an icy stare. Lauren Cuthbertson is all long limbs and billowing hair as the music-loving ballerina, while Clark combines limpid tone and smart comic timing.
Until 4 January, box office 020 7304 4000
Register for free to continue reading
Registration is a free and easy way to support our truly independent journalism
By registering, you will also enjoy limited access to Premium articles, exclusive newsletters, commenting, and virtual events with our leading journalists
Already have an account? sign in
Join our new commenting forum
Join thought-provoking conversations, follow other Independent readers and see their replies