Salt, Root and Roe, Trafalgar Studios, London
Paul Taylor
Wednesday 16 November 2011 01:00 Comments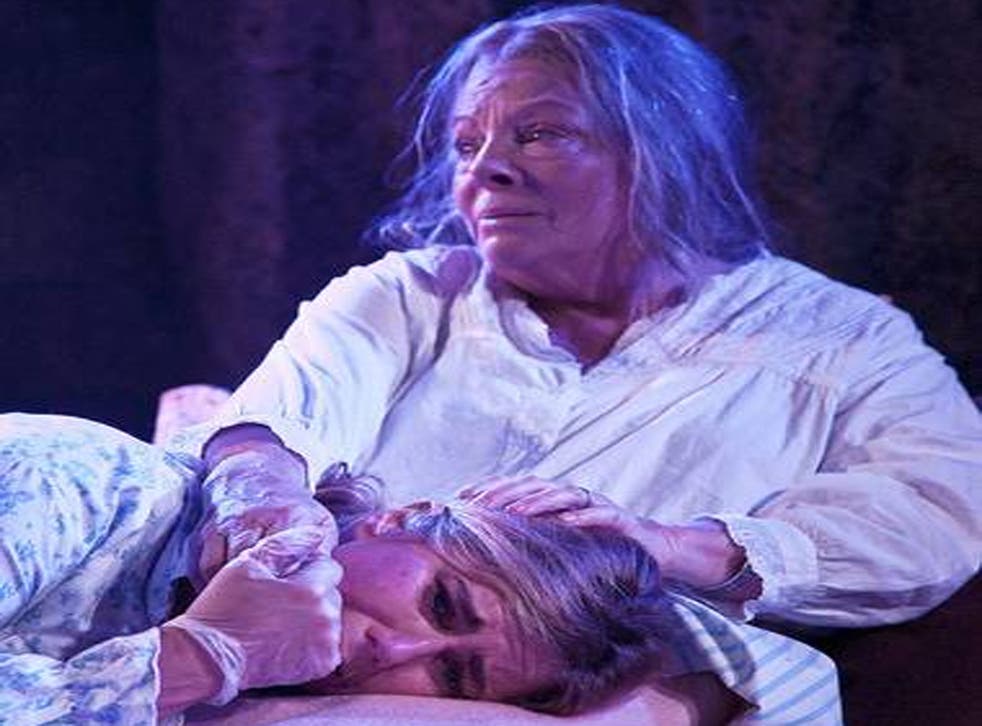 The Donmar's second season at the Trafalgar Studios – designed to showcase the work of its young resident directors – gets off to a cracking start with this lovely new play by Tim Price.
Salt, Root and Roe homes in on Iola and Anest, a pair of identical Welsh twins, now in their seventies, who live on the coast of North Pembrokeshire. In a fantastical underwater sequence at the start of Hamish Pirie's beautifully realised production, we see the two old ladies tied together with a skipping rope, recreating a childhood game. The rope symbolises the umbilical strength of their bond and, indeed, the next time we see them thus bound, at the end, it is in the ultimate sisterly solidarity of a suicide pact, weighed down with pebbles and walking into the sea. The mettle of their mutual devotion has certainly been proven by Iola's drift into dementia.
Price's writing is amusingly alert to the absurdities that surround this heartbreaking situation. The play plunges us into the hapless predicament of Anest's middle-aged daughter, Menna (a comically distraught and very touching Imogen Stubbs). She can't seem to win on any front. Her husband is so obsessed with germs he hasn't touched her for years and makes her wear latex gloves. And when a letter sends her rushing back to her childhood home, all her attempts to put a stop to the schemes of her aunt and mother re-emphasise her essential exclusion from their intimacy. "I used to tell myself I was one of them. That we were three twins," she confides to the local copper. Like triplets, he suggests. No, hers was the forlorn fantasy of being a third twin.
Anna Calder-Marshall piercingly traces Iola's erratic shifts between eccentric scattiness (boiling Menna's mobile in the teapot, for example) and bewildered, bullying violence, while Anna Carteret brings a moving dignity to the anguish and determination of her unafflicted sibling. Chloe Lamford's excellent design hangs swags of soiled sails over the proceedings and surreally displays a miniature model of the farmhouse in a bubbling fish tank. Just as Prices's script seamlessly combines the dotty and the distressing, so it is able at once to invoke poetic marine myths and hilariously debunk them. There seems to be a tradition in this family of fathers going missing. Is it because they were mermen? Anest suggests a more prosaic explanation. "What's more likely," she asks, "that he's a cheating bastard, or half-fish?"
To 3 December (0844 871 7632)
Register for free to continue reading
Registration is a free and easy way to support our truly independent journalism
By registering, you will also enjoy limited access to Premium articles, exclusive newsletters, commenting, and virtual events with our leading journalists
Already have an account? sign in
Join our new commenting forum
Join thought-provoking conversations, follow other Independent readers and see their replies