San Francisco Ballet, Sadler's Wells, London
Far from resting on its laurels, America's oldest company tours striking new work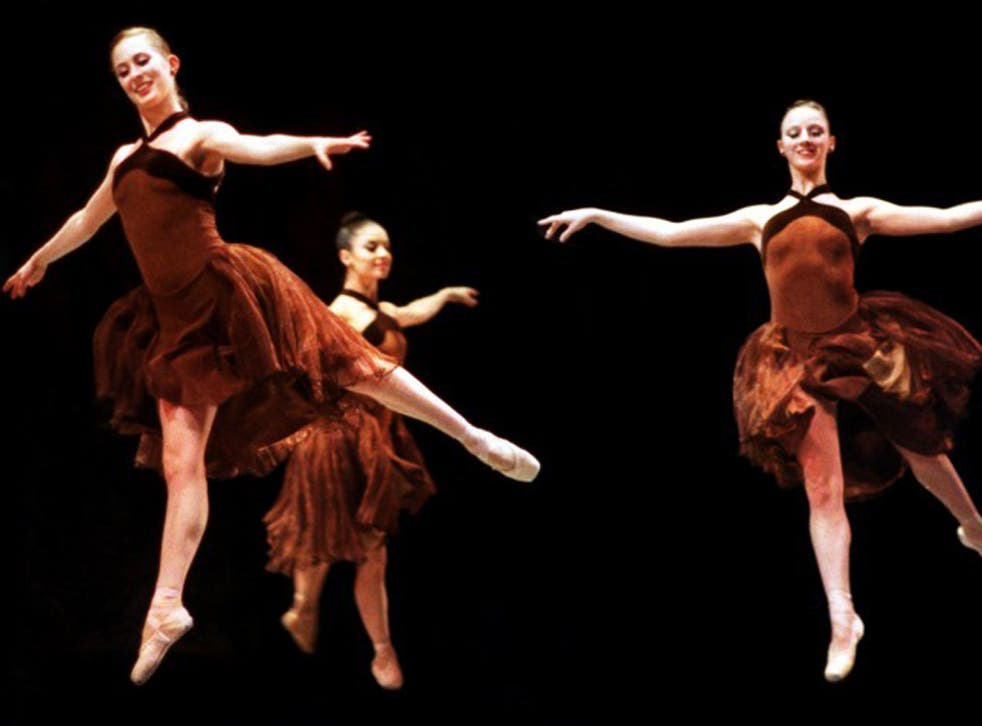 Before San Francisco was the city of flower power, before it was the city of Hitchcock's Vertigo, it was America's No 1 city for ballet. San Francisco Ballet staged the first US production of many a 19th-century classic. Today, then, approaching its 80th birthday, it might have been expected to revisit past triumphs on its first UK visit in eight years. Not a bit of it.
Of the 10 ballets spread across three programmes, eight were SFB commissions from the past 18 months – a rate that leaves most companies gaping. Three pieces, what's more, were from Christopher Wheeldon, a choreographer with a waiting list that wraps twice around the world.
Most striking of the Wheeldon offerings was Ghosts – not Ibsen, but a foggy tale of deaths at sea and the longings of lost souls. Titanic isn't mentioned, but it was the word on everyone's lips at the interval bar. The dancers' costumes – pale, wrinkled and transparent from long soaking – carry suggestions of formal dinnerwear, and steps hint wistfully at the whirling pleasures of a ballroom. Repeatedly, the entire ensemble stops to raise its gaze to a thing the audience can't see. The scene (superb lighting by Mary Louise Geiger), offers a sun darkly viewed from the ocean bed.
The mark of Wheeldon's work, the quality that makes him so in demand, is the profusion of his ideas on how the same old four limbs can be deployed afresh within the bounds of classicism. Ghosts bursts with ingenuity, waves of prone bodies rolling like flurries of sand, or clustering upright like schools of ghostly jellyfish. Typically, too, Wheeldon exploits the dramatic potential of his ballerinas – the spidery elongation of Yuan Yuan Tan, the sharp agitation of Sofiane Sylve who he casts as a kind of deep-sea harpie. Debussyan harmonies in a score from ex-rocker CF Kip Winger add to these seductions.
The choreographer Mark Morris has been a feather in SFB's cap for a while, but his offering this time misses. Beaux is a technical workout for men only, startlingly clad in the pink and peach camouflage pattern of Isaac Mizrahi's backdrop, Hockney's swimming pool reflecting a vulgar sunset. Beaux' theme, allied to the courtly gestures of Bohuslav Martinu's distinctly odd harpsichord score, is the chat-up styles of gay men. Cheeky, at times fey in its reams of fiddly steps, it should have been amusing. But SFB's men seemed reluctant to send themselves up.
Ashley Page (fresh from Scottish Ballet) supplied the newest work of all, with mixed results. Guide to Strange Places, for all its urgent, rugged shape-throwing, struggled to match the barely controlled chaos of John Adams's score. (You know what you're in for when you spot the percussionists inserting ear plugs.)
The revelation of the season has been the work of ex-SFB member Yuri Possokhov, whose Classical Symphony, to Prokofiev, offered the perfect amalgam of beauty, wit and novelty, including a descending pirouette that ended with the brilliant Maria Kochetkova sitting on her heel, still spinning. And who would guess that the same choreographer could turn his hand to epic Japanese tragedy? The astonishing Raku was like a slice of a Kurasawa film, with added levitating kimono.
Can you tell a ballet company's provenance just by looking? Yes. For all their bravura polish, what marks out SFB dancers is their evident relish of every step. As the song almost says: If you're going to San ... Fran ... cisco, be sure to look them up.
Last performance 4pm today (0844-412 4300)
Critic's Choice
Some like their dance raucous with flashing lights, and Some Like It Hip Hop, to judge by the runaway success of this returning West End show. Presented by street dance specialists ZooNation with a nod to Billy Wilder's film, it tells a (rather basic, panto-like) tale of crossdressing and mistaken identity in comedy, song and dance. Not one for the purist or tinnitus-prone. At London's Peacock Theatre to 13 Oct.
Register for free to continue reading
Registration is a free and easy way to support our truly independent journalism
By registering, you will also enjoy limited access to Premium articles, exclusive newsletters, commenting, and virtual events with our leading journalists
Already have an account? sign in
Register for free to continue reading
Registration is a free and easy way to support our truly independent journalism
By registering, you will also enjoy limited access to Premium articles, exclusive newsletters, commenting, and virtual events with our leading journalists
Already have an account? sign in
Join our new commenting forum
Join thought-provoking conversations, follow other Independent readers and see their replies