The Secret Life of Bees review: Sweet new musical is a joyful, inclusive crowd-pleaser
Duncan Sheik's score is the true pleasure of this adaptation of Sue Monk Kidd's 2001 novel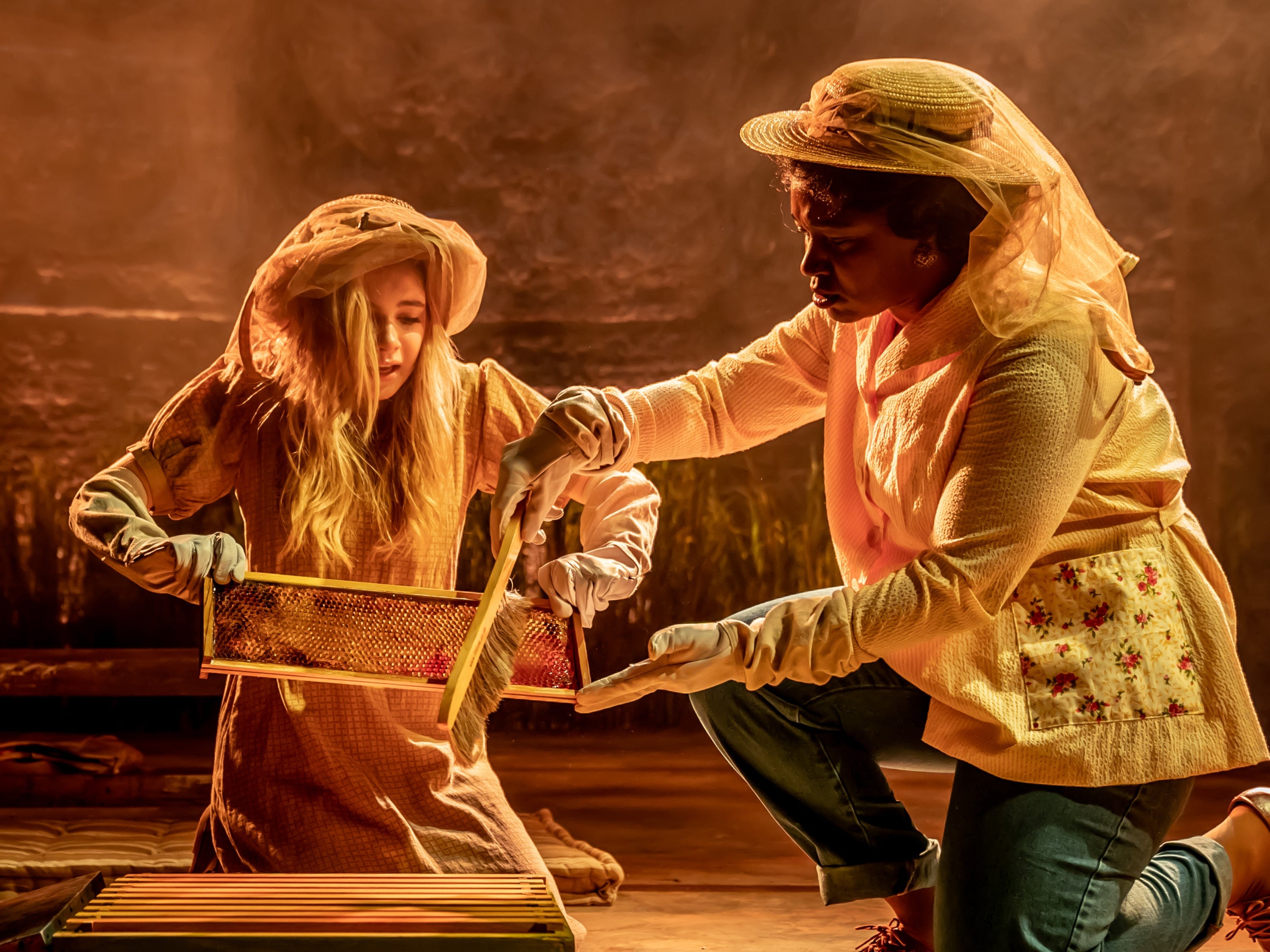 On the turn of the season, a new musical arrives that makes the air feel fresh. The Secret Life of Bees feels like a new kind of crowd-pleaser: joyful and inclusive. Based on Sue Monk Kidd's 2001 novel, later made into a 2008 film starring Dakota Fanning and Queen Latifah, it turns a coming-of-age narrative into more of a quest story: the search for acceptance, a home and a better world, in a landscape blighted by racism and misogyny.
It is 1964, in South Carolina. People fan themselves with the heat; President Johnson has just signed the Civil Rights Act. In Whitney White's gripping production, a news reporter forebodingly informs us that "local activists vow to test the new provisions". Motherless white teenager Lily (Eleanor Worthington Cox) ends up on the run from her abusive father, looking for safety with the family's Black maid Rosaleen (Abiona Omonua), who has been violently beaten while on her way to vote.
The pair are resilient, resolved to make the most of life – but, in their world, violence often collides with moments of optimism. A postcard of a Black Madonna, left by Lily's mother, leads them to the Boatwright family's honey farm, where the image adorns the jars. Matriarch August (Rachel John) welcomes them, alongside her sisters May and June, who are overcoming their own traumas.
The novel is plotty, but playwright Lynn Nottage's update makes some smart tweaks, altering aspects that could have jarred, and emphasising the political context. But the truest pleasure is Duncan Sheik's score, with lyrics by Sue Birkenhead, and how gorgeously it is sung by this cast. Folksy, bluesy and soulful, it gives each character their moment. In one transcendent scene, the Boatwright family seem like they might spontaneously combust with music; it's heady to watch. And rather than a traditional clap-a-long, glitter cannon final number, the show ends on a note of gentle, quiet beauty.
Omonua and Worthington-Cox make a moving, formidable duo, robust enough not to settle for their lot but sometimes dazed by flashes of self-realisation. As June and Neil, sweethearts obstructed by the fact she rejects every one of his marriage proposals, Ava Brennan and Tarinn Callender offer a dry wit in a story that sometimes veers towards the gooey. August requires significant presence, as well as pipes – and Rachel John provides both.
As a new musical in a theatre landscape that yearns for some confident, unrecycled storytelling, The Secret Life of Bees stands out. Not every note is met: the title song is slightly odd, and some of the dramatic scenes between songs land a little clunkily. If I were being cynical, I might say that the Boatwrights – August in particular – strays close to the "magical negro" trope, popularised by Spike Lee to describe Black characters with spiritual insights, selflessly helping white protagonists. But there is something beautiful here in the sense that, although survival can be singular, stepping forward is often something we must do together. From the moment that Lily and Rosaleen join hands and set out on their search for a place that accepts them, I fell a bit in love with this show.
'The Secret Life of Bees' runs at Almeida Theatre until 27 May
Join our commenting forum
Join thought-provoking conversations, follow other Independent readers and see their replies