Dance Movements, Courtauld Gallery, London, review: The choreography embodied the connection between Rodin's sculpture and drawing
Shobana Jeyasingh was commissioned to create a dance piece inspired by Rodin's sculptures at the Courtauld Institute's exhibition, which was danced by Noora Kela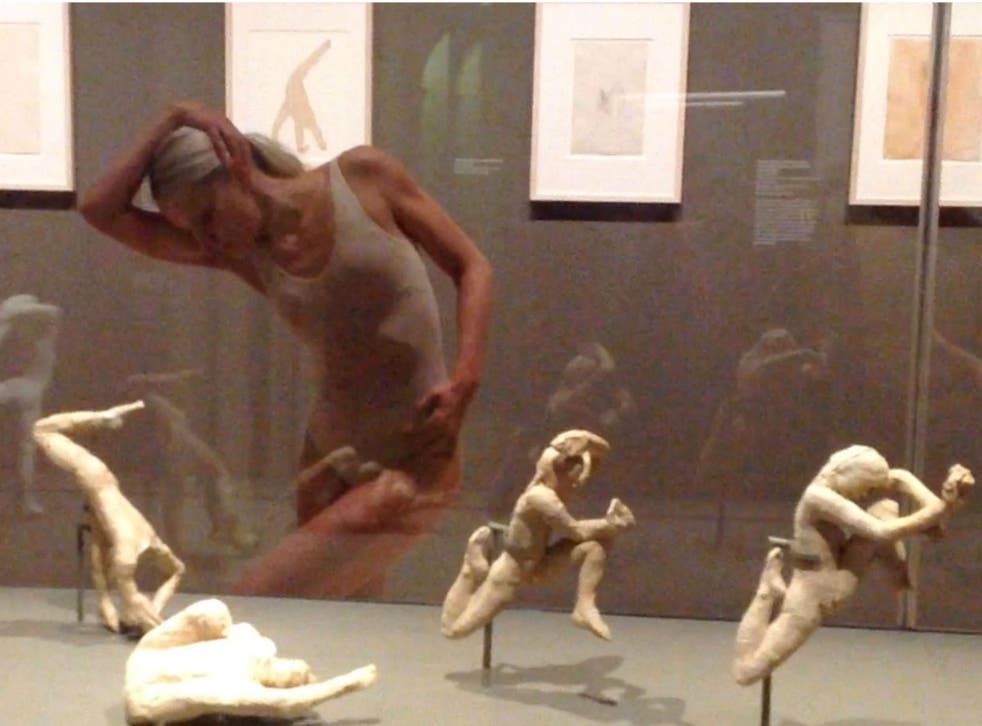 At the centre of The Courtauld Institute's exhibition Rodin and Dance: The Essence of Movement is a glass case full of small sculptures depicting dancers. From one angle this centrepiece looks like a Victorian specimen cabinet full of anatomical curiosities; from another, it becomes a series of cinematic freeze frames. From any angle, it feels like these acrobatic bodies could, at any moment, spring to life and dance.
It is therefore fitting that the choreographer Shobana Jeyasingh was commissioned to create a solo inspired by Rodin's sculptures, Dance Movements. These are unsettling sculptures, which Rodin produced by reassembling fragmented limbs and torsos – he called them "giblets". So, it comes as a relief when the soloist, Noora Kela, walks slowly past the glass cabinet and begins to dance.
At that moment, and for the first time, Rodin's sculptures seem static.
In contrast to the repetitive mask-like face Rodin used on each of his sculptures, Kela's face iss touchingly particular. From the other side of the glass the audience becomes the dancer's mirror as her limbering, stretching movements echo the acrobatics of Rodin's muse Alda Moreno. Rodin immortalised Alda's signature pose in the sculpture: that of balancing on one leg with the other arched behind her head; her body curved in a single loop, creating a sense of uninterrupted movement.
Jeyasingh's choreography effectively combines Rodin's sculptural poses with the hyperextended hand gestures of Cambodian dance. By doing so, the choreography embodies the connection between sculpture and drawing made in the exhibition; the graceful movements of the dancer echo the smudged outlines of his pencil drawings and the swirling vigour of Rodin's Cambodian watercolours. Similarly, hearing Kela's breathing, watching her wobble and adjust extreme leg extensions, recasts the repetitive nature of Rodin's drawings and sculptures in the light of the discipline, effort and practice required to create art.
The use of live performance to extend dialogue and engagement with the exhibition is a collaborative achievement between curator and choreographer (Jeyasingh and Alexandra Gerstein) that should be celebrated.
Register for free to continue reading
Registration is a free and easy way to support our truly independent journalism
By registering, you will also enjoy limited access to Premium articles, exclusive newsletters, commenting, and virtual events with our leading journalists
Already have an account? sign in
Register for free to continue reading
Registration is a free and easy way to support our truly independent journalism
By registering, you will also enjoy limited access to Premium articles, exclusive newsletters, commenting, and virtual events with our leading journalists
Already have an account? sign in
Join our new commenting forum
Join thought-provoking conversations, follow other Independent readers and see their replies