Smile Upon Us, Lord, Barbican, London, review: A dreamy, ruminative road-trip
The Vakhtangov State Academic Theatre of Russia return after their sell-out 'Eugene Onegin' in 2015, with this play about the precarious fortunes of poor Jews in Eastern Europe at the start of the 20th century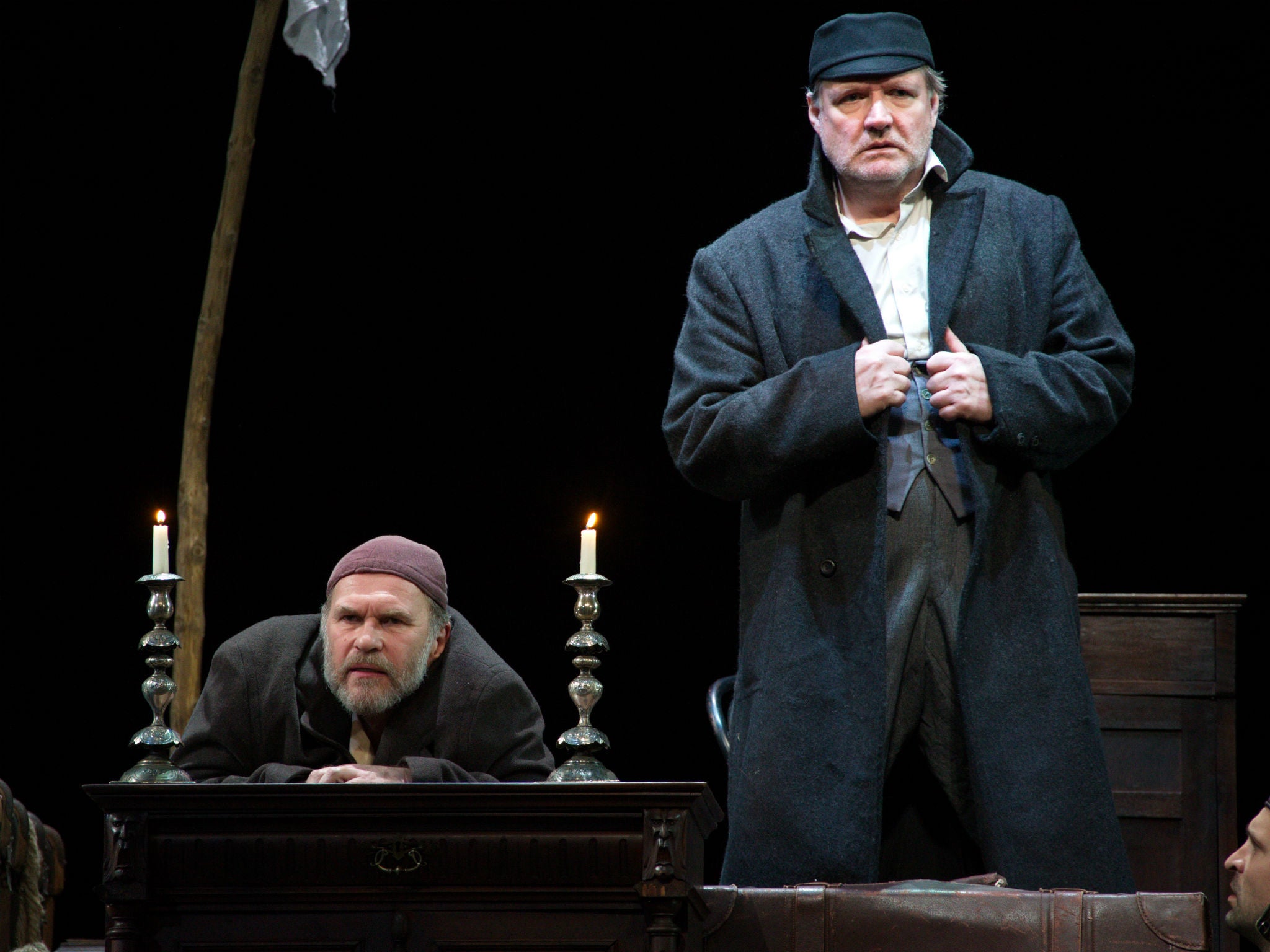 We first saw the prowess of the Vakhtangov State Academic Theatre of Russia back in 2012 when they brought their unforgettable version of Uncle Vanya to Britain. The show happened to open just few days after the premiere of a high-profile British production of the same play. The contrast was striking to the point of embarrassment. The English take on Chekhov was solidly respectful and subtle, but constipated and hidebound by realism. The Russians tackled the same piece with a blackly ebullient abandon, creating a kind of Expressionist slapstick that went straight to the heart of Chekhov's insight that listless despair and manic hilarity are often flip-sides of the same coin.
This category-shattering boldness of approach – and the sense they give that their shows are welling out from the collective soul of the company – are evident again in Smile Upon Us, Lord, a deeply inspiring production directed by their Lithuanian artistic director Rimas Tuminas. The difference is that here they are not presenting a Russian classic familiar to English audiences (as they did with both Vanya and with Eugene Onegin in 2015.) Smile Upon Us, Lord is a moving adaptation, full of good jokes, of two novels by Tuminas's compatriot, Grigory Kanovich, about the parlous fortunes of poor Jews in Eastern Europe at the start of the twentieth century.
The piece is a dreamy, ruminative road-trip, interrupted by increasingly surreal setbacks, its spacious rhythms (the show is three hours 20 minutes including an interval) handled with a haunting musicality. Efraim Dudak (a magnetically grumpy Sergey Makovetskiy) is a cussed old stone-cutter who expends what solicitude he has left on his beloved She-goat (a captivating performance in a white dress from Yulia Rutberg). But then the news comes through that his son has been arrested for the assassination of the Governor of Vilnius. With bad grace, Efraim bids goodbye to goat and sets off for Vilnius in a horse-drawn wagon with a couple old friends on board.
As they travel, this ill-assorted trio get to muse on life, death, children and the whole damn thing – but their thoughts are always rooted in their experience. Children put bullets in you for years, instead of firing a single fatal shot – declares Efraim. Viktor Sukhorukov is glorious as Avner who lost his family and his store in a fire and has become a beggar. His fate seem to have epitomised and exacerbated his bipolarity. Ecstatic and tearfully dependent, Sukhorukov's performance captures the preposterousness and the poignancy of a manic-depressive figure who dreams of being born again as an ash tree and who asks questions like "Why are there no beggars among the birds and the animals?"
The men pick up an enigmatic trickster who thrashes the air with a cane but whose blindness is evidently tactical (very amusing Victor Dobronravov) and a mysterious black-clad man with an empty violin case who can stand on the hot coals of a makeshift bath house without burning himself. People divide into those who live life feeling that they are always on their way to a funeral and those like this man who declares "I am on my way from the cemetery", achieving a kind of freedom by ruthlessly renouncing the ties of family and nation.
The attack by wolves resembles a pogrom as the marauding creatures rifle through the mound of shtetl furniture of which the wagon is composed. There's always a shrewd point to the production's bursts of wild energy. The greatness of the show, which ends with a chilling brilliance, steals up on you gradually. I wouldn't have wished it a moment shorter. This is food for the soul.
Join our commenting forum
Join thought-provoking conversations, follow other Independent readers and see their replies