Taha, Young Vic, London, review: the evolution of a Palestinian poet
The life and work of the Palestinian writer Taha Muhammad Ali is staged by Amer Hlehel
Paul Taylor
Monday 10 July 2017 10:47 Comments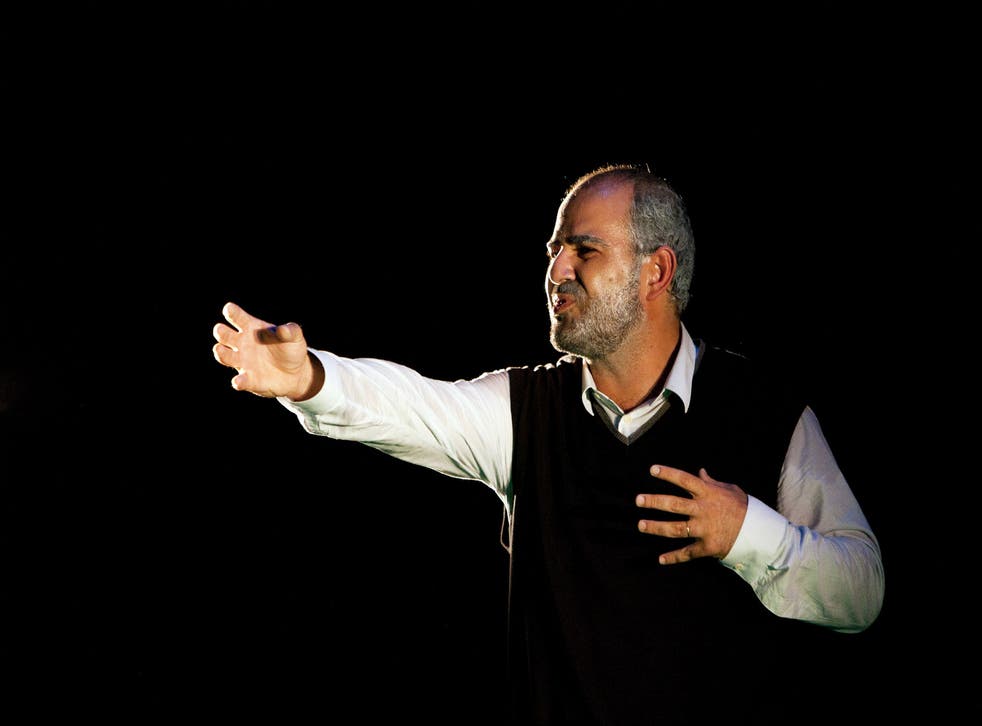 This delicate, deeply affecting piece is an introduction to the life and work of the Palestinian poet Taha Muhammad Ali (1931-2011), written and performed by Amer Hlehel. It's staged with a charged simplicity by Amir Nizar Zuabi who has translated this English-language version of the one-man show. For 75 minutes, with no props other than a bench and a briefcase, Hlehel stumbles round a dimly lit yellow rectangle and pulls us into the story of how this humble, engaging man evolved into one of the most celebrated Palestinian writers of the past half-century against all the odds. It's a tale of loss, borne with resilience, hope and humour.
Taha was born in the Galilean village of Saffuriyya, near Nazareth. His father, a powerful personality with a talent for presiding over salons, suffered from polio and Taha left school after just four years to support the struggling family with his precocious business schemes such as selling eggs in Haifa and opening a kiosk for cigarettes and chocolate. At the age of seventeen, he was forced to flee to Lebanon with his family after their village came under heavy bombardment during the Arab-Israeli War of 1948.
After nine months, they slipped back through the forests across the disputed border and there is a quietly devastating moment in this piece when Taha asks the smuggler when they will arrive in Palestine. "We already did – an hour ago" is the reply. Hlelel beautifully communicates Taha's dazed recognition that even the air now smells different in this land where everything has gone – the village bulldozed along with his grandfather's bakery with its perfume of fresh olive oil, thyme and bread. "There is no going home."
He wound up operating a souvenir shop near the Church of the Annunciation in Nazareth, describing himself with characteristic playfulness as "a Muslim selling Christian memorabilia to Jews". By night, he fed his autodidact's voracious hunger, schooling himself in classical Arabic poetry and learning how to read English. He was 52 by the time his first book was published.
The narrative is interspersed with extracts from the poems, performed in Arabic with English surtitles projected onto a screen at the back. Some of these are addressed to Amira, the cousin to whom he was betrothed when he was four and to whom he remained heartbreakingly devoted for decades after they were separated in the turmoil of 1948.
Taha likened his poetic method to billiards ("You aim over here... to strike over there") and when he approaches politics, it tends to be from the oblique angle of personal experience rendered with wry, unflinching candour. Hlehel's moving performance conjures up a man who doesn't seem to have a dishonest bone in his body. It's as though Taha's felt duty to preserve the bygone world in sensory evocation and to trace the emotional lineaments of loss have left him no room for hatred and histrionics.
The impact of the poetry is all the more powerful for the wiliness and self-deprecation of the treatment. The boy who had always thought that he was a disappointment to his father grows into the person who eventually appreciates why it was admiring rather than hurtful of him to refuse to dispense death-bed advice: "Taha, your dream is bigger than any last words I can give you".
The final sequence here finds Taha on stage at a poetry festival in London. The audience, rocking with laughter because of a farcical mishap with his briefcase, is silenced by the rendition of his poem 'Revenge', which (climactically departing from the norm) is delivered in Arabic with English surtitles. It's a poem whose twists exemplify the author's admirable determination to follow a feeling all the way through, however awkward the outcome. At first the speaker dreams of fighting a duel with "the man who killed my father and razed our home, expelling me into a narrow country."  Then he imagines that his rival might himself have a network of loved ones, including a father who worriedly puts his hand over his heart when his son is even a quarter of an hour late and so resolves not to kill him, even if he could. Instead of a reversal at this point and a killer blow, the piece ends with the poet trying to convince himself that ignoring his enemy and leaving him with the pain of aloneness would in itself be a kind of revenge. Yes and no.
An inspiring piece that will play at Summerhall in Edinburgh in August and is warmly recommended.
Register for free to continue reading
Registration is a free and easy way to support our truly independent journalism
By registering, you will also enjoy limited access to Premium articles, exclusive newsletters, commenting, and virtual events with our leading journalists
Already have an account? sign in
Join our new commenting forum
Join thought-provoking conversations, follow other Independent readers and see their replies