'The Antipodes' review, National Theatre: Marvellous acting pervades deftly paced production
Playwright Annie Baker has been rightly praised for the ways in which this anticipates the age of Trump and the #MeToo movement
Paul Taylor
Thursday 31 October 2019 16:16 Comments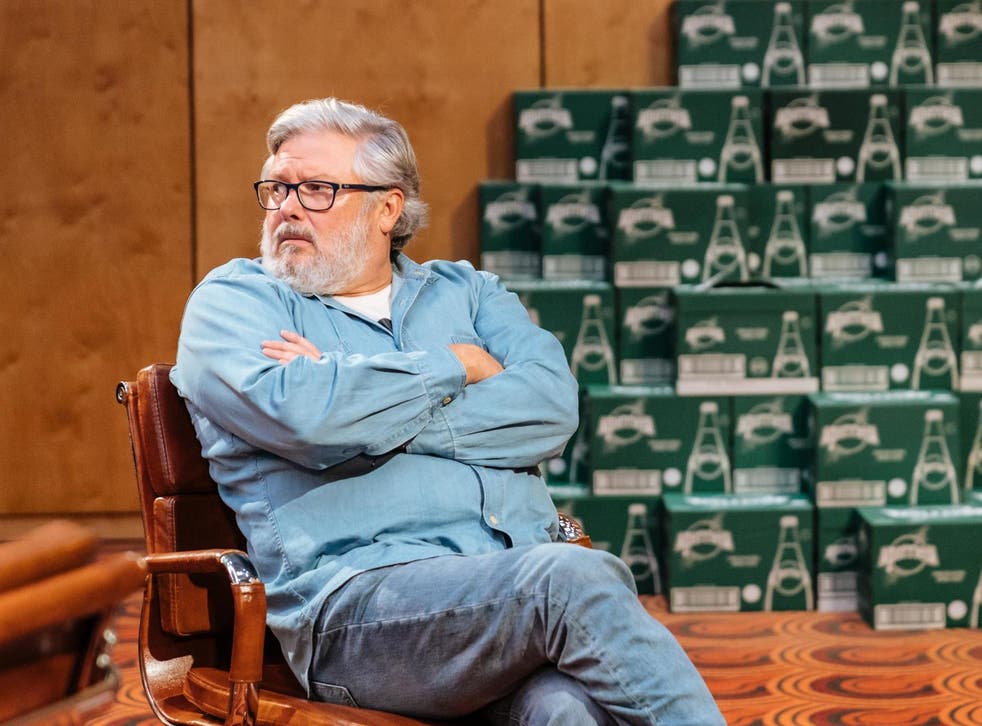 No play by this acclaimed young American dramatist is ever going to be caught breaking the speed limit. Annie Baker's much-deserved relationship with the National Theatre began in 2016 when it produced the English premiere of her Pulitzer Prize-winning off-Broadway piece The Flick, a studiedly downbeat, very unrushed and ruminative look at three minimum-wage misfits as they go about their routine work cleaning a fleapit cinema. The era of traditional celluloid was about to give way to the digital world.
Relatively snappy at two hours straight through, this superbly cast production of The Antipodes, directed by the author and Chloe Lamford, makes us privy to a succession of brainstorming sessions about how to pitch a particular story. It's arguably left too moot and unspecified. Aficionados of the characteristic Baker rhythm – uptight fretful lassitude, which occasionally breaks into laugh-out-loud hilarity – will not be disappointed.
The show is partly a beady-eyed satire on the behaviour of these lanyarded professionals. We witness them oversharing competitively as they tussle towards a common goal. Much of this is beautifully caught by the actors and the script. There are mansplaining men. These folk are all there to brainstorm stories that delve into the distinctive qualities of the monstrous. That ups the ante.
The leader, Sandy (brought to life perfectly by Game of Thrones actor Conleth Hill), is a paunchy jerk with offensively thick grey hair who demonstrably keeps too keen an eye on his smartphone and his messages from home. Which tend to give him excuses (another kind of story) to dodge his responsibilities to the project or to take evasive "emergency conference calls". I loved the moment when Danny (an excellent Stuart McQuarrie) treats everyone to a wobbly deep-voice story about a summer he once spent in charge of some chickens. How sensitive. But he's quick to reassure his peers he does not feel he's above them: "I also just want to add that I feel really lucky to be here and I really respect everyone in the room."
40 of the greatest plays ever written

Show all 40
Baker has been rightly praised for the ways in which The Antipodes anticipates the age of Trump and the #MeToo movement, though it was written before they emerged. Sandy tells the story about his HR nightmare: a whistleblowing woman who wound up disappearing without a trace. It's chilling that her fate seems to be a hideous distortion of the principle of non-disclosure agreement. This is also a world where people don visors for high-tech linkups and talk about how electrodes may now be able to make direct access to areas of the brain, and so bypass the need for traditional narrative.
At its best, the production is deftly paced and choreographed. But the play pays the price for being too vague about the political setup. What kind of a regime are we in? If the Trump era has taught us anything, it is that there is a world of difference between stories that are lazily consumed fake news and the ruefully-acknowledged stories we tell ourselves just to get by in life. The acting, from a company that includes Sinead Matthews and Fisayo Akinade, is marvellous. But I have to confess to being slightly bored by sequences where the subject matter becomes too catch-all and the treatment fanciful. The Antipodes sometimes illustrates that there is a fine distinction between the profound and the eye-wateringly vacuous. Annie Baker is too clever and canny not to appreciate this, but, to my mind, she does not always make it part of the joke.
To 23 November; 020 7452 3000
Register for free to continue reading
Registration is a free and easy way to support our truly independent journalism
By registering, you will also enjoy limited access to Premium articles, exclusive newsletters, commenting, and virtual events with our leading journalists
Already have an account? sign in
Join our new commenting forum
Join thought-provoking conversations, follow other Independent readers and see their replies