The Beaux' Stratagem, National Theatre, review: A good humoured revival
Godwin's production could, at the moment, do with quite a bit more oomph
Paul Taylor
Wednesday 27 May 2015 15:09 Comments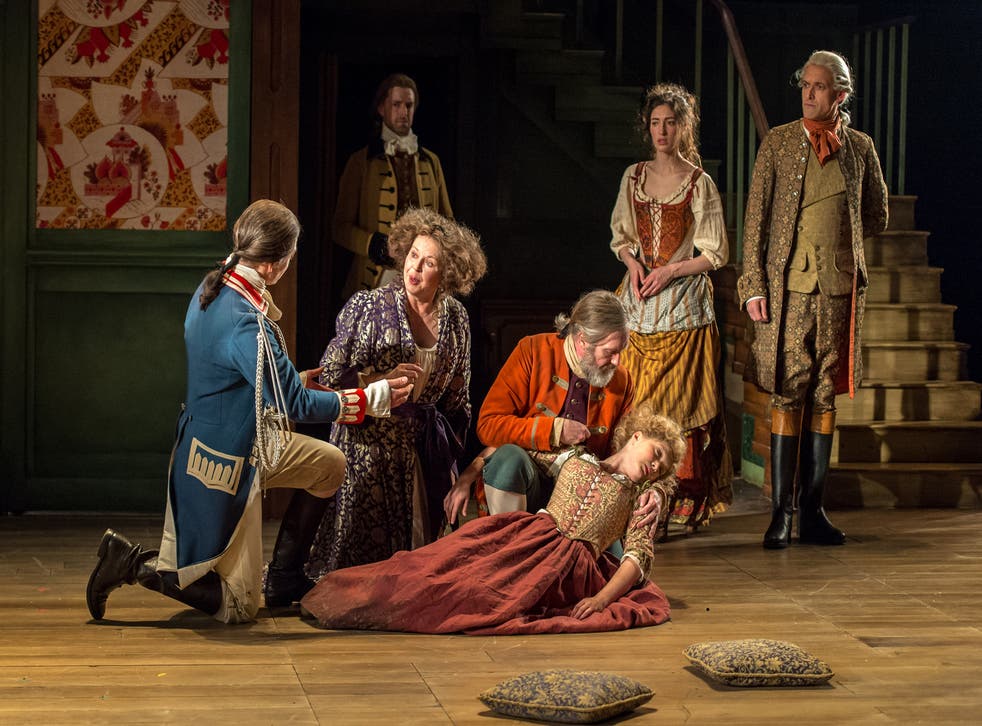 George Farquhar's 1707 play is both a late Restoration romp and a proto-feminist piece that scrutinises marital misery from the enslaved wife's point of view, extraordinarily ahead of its time in advocating "no fault" divorce as the solution.
In Simon Godwin's good-humoured, light-of-touch revival in the Travelex £15 season, Mrs Sullen – fourteen months shackled to a sottish, incommunicative spouse, who's interested only in her fortune – is played by the excellent Susannah Fielding.
She radiates the combative sparkiness undimmed by the embittering frustration of this character's lot. "Since a woman must wear chains, I would have the pleasure of hearing 'em rattle a little," she declares drily.
She gets her chance when two impecunious beaux who've blown their inheritances in London (Geoffrey Streatfeild and Samuel Barnett in a very attractive calculating-but-not-heartless double act) fetch up in Lichfield, posing as master and servant, out to bag a female of means.
Godwin's production could, at the moment, do with quite a bit more oomph but it moves with a slick fluency on Lizzie Clachan's ingenious set of sliding panels and triple staircase and it is blessed with a cast who do quirky justice to the giddily batty crush of characters, with Pearce Quigley deadpanning comic bliss as the north country butler who can't keep secrets.
To September 20; 020 7452 3000; Sept 3 NT Live broadcast
Register for free to continue reading
Registration is a free and easy way to support our truly independent journalism
By registering, you will also enjoy limited access to Premium articles, exclusive newsletters, commenting, and virtual events with our leading journalists
Already have an account? sign in
Join our new commenting forum
Join thought-provoking conversations, follow other Independent readers and see their replies