The Creation, Garsington Opera, Wormsley, review: 'Baldwin's choreography is sculptural and focused'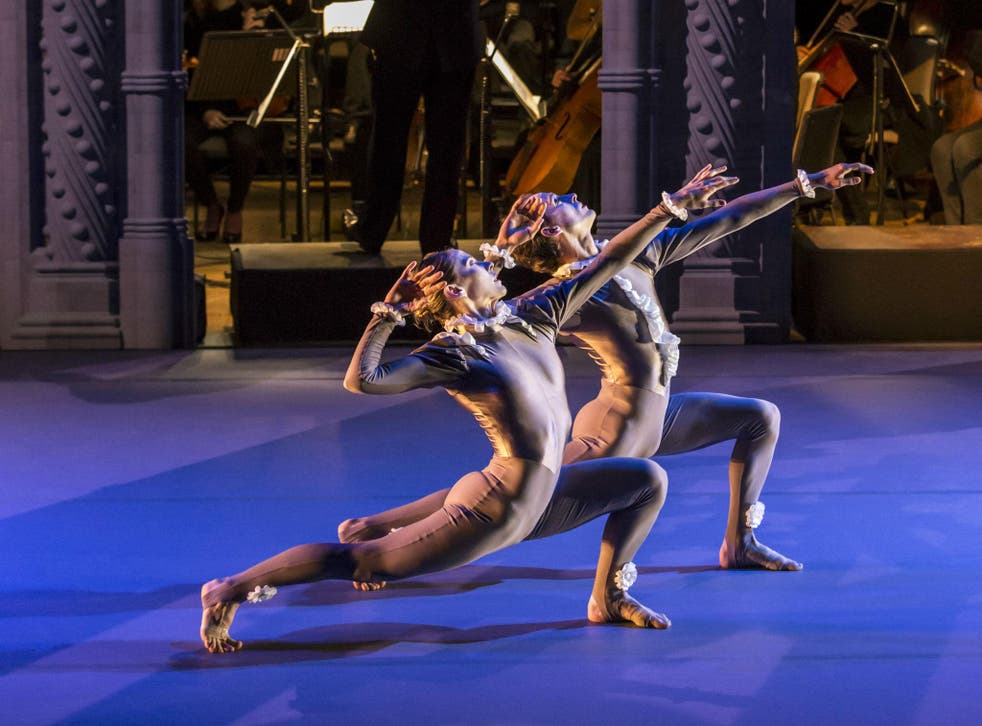 The natural world flows through Haydn's oratorio, The Creation, from new-made landscapes to darting birds and a roaring lion. In Garsington Opera's new staging, a collaboration with Rambert dance company, dancers flit through the music, evoking animals or rippling through abstract patterns.
The setting is already idyllic. The opera pavilion at Wormsley Park is sheltered but open to natural light. Real birds and deer move through the grounds beyond the stage. For the performance, artist Pablo Bronstein has created an intricately drawn choir screen, a frame for the orchestra and soloists that suggests a cathedral. In the first half, it looks like an architectural drawing; as darkness falls, stage lighting makes the Gothic traceries look three-dimensional.
The dancers are dressed in dark body tights with ruffs and rosettes of fabric – somewhere between choirboys and pierrots. Choreographer Mark Baldwin, Rambert's artistic director, takes a stylised approach to the narrative of the six days. Multiple couples dance for Adam and Eve; some scenes are acted out, while others are staged with abstract dance. In one of the most appealing motifs, dancers line up with linked or pointed hands, echoing the finials of Bronstein's backdrop.
Baldwin's choreography is sculptural and focused: always thoughtful, but occasionally dry. It's an intelligent response to Haydn's score, but doesn't always catch its liveliest pulse. It's handsomely danced by a huge cast. Rambert's 18 dancers are joined by another 25 from the company's school – with students as well as company members showing individual personality and strong technique. All the dancers show a precise sense of tone: the many "bride and bridegroom" pairs address each other tenderly, then melt back into unified corps dances.
There's a fine sense of scale when they flood the stage, moving as rivers and seas. The animals are delightful. Larks twitch and flutter, an eagle moves through grand, slow lines, and there's a fabulous undulating worm, wriggling in huge arcs from her shoulders to her feet.
Douglas Boyd conducts a rich orchestral performance, with sprightly rhythm and a witty sense of Haydn's sound effects. Chaos blasts, a lion roars, light shimmers. There's a strong lineup of vocal soloists. Tenor James Gilchrist has clean diction, warm tone and a nice hint of drama. Soprano Sarah Tynan has bright energy, sliding into sensuousness for Eve's scenes, while baritone Neal Davies sings with weight and presence. The chorus, directed by Susanna Stranders, has crisp energy and precision.
Touring this autumn – see www.rambert.org.uk for details
Join our new commenting forum
Join thought-provoking conversations, follow other Independent readers and see their replies