The Crucible, Old Vic, theatre review: An exhausting but beautifully done revival of Arthur Miller's classic
There's no hiding: on-stage seating creates a round that echoes the ghoulish spectacle of Victorian operating theatres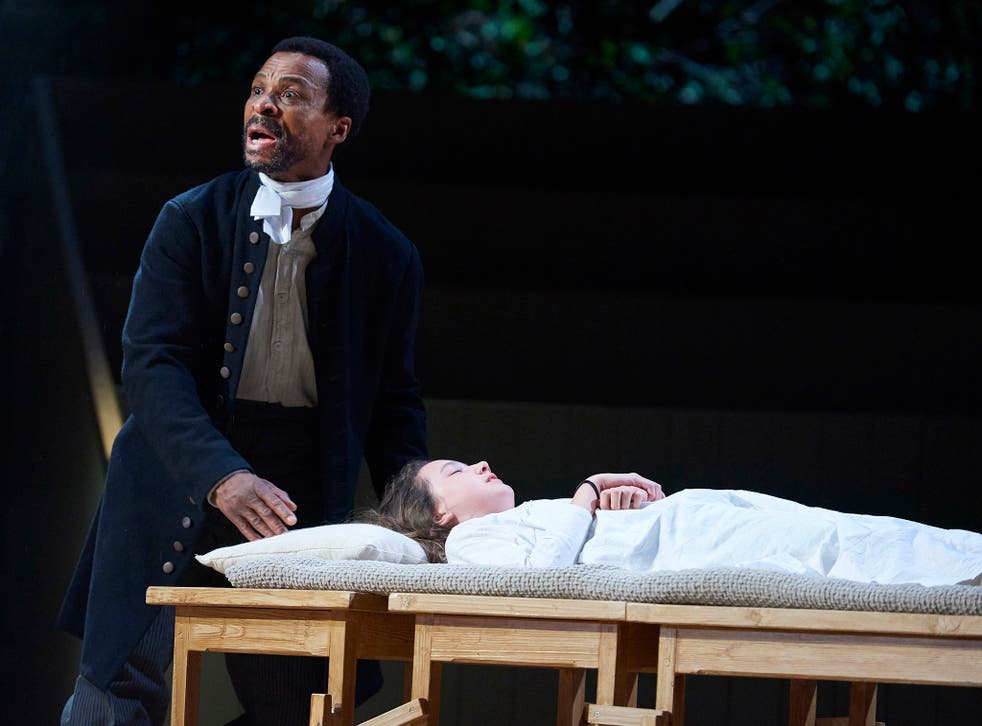 Humans are a self-serving, suspicious lot. And boy does Tom Morris' new production of Arthur Miller's reverberating play The Crucible remind us of it. Miller's damned-if-you-do-damned-if-you-don't portrayal of the puritan village of Salem falling upon its own in a finger-pointing series of witch trials might now be, oddly, sadly, the most resonant of his plays. It is apt that in the centenary year of the playwright's birth, the Bristol Old Vic, venue for the play's UK debut in 1954, has chosen to revive it.
What Morris and set designer Robert Innes Hopkins have deftly done is made the audience into shadowy members of the Salem community.There's no hiding: on-stage seating creates a round that echoes the ghoulish spectacle of Victorian operating theatres and during the courtroom scene the lights are brought up for all to see each other. Scene changes are masterfully simple. A mere change of window moves us between house, farm, courtroom and jail.
As ever you can't but marvel at Miller's soaring dialogue. The volume could come down a notch in places –Kika Markham's turn as saintly village matriarch Rebecca Nurse has a quiet power that contrasts with, say, Rona Morison's fine but high-pitched teenage ringleader, Abigail Williams. That said, Dean Lennox Kelly is loud, raw and statuesque as a Scottish John Proctor and Morris' directing is symphonic, phrasing the play into building crescendos before cutting to the quiet of a single candle.
This is a long and exhausting watch but if you are girded for a revival of Miller's tragic masterpiece, it is beautifully done.
Join our new commenting forum
Join thought-provoking conversations, follow other Independent readers and see their replies