The Dazzle, FOUND111, London, review: Remarkable play comes fervently recommended
Simon Evans's excellent production knows that the piece is essentially a doomed, heart-rending love-story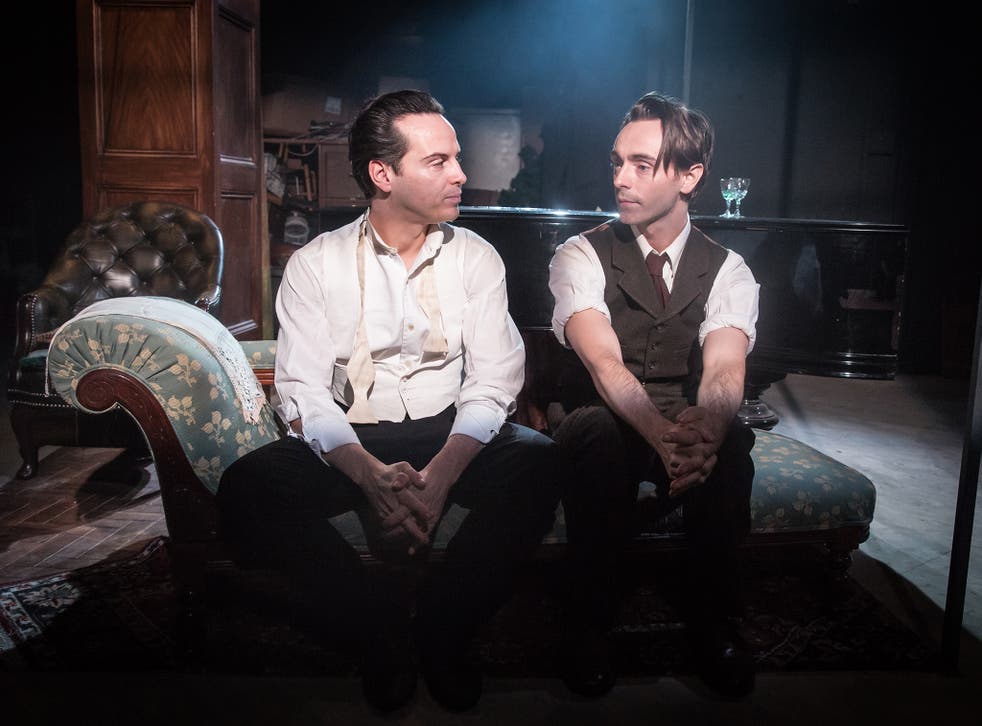 Watching the UK premiere of this remarkable play by American dramatist, Richard Greenberg, I was occasionally assailed by the feeling that this is what a bumper edition of Steptoe and Son would resemble, if rewritten by Henry James and Ronald Firbank at their most rarefied. Closely related male pair in a tragicomic trap of co-dependency surrounded by proliferating bric-a-brac? The affinities are fortissimo. But it's a social bracket somewhat higher than father-and-son rag-and-bone-men that's occupied here by the play's siblings whom Greenberg has based on the real-life Collyer Brothers, reclusive eccentrics and compulsive hoarders whose dead bodies were found in 1947 under sordid, booby-trapped piles of junk(the 14 grand pianos among the more salubrious curios) in their Fifth Avenue Harlem Brownstone.
Simon Evans's excellent production knows that the piece is essentially a doomed, heart-rending love-story: two abnormally intelligent men, all dressed up at first in white tie and tails but with nowhere to go but down. It's a mischievous touch here that we find the mouldering swank of their residence (designed by Ben Stones) in a venue that is the gutted, somewhat brutalist former St Martins Art School building. The incongruity ends up feeling more apparent real, though; think Dame Ivy Compton-Burton relocated in the controversial domestic arrangements of Quentin Crisp.
No one could accuse Greenberg's unapologetically brilliant script of dumbing down our sense of the brothers' ruthless comic cleverness as they bicker and puzzle, with hilariously off-the-scale elitism, over the philosophical conundrum of ordinary lives. But the consummate acting of Andrew Scott and David Dawson takes you right into the nervous system of a relationship that is also piteously imbalanced.
Loftier, given to autistic "piecemeal intensities" of concentration and snooty hypersensitivity (he winces if an instrument is a sixty-fourth tone flat), Scott's Lang starts off as an acclaimed concert pianist who arrogantly suffers himself to be cossetted by Dawson's Homer, a retired admiralty lawyer beside himself with exasperation at Lang's profligate ways. But Homer underestimates himself when he says "I am my brother's...accountant". He's desperate for some real sign of loving reciprocation from his awol brother. In what is the performance of the year for me, Dawson's pointy face is never still as Homer masks his hurt in frantically frustrated ironies and acerbities, vacillating between hostility and encouragement of Milly (Joanna Vanderham), the young heiress who adulates Lang and is so desperate to escape her own privileged prison that she fatally tries to steer the epically ineligible former pianist down the aisle.
Marxist criticism would have a destructive field day with The Dazzle. Formalist criticism might jib too at the too-symmetrical way the Milly character is eventually deployed. But the second half is mesmerising as Dawson's Homer, now several miles beyond the end of his tether, gives us a characteristically high-handed report on how they have begun to be stoned by the neighbourhood. He makes your heart bleed as he weeps for the life he might have led. Could he, though? But you feel that, even if his mother had never cruelly offloaded the responsibility for his brother on to him, Homer's sorely tried love would have propelled into the protector-role. Fervently recommended.
Join our new commenting forum
Join thought-provoking conversations, follow other Independent readers and see their replies